AUSTIN, Texas — In the latest University of Texas/Texas Tribune Poll, 28% of Texans report that they do not plan to get a COVID-19 vaccine, despite supply increases and persistent encouragement from public health authorities.
In total, 36% of Texans say they would get a vaccine as soon as it was available to them, 20% were unsure, and 15% reported having already received a vaccine. The online poll surveyed 1,200 self-declared registered voters in Texas Feb. 12-18 and had an overall margin of error of +/- 2.83 percentage points.
"Almost all of the attention on the vaccination efforts has focused on the supply and issues with distribution efforts," said Joshua Blank, research director of the Texas Politics Project at The University of Texas at Austin. "But Texans don't believe the vaccine distribution efforts are going poorly, and amidst consistent and stubborn vaccine skepticism, the real problem may soon be a lack of demand."
In the poll, 48% of Texans said that vaccine distribution was going very (12%) or somewhat (36%) well in their local community, while 32% said it was going very (12%) or somewhat (20%) badly. Overall, the majority of Texans say they think that vaccines in general are safe (61%) and effective (63%) — but, fewer (56%) think that vaccines are both safe and effective.
The UT/TT poll series has repeated assessments on Texans' perceptions related to the pandemic since April 2020. Since then, the portion of Texans who view the coronavirus as a "significant crisis" has declined from the 66% to 53%. Instead, 32% view the virus as a "serious problem but not a crisis," 9% say it's a "minor problem," and 4% say its "not a problem at all."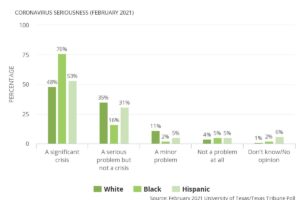 "Texans' overall level of concern about the spread of the virus has remained steady since we polled in the fall, but so have important differences in the perceptions of different groups," said James Henson, co-director of the poll and director of the Texas Politics Project at UT Austin. "People of color are more likely than white Texans to see COVID-19 as a significant crisis, which likely reflects the increased impact on those communities evident in public health data."
The share of Texans concerned about the spread of the virus in their community increased since the fall. Now, 49% of Texans indicate that they are extremely (25%) or very (24%) concerned, compared with 40% who expressed similar concerns in the October UT/TT poll. Similarly, half of Texans are extremely (27%) or very (23%) concerned that someone they knew might get infected, compared with 44% in October.
Large majorities of Texans report following the primary public health recommendations for slowing the spread of the virus that has caused more than 40,000 deaths in the state. When asked whether they were taking basic measures in response to the pandemic, 88% reported wearing masks in public, 82% said they were staying away from large groups, and 72% said they were avoiding other people as much as possible.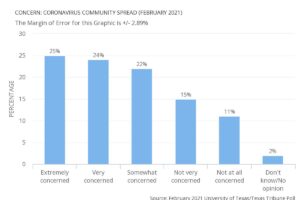 The poll also asked Texas voters whether they approved or disapproved of how the pandemic was being handled by different levels of government: 45% approved and 36% disapproved of federal efforts, while 48% approved and 35% disapproved of state government efforts. As in previous polls, local government received the best reviews: 51% approved and 26% disapproved of local efforts.
The February 2021 University of Texas/Texas Tribune Poll kicks off the 12th year of joint polling conducted by a team of researchers from the Department of Government and the College of Liberal Arts at UT Austin in conjunction with The Texas Tribune, the nonprofit news organization. The first group of results was published Friday in The Texas Tribune. Extensive graphics, crosstabs, data sets, and analyses will be featured this week at the Texas Politics Project website.