March is National Women's History Month. The University of Texas at Austin community has always championed those that try to change the world. These are just a few of the many UT women who have done just that.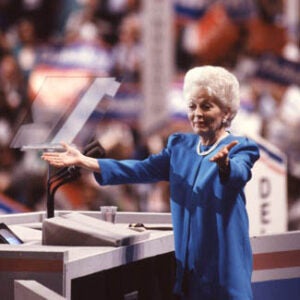 Ann Richards: 45th Governor of Texas
The late Ann Richards is a big name in Texas. At the start of her career, she taught middle school in Austin with a teaching certificate from UT. She would later become the second woman to govern Texas. She was known on the national stage for her quick wit and active role in public life.
Barbara Jordan: A Political Life
Just north of the UT's Student Union building, you can find a statue of one Barbara Jordan. The first African American elected to the Texas Senate after Reconstruction, to give a speech at the Democratic National Convention and the first African American Woman elected to the US House of Representatives — her list of accomplishments runs long. After retiring from politics in 1979 Jordan taught ethics at the LBJ School of Public Affairs as an adjunct professor.
Kay Bailey Hutchison: Many Hats
After obtaining both her Bachelor of Arts and J.D. degree from UT, Kay Bailey Hutchison wore many hats including those of attorney, television correspondent, politician, diplomat, and businesswoman.  From 1993 to 2013, she served as a U.S. senator, and  she was the 22nd U.S. permanent representative to NATO from 2017 to 2021. Today, UT's Kay Bailey Hutchison Center for Energy, Law, and Business honors her work and passion by exploring the intersection of energy, policy, law and business.
Teresa Long: Constant Generosity
Educator Dr. Teresa Long is a lifelong advocate for education and the arts in Texas. Long was the first Latina to complete a doctorate in health and physical education at UT Austin. UT Austin is home to the Teresa Lozano Long Institute of Latin American Studies (LLILAS), named in honor of the philanthropic efforts of her and her husband. Today LLILAS Benson maintains one of the world's largest collections of digital assets on Latin American studies. In 2019, Long was awarded the National Humanities Medal in a White House ceremony.
  Donna Nelson: Breaking Bad Habits in Chemistry
Donna Nelson has a Ph.D. in Chemistry from UT. In 2016, she became President of the American Chemical Society, the world's largest scientific society with over 150,000 members. Throughout the 2000s, she championed the Nelson Diversity surveys which quantify the representation of women and minorities in science and engineering-related professorships at research universities. As one of the science advisors for the hit AMC TV series Breaking Bad, Nelson worked to promote scientific accuracy in the media.
Stephanie D. Wilson: The Voice of Space
After a childhood spent staring at the stars, Astronaut Stephanie D. Wilson has logged over 42 days in space. During the historic all-woman spacewalk in 2019, Wilson was the voice of mission control guiding astronauts Jessica Meir and Christina Koch. Wilson earned a Master of Science in Aerospace Engineering at UT in 1992 where she researched the control and modeling of large, flexible space structures. She is also a veteran of three space flights and the second African-American woman to go to space.
Dina Powell McCormick: Executive on Top
Successful financial executive, philanthropist, and former U.S. deputy national security advisor for strategy, Dina Powell McCormick graduated from UT's College of Liberal Arts with a bachelor's degree in humanities. In her early career, Powell joined Goldman Sachs without extensive background in finance as a managing director and rose to partner in 2010. She is a former president of the Goldman Sachs Foundation, where she oversaw some of the bank's largest philanthropic initiatives, including the "10,000 Women" program, which helps female entrepreneurs around the world.
Karen Nyberg: 180 Days in Space
As a Mission Specialist and a Flight Engineer, Karen Nyberg has spent a total of 180 days in Space. 180. With a focus on control of thermal neutrality in spacesuits, Nyberg earned her Ph.D. from UT in Mechanical Engineering in 1998. From creating the first stuffed animal in space and showing people how you wash your hair up there — Nyberg reminds us of why people look to the sky at all.
Stacey Abrams: Voting Rights Champion
Stacey Abrams is a LBJ School of Public Affairs graduate and recent nominee for the Nobel Peace Prize. Abrams was the first black woman in U.S. history to become the gubernatorial nominee for a major party. She served 11 years in the Georgia House of Representatives, including seven as minority leader, and in January 2019 became the first black woman to deliver the Democratic response to the State of the Union address. As a leading U.S. voting rights activist, Abrams has founded multiple organizations devoted to tackling social issues at the state and national levels.
Karen Uhlenbeck: Math's Highest Honor
UT educator and researcher, professor emerita of mathematics Karen Uhlenbeck is the first woman to receive mathematics' top international award. Last year, The Norwegian Academy of Science and Letters awarded Uhlenbeck the Abel Prize. Her work has been described as some of the most important of 20th-century mathematics. Uhlenbeck is known not only for her achievements with geometric partial differential equations, gauge theory and integrable systems, but also for her valued mentorship across three decades with UT.
Brené Brown: A Leader of Vulnerability
Researcher, storyteller and proud Texan Brené Brown is actively changing the way we think about vulnerability.  From Netflix deals, her No.1 New York Times bestseller Dare to Lead, and a TEDx talk with over 50 million views, Brown is now an international name. Brown has both a Bachelor and Master of Social Work from UT. Starting last year, Texas McCombs welcomed her as a visiting professor of management and Brown gave the commencement address to the UT graduating class of 2020.
Kendra Scott: Entrepreneur onto Others
Kendra Scott is the chairman, CEO, and lead designer of the popular jewelry brand, Kendra Scott, LLC. Last spring saw the start of the Kendra Scott Women's Entrepreneurial Leadership Institute, which aims to prepare women for the challenges of the business world. Under the institute, UT's McCombs School of Business, UT's College of Natural Sciences, and UT's College of Fine Arts will all offer courses that will promote inclusion, entrepreneurship, and the empowerment of young women to advocate for themselves.
The future is bright with the impact that these pioneers and leaders have and they are just a few among many women today who are actively shaping history and changing the world for the better.