AUSTIN, Texas —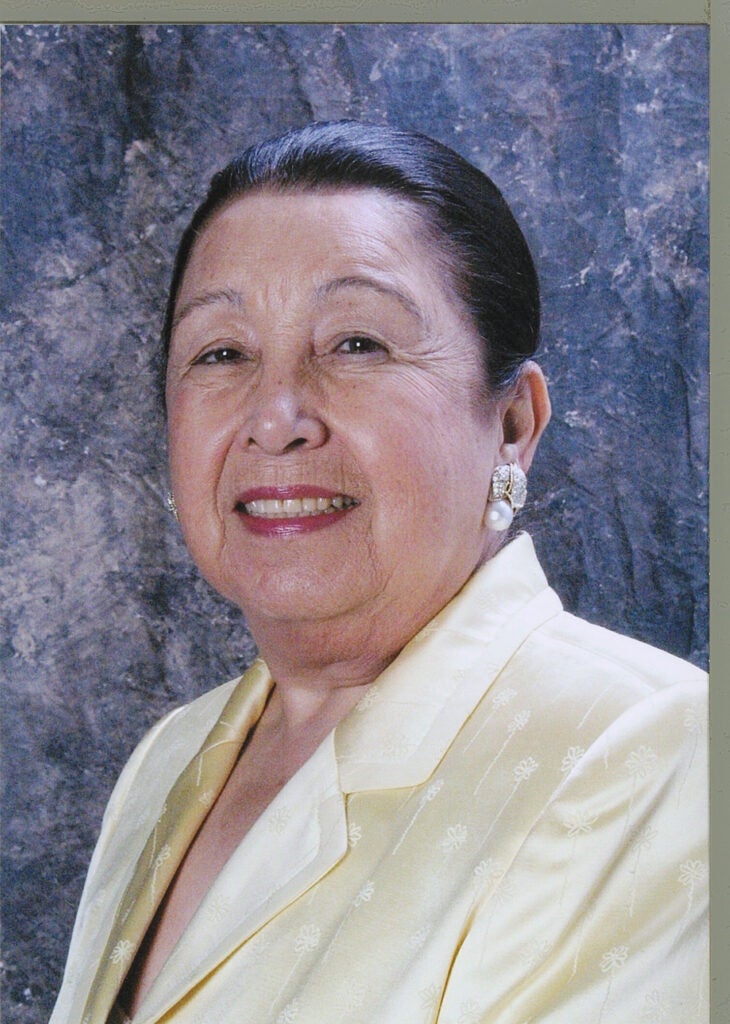 Teresa (Terry) Lozano Long, a Texas icon and distinguished alumna of UT Austin beloved and respected for her brilliance, generosity and impact, passed away peacefully on Sunday, March 21, 2021. As her devoted husband, Joe, had done every day during their 63 years of marriage, he was by her side, holding her hand. Terry and Joe personified the meaning of "happily ever after."
A young girl raised on a dairy farm in Premont, Texas, Terry stood on her graduation stage as valedictorian of her high school class at age 16 and later at her college commencements as the first Mexican American and woman to earn bachelor's, master's and doctoral degrees in kinesiology from The University of Texas. Some 74 years later, she would stand in honor at the White House as a 2019 recipient of the President's National Humanities Medal.
An ardent supporter of education and the arts, Long is the namesake of the Teresa Lozano Long Institute of Latin American Studies (LLILAS) at The University of Texas at Austin, named for her after she and Joe created a $10 million endowment for the institute in 2000. LLILAS, part of UT Austin's College of Liberal Arts, is widely regarded as the best Latin American studies program in the United States.
"The university has lost an incredible friend," said UT Austin President Jay Hartzell. "Teresa knew from experience that a UT education is life-changing, and her own impact on our community has been transformative. Working with her husband and fellow Longhorn Joe, she improved the lives of thousands of students — who like her rose from humble origins — by creating scholarships, supporting campus fine arts, and helping UT develop the nation's premier Latin American studies program, rightfully named in her honor."
Terry met Joe while they were both teaching high school in Alice, Texas. After they each independently returned to Austin, they resumed their courtship and were married on February 1, 1958. From that moment on, Terry and Joe made a commitment to champion causes that they shared a passion for—with a special commitment to education, medicine and the performing and fine arts. They knew the opportunities that education afforded them, and they wanted to make sure that others, especially those less fortunate, would have access to success.
Together, Terry and Joe touched the lives of thousands of individuals with their generosity. Terry connected people to their destinies. She was always thinking. Always encouraging. Always kind. She shaped lives with her words and left a path of successes in her wake.
Terry once said, "Joe and I never had children, so we decided that if we could make enough money, we would help as many children as we could."
"Terry Long lived a rich and meaningful life," said Professor Virginia Garrard, director of LLILAS Benson during 2016–2020. "As an advocate of opportunity for young people—especially those with talent and drive who needed a chance—her philanthropy has helped others give back: young women and Mexican Americans; aspiring musicians, artists, underrepresented students in higher education; future doctors and medical personnel desiring to work with underserved populations. Terry and Joe Long's legacy will live on in a generation of young professionals who have been the beneficiaries of their vision and generosity."
The Longs began funding scholars programs in earnest and in a variety of disciplines. When Terry was a young girl in South Texas, she recalled that if any member of her family needed to see a top physician, they had to make a long day trip to San Antonio. Since South Texas was traditionally short on doctors, Terry and Joe decided to address that challenge. Beginning in the early 2000s, the Longs made consistent gifts to UT Health San Antonio to provide greater capacity for them to educate and train physicians who would serve in South Texas. In 2008, they augmented their gifts with another $25 million to expand scholarships for students across Texas who wanted a career path in health care professions. In 2017—to mark their 59th wedding anniversary, Terry and Joe doubled down on their commitment with an additional $25 million to support scholarships for medical students and faculty recruitment. Today, the Joe R. and Teresa Lozano Long School of Medicine has provided hundreds of students with a fully funded medical education. Some of Terry's most emotional and gratifying moments were spent meeting with Long scholar graduates who are now practicing medicine and caring for patients across Texas.
Among Terry's many commitments to volunteer service, she was a board member of the Texas Committee for the National Museum of Women in the Arts, a member of the UT Development Board and Chancellor's Council Executive Committee, a member of the National Council on the Arts, a trustee of Austin College, a member of a regional panel to interview applicants for White House fellowships, and an active member of St. Austin's Catholic Church.
Terry was a Distinguished Alumna of UT Austin and recipient of its College of Liberal Arts Pro Bene Meritis Award, the UT School of Law's Thurgood Marshall Legal Society for Commitment to Diversity Award, the recipient of the Texas Medal of Arts Award and an inductee into the Women's Hall of Fame. Terry, along with her husband, was also honored in 2004 with the E. William Doty Award, the College of Fine Arts' highest honor, for their generosity and commitment to UT and the college. She was honored by the Bullock State History Museum with its "Women Shaping Texas in the 20th Century" award and was the recipient of the inaugural Madeleine Rast Award from the National Museum of Women in the Arts.
In 2018, Terry and Joe received the highest honor bestowed by the UT System Board of Regents, the Santa Rita Award for philanthropy and public service. They were only the 26th and 27th recipients in the award's 58-year history.
Terry was a devout Catholic who was proud to be an American and a Longhorn. She and Joe loved to listen to internationally acclaimed UT classical pianist and Long Endowed Chair in Piano, Anton Nel, perform at their home over cocktails.
And they especially loved the joy of hearing performances at their home by young Austin Soundwave musicians. Terry believed that children with access to musical learning and performance experiences had better opportunities to thrive in broader learning environments.
Among thousands of her "education children," the ones who have become nurses and doctors, teachers and social workers, mechanics and plumbers, and those who are not yet born but will benefit from her generosity, Terry is survived by her brother, Hector Lozano, nieces, nephews, cousins and dear friends who loved and admired her. She is also survived by Ulises and Betty Perez, who gifted Terry and Joe with three honorary grandchildren who lit up their lives daily: Gael, Alan and Aranza. And of course, Joe. Her love. Her inspiration. Her rock. Her steady hand. Terry's advice to anyone lucky enough to hear her love story was "walk through this life together."
Joe Long and the Long family wish to express special gratitude for exceptional care administered by Dr. Neela Patel of the Long School of Medicine at UT Health San Antonio and to Laura Santelli of Halcyon Home.
To respect COVID-related indoor safety protocols, a private rosary will be held Tuesday evening. The time for a public graveside service at Cook-Walden/Capital Parks Funeral Home and Cemetery, 14501 N Interstate 35, Pflugerville, Texas, is pending. In lieu of flowers, the Long family respectfully requests that memorial contributions be made to Austin Soundwaves, AVANCE-Austin, or the Texas Interscholastic League Foundation, all organizations created to help young people achieve their fullest potential.