Each semester, The LaunchPad at The University of Texas at Austin helps students in the various stages of entrepreneurship navigate innovation across the Forty Acres. One student, in particular, has been making waves within the entrepreneurial scene at UT. Apoorva Chintala, a junior pursuing degrees in management information systems, economics and Plan II, is the CEO and co-founder of Clocr Inc., an online platform for effortless and legal digital estate planning. Just this month Chintala was selected as a finalist for the Spring 2021 LaunchPad Global Fellowship, along with four additional teams from UT Austin.
Despite her age, Chintala has shed new light on the current gaps in estate planning. As the world becomes more digital, the process for passing on your assets has, unfortunately, stood still. Chintala first recognized the complexities of this problem as a sophomore in high school, when her grandfather died. Since then, Clocr has been growing and recently pivoted to become the only solution for digital estate planning in the world that is compliant with the Revised Uniform Fiduciary Access to Digital Assets Act (RUFADAA). The act is a set of laws that provide a legal path for your loved ones to manage your digital assets after you die or become incapacitated. For example, if you were to suddenly slip into a coma, Clocr would allow your family to pay your bills, access digital services such as PayPal and Venmo, end your subscriptions and even manage your social media accounts. Without a RUFADAA-compliant platform such as Clocr, you and your loved ones would be vulnerable to identity theft, privacy law violations, loss of money and time, and a web of challenges your family would have to navigate while grieving.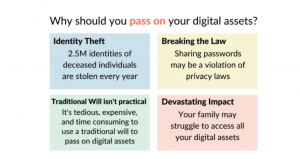 "My grandfather passed away, and my dad is the eldest of his siblings. He had to fly to India, where the majority of my family lives, to sort through boxes and boxes of loose documents. Having to deal with guessing what my grandfather's wishes were while also processing his death was a lot to deal with emotionally," Chintala says. Clocr solves these unfortunately common problems —  and even includes a time capsule to leave videos that your friends and family can access after you die.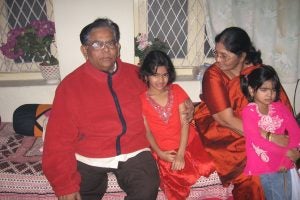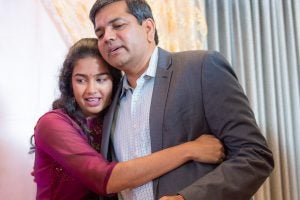 Although the challenges of 2020 forced many businesses to adapt, the global pandemic did not slow Clocr down. "When Clocr first started, the goal was to create a platform that stored and shared important documents with granular access. With the challenges of 2020, we decided to pivot and came across RUFADAA laws," Chintala says. "They are a set of digital estate planning laws that essentially say to pass on all of your digital assets such as Venmo, social media, eBay, etc., you can't just have a boilerplate statement in your account. You have to outline each account and whom you want it to go to," she says.
This pivot really sped things up for the business. In the past year alone, Clocr has won or placed in 12 entrepreneurship competitions, including winning first place at the Austin Fast Start STEM Pitch Competition and second place at UT's DisrupTexas. Chintala was also selected as one of 30 semifinalists for the Blackstone LaunchPad pitch competition at Startup Grind, a conference that brings together 15,000 startups, investors, innovators, students and speakers from across the globe.