AUSTIN, Texas — There is a troubling lack of transparency about data regarding the spread, toll and management of COVID-19 in state prisons, local jails and state-run juvenile facilities, according to a new report from researchers at The University of Texas at Austin.
Researchers say this data gap means that policymakers and the public do not know whether people in custody or staffers who work in these facilities are safe. They also cannot assess the risks to surrounding communities, and they do not know whether correctional management policy responses are effective or equitable.
Although some agencies, primarily state prison agencies, are publishing the most essential information about the number of COVID-19 cases, many others — particularly jails and juvenile agencies — are not providing even basic data. And fewer agencies of any kind provide information about other key metrics, such as demographic breakdowns of the data by race, ethnicity, age and sex.
"Prisons, jails and juvenile facilities are dangerous places to be during a pandemic because they are essentially petri dishes for the spread of disease," said Michele Deitch, lead author and a criminal justice policy expert at the LBJ School of Public Affairs at UT Austin. "Data is the only way to understand the full toll of the pandemic in correctional facilities and the risks faced by people who live and work in these settings, as well as risks to people in nearby communities. Based on our findings, we recommend ways in which prisons, jails, juvenile agencies, and state and local leaders should improve the reporting of data to meet the needs of this unprecedented time."
Researchers developed a grading rubric to document and rate how well prisons, jails and juvenile agencies are tracking and sharing data on COVID-19 inside their facilities. They found marked differences among the three types of institutions.
For prisons, every state tracks and reports at least a minimal level of data with respect to the number of COVID-19 cases and deaths, usually broken down by facility. And almost every state also provides this data on their prison agency websites, usually on a clearly marked data dashboard. But few states provide enough detail to help interpret these numbers, and very few provide other critical data. Most state prison agencies earn only a "C" or "D" for transparency about COVID-19 data, yet these scores are significantly higher than those for jails and juvenile agencies.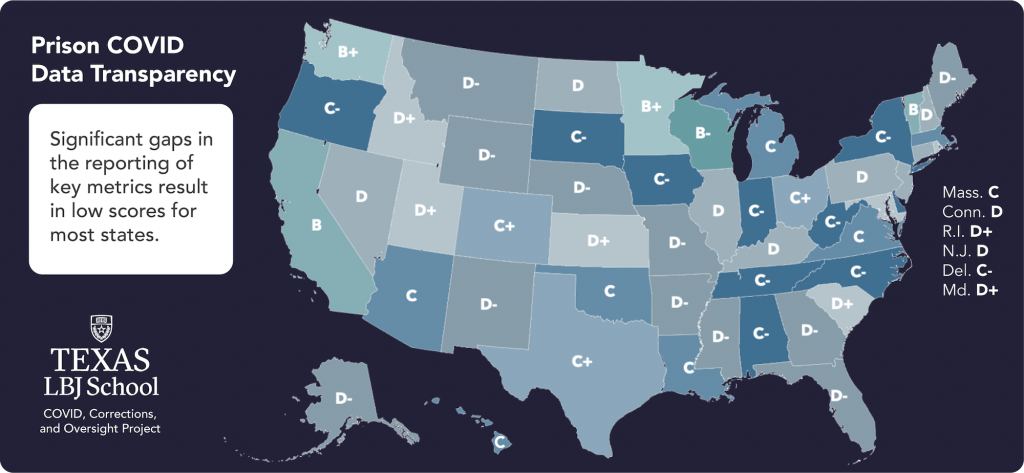 With respect to jails, researchers examined all 50 states and found that few are tracking and reporting statewide data about COVID-19 in local jails. Most states received an "F," and even the handful of states that received passing scores had only limited and incomplete data. Notably, only three states — California, Colorado and Texas — track and report any statewide data on how COVID-19 is spreading in locally operated jails. Moreover, with the exception of Texas and California, statewide jail regulatory bodies are not tracking and reporting COVID-19 data in jails, despite their mission to ensure that all jails in their states meet minimum standards for safe conditions in these facilities.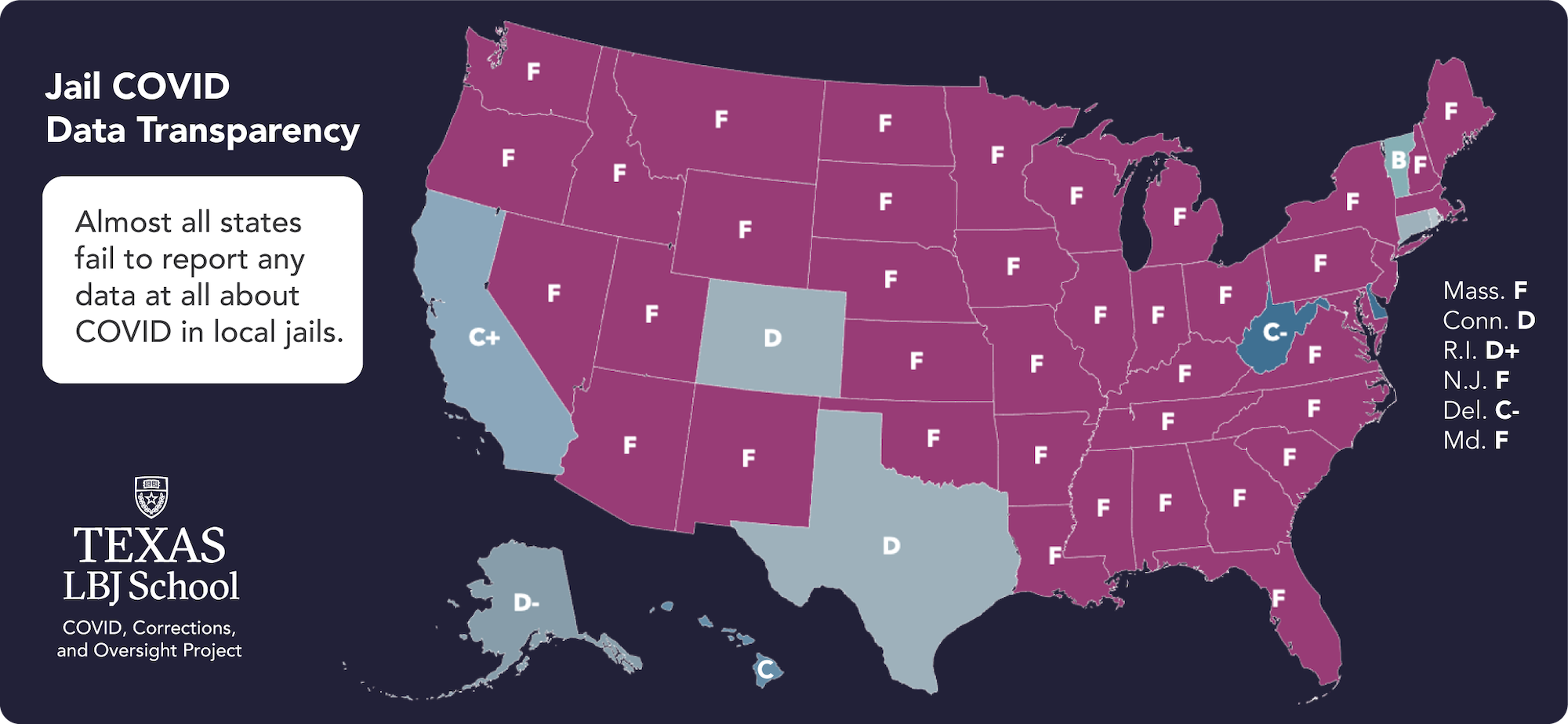 When it comes to juvenile facilities, nearly half the states do not report even the most basic information, and most of the remaining states report extremely limited data. Even among the states that report some COVID-related data about juvenile facilities, almost no agencies publish information about the demographics of the youths who have been affected. The vast majority of states either failed or earned a "D" under UT Austin's grading rubric.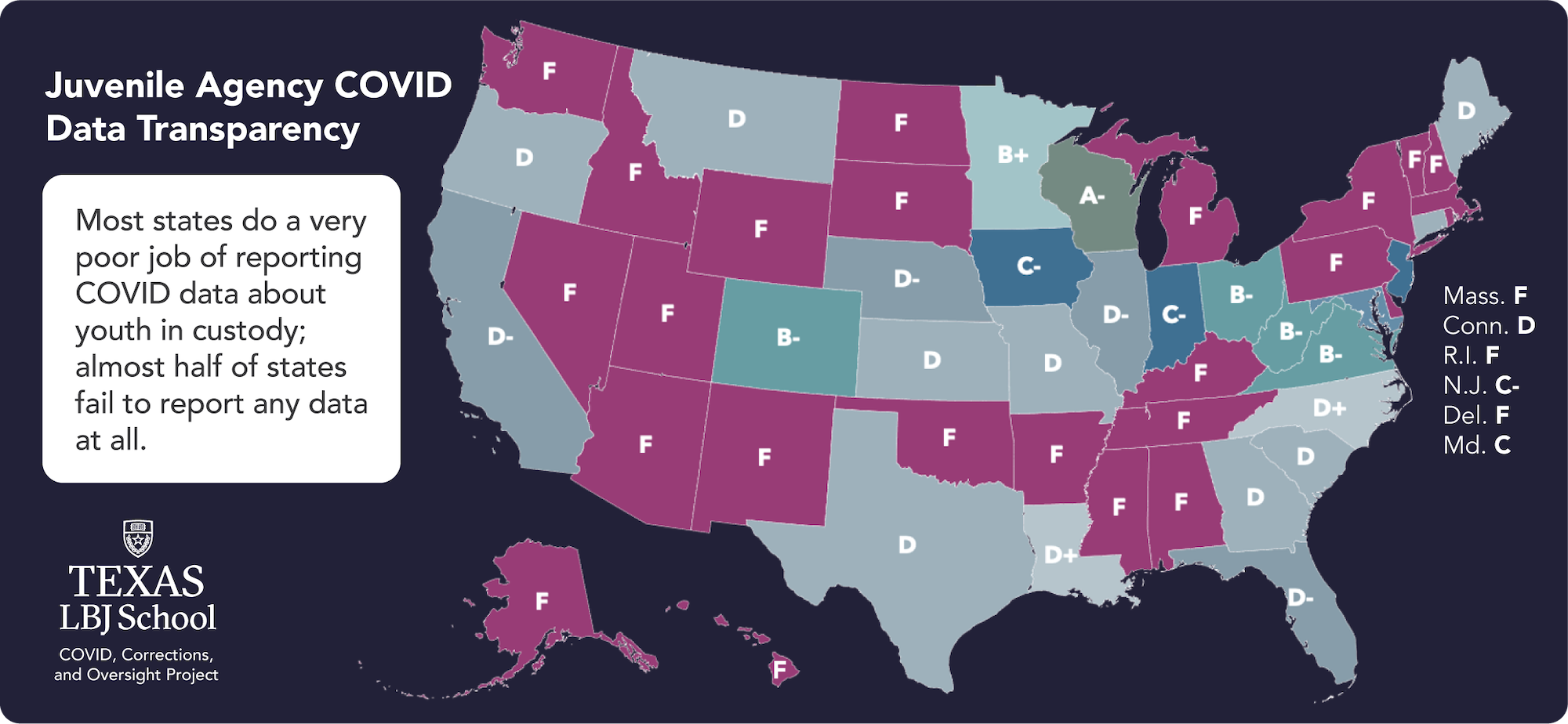 Deitch said that prisons, jails and juvenile agencies should establish high-quality, accessible and easily understood dashboards that present all the data elements researchers identified, which each state should require, and every state should designate by executive order a government agency to collect and publish COVID-19 data on jails statewide and should require local jail officials to provide that information to the statewide entity.