AUSTIN, Texas — In a major boost to efforts to combat COVID-19 globally, a vaccine that recently entered human trials in Vietnam and Thailand, and is slated for a clinical study in Brazil, holds promise for affordable vaccine manufacturing in countries currently dependent on imported vaccines. The vaccine is the result of a partnership between The University of Texas at Austin, the Icahn School of Medicine at Mount Sinai in New York and global partners interested in advancing the supply of affordable vaccines to address the pandemic.
The vaccine, NDV-HXP-S, can be stored at 2-8 degrees Celsius and is made in eggs, a method also used for flu vaccine manufacturing. These factors mean that affordable manufacturing capacity already exists in each of the countries involved with trials.
The vaccine uses a highly stabilized spike protein from the surface of the coronavirus in order to train the human immune system to recognize and fight infection. This modified spike protein, dubbed HexaPro and engineered by three faculty labs at UT Austin, was found in earlier research to be promising for use in robust vaccines. Other vaccines also use stabilized spike proteins, but this is HexaPro's first use in a vaccine in human trials.
"My team and I are thrilled that our second-generation stabilized spike protein is part of this vaccine," said Jason McLellan, an associate professor of molecular biosciences who co-developed HexaPro, having previously helped develop the spike protein now in use in all of the COVID-19 vaccines U.S. residents are receiving. "Our hope is that the vaccine will be safe, efficacious and affordable, allowing more people around the world to have protection against COVID-19."
In early 2020, McLellan, who holds the Welch Chair in Chemistry, and his team joined with collaborators at the National Institute of Allergy and Infectious Diseases' Vaccine Research Center to design a version of the SARS-CoV-2 spike protein that is stabilized to help the body recognize the threat. In nature, the spike protein changes shape, making it more difficult for the body to recognize, so the team used two mutations to hold the protein in its shape. This 2020 version of the spike protein is the basis of all the vaccines approved for distribution in the United States.
Building on that success, the UT Austin team designed HexaPro, an even more stabilized version of this protein — featuring not two but six mutations that act as molecular staples. The result is the production of more spike proteins to help the body fight infection.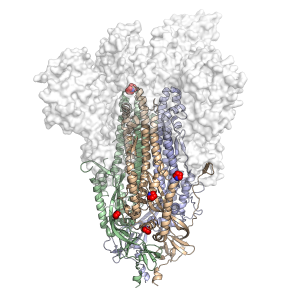 Among the biggest obstacles to mass COVID-19 vaccination in lower income countries are cost and storage. Peter Palese, the Horace W. Goldsmith professor and chair of microbiology and professor of medicine at Icahn School of Medicine at Mount Sinai, genetically engineered a virus called Newcastle Disease Virus to help the body recognize the spike protein from the Texas team. Other members of the Mount Sinai team include Adolfo Garcia-Sastre, professor of microbiology, and Florian Krammer, professor of vaccinology.
NDV-HXP-S (named for both the Newcastle Disease Virus and HexaPro) is produced using the same method that has been used for influenza vaccines since the 1950s, which is faster, cheaper and less complicated than the methods used to produce several leading COVID-19 vaccines. The vaccine is also stable at regular refrigerator temperatures (2-8 degrees Celsius) for weeks, a much higher temperature than needed for leading mRNA COVID-19 vaccines.
"We are witnessing unprecedented disparities in COVID-19 vaccine access around the world," said Ilya Finkelstein, an associate professor in the Department of Molecular Biosciences, a collaborator on the technology. "We designed HexaPro to be a more stable antigen. In cell culture, this translated to a more than tenfold increased yield relative to the first-generation spike constructs used in current vaccines. If this holds for NDV-HXP-S, HexaPro will bring us a step closer towards addressing the wide disparity in vaccine access."
Other members of the UT Austin team who led development of HexaPro are Jennifer Maynard, a professor in the Cockrell School of Engineering's McKetta Department of Chemical Engineering, and Ching-Lin Hsieh, a postdoctoral researcher in McLellan's lab.
"This project is a great example of how academic research labs can work together to meet a pressing need and contribute to development of new medicines," Maynard said.
Via license agreements with Mount Sinai and UT Austin, the global organization PATH is helping provide access to the vaccine to manufacturers in each of the three countries: Vietnam's Institute of Vaccines and Medical Biologicals (IVAC), Thailand's Government Pharmaceutical Organization (GPO) and Brazil's Butantan Institute. PATH has also had a limited technical advisory support role during the vaccine's development, aligning with PATH's commitment to advancing the supply of affordable and accessible vaccines.
A U.S. patent application has been filed for HexaPro, with the following inventors: Ching-Lin Hsieh, Jory A. Goldsmith, Jeffrey M. Schaub, Chia-Wei Chou, Andrea M. DiVenere, Kamyab Javanmardi, Hung-Che Kuo, Daniel Wrapp, Patrick O. Byrne, Christy K. Hjorth, Nicole V. Johnson, Nianshuang Wang, Jennifer A. Maynard, Ilya J. Finkelstein and Jason S. McLellan.
The University of Texas at Austin is committed to transparency and disclosure of all potential conflicts of interest. The authors submitted required financial disclosure forms with the university and hold intellectual property rights that may yield revenue from the discovery described in this research.
NOTE TO REPORTERS: Photos and illustrations are available here: https://utexas.box.com/s/lwmvh74e1nidal7ivomszto6rql8yhr5