Karen Johnson was at home in her makeshift bedroom office — one of her five cats crawling on her keyboard — when she got the email saying that UT had gotten its first doses of the COVID-19 vaccine. The date was Dec. 14, 2020. The next day, UT started administering its first shots to front-line workers.
Before then, Johnson, who is a public health nurse and an associate professor in the School of Nursing, says she felt powerless to do anything to help amid the pandemic as patients were overflowing critical care units. So when she got the email about the vaccine, she was the first to sign up to volunteer.
"Professionally, as a public health nurse, I can't imagine anything more important that I could be doing right now," she says.
Johnson remembers the feeling of administering that first shot — the rush of adrenaline that came over her.
"I tried to channel it by photobombing a lot of other people's vaccine selfies and pictures," she says with a laugh. "People have never been so excited to get a vaccine, so they don't seem to mind me sneaking into the background and putting up my horns."
In December, when UT Health Austin started its vaccination campaign, a vaccine team was assembled with faculty and staff from the School of Nursing, the College of Pharmacy, the School of Social Work, Dell Medical School, University Health Services and Office of Campus Safety. The team operated out of the Health Transformation Building, giving shots to health care providers, emergency medical technicians, firefighters and police officers. The team averaged about 300 shots a day.
In January, the state made UT a vaccine hub, meaning the university began giving vaccinations to the community at large, which today includes all people over the age of 16. The vaccine team moved into Gregory Gym, which has been converted into a clinic and now sees an average of about 2,000 people a day.
A Lesson in Equity
Johnson, who works at the clinic Mondays and Tuesdays, often wakes up before the sun rises to get to the clinic by 6 a.m. to start mixing the vaccine. The UT clinic administers largely the Pfizer vaccine, which has to be diluted with saline and used within six hours. The shot is given in two doses, spread 21 days apart.
Johnson says the line usually stretches out the building, but it moves pretty quickly. They've got it down to a science now.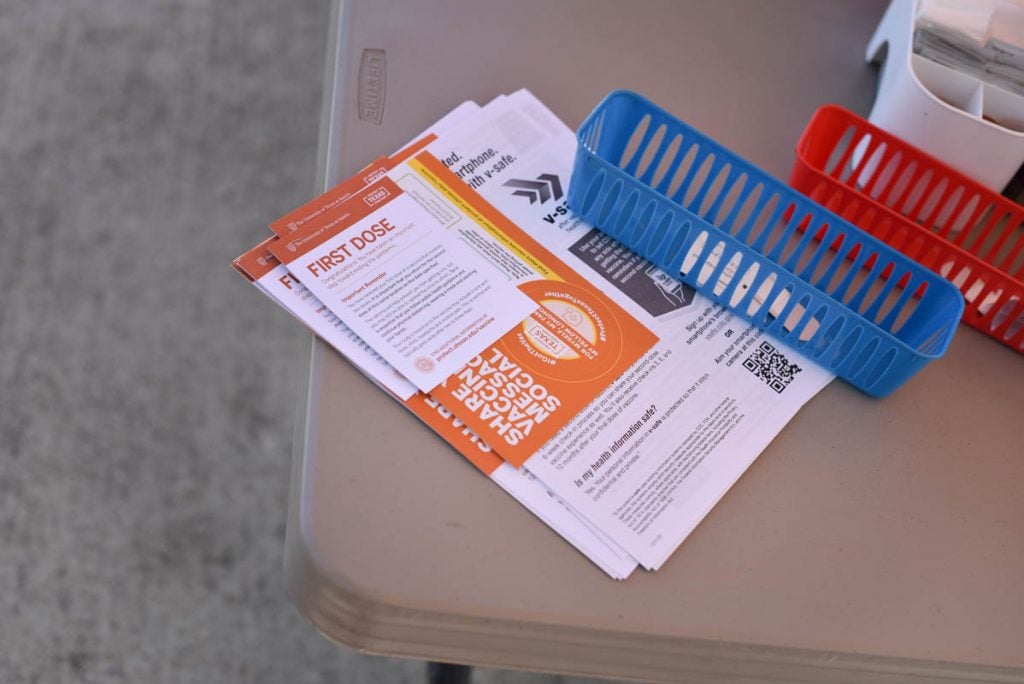 "I notice a lot of people want to chat," Johnson says. "If we aren't backed up, I let them sit there and talk. There are a lot of people who don't like needles. You make them as relaxed as you can. But most people are pretty excited — more than they usually are about getting vaccines. People want to take pictures of themselves getting the shot. It's a hopeful environment."
She says she's probably given about a thousand vaccinations.
Johnson is also on the steering committee for Whole Communities–Whole Health, a UT grand challenge research initiative that aims to understand more about the factors that affect overall health for people living in marginalized communities in eastern Travis County, with the hope that new knowledge will lead to critical improvements. Due to systemic issues, such as environmental exposures and poor access to grocery stores, green space and health care, residents in this area suffer worse health outcomes. Johnson says many of the disparities that Whole Communities–Whole Health researchers are grappling with are apparent at the vaccination clinic — something the team has anticipated since the beginning.
"We are looking at who is coming through our clinic now, and it is not representative of who lives in Austin and who is highest risk within these higher risk groups," she says. "What you see on the ground are the folks with transportation who can afford to wait for an hour — not people with mobility issues or folks working shift jobs who can't afford to take off work."
Improving Vaccine Access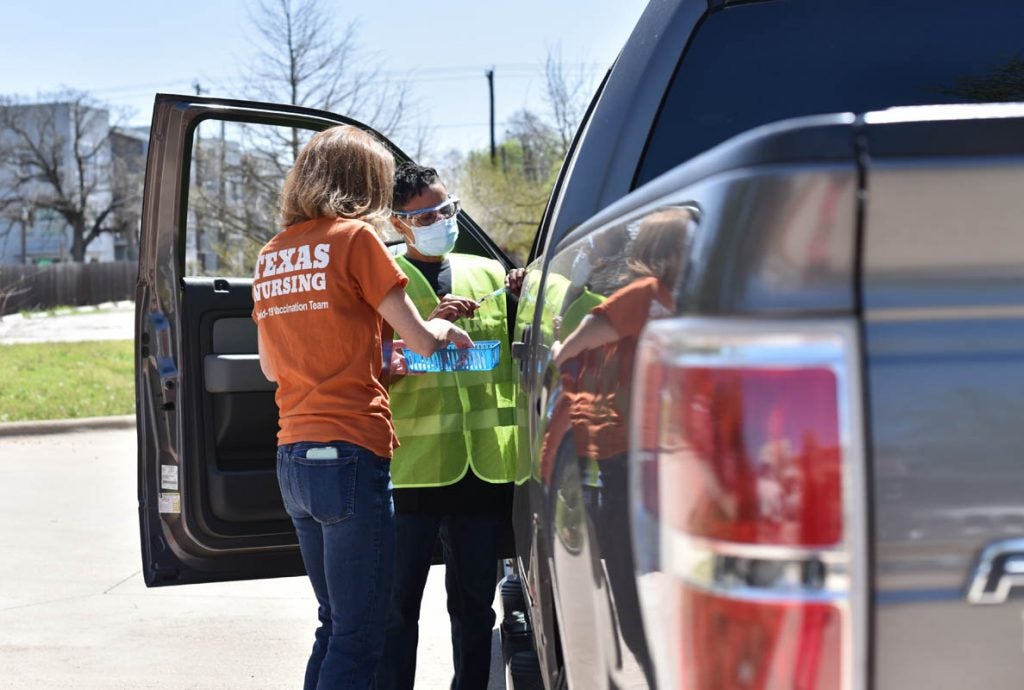 The School of Nursing has created two new programs to help address these problems. The first, known as VaxNow (Vaccinate No Waste), relies on volunteers to bring leftover vaccine doses to people who may not have access to a computer or transportation — mostly older adults. The second, called VAMOS (Vaccine Administration Mobile Operations), which is co-sponsored by Whole Communities–Whole Health, aims to reach underserved communities, like those in Del Valle, that include people of color and others who may face personal and systemic barriers to get to the large vaccine hubs.
Last month, VAMOS partnered with three Black churches to give shots to community members on the east side of Austin. At Rehoboth Baptist Church, about 100 people lined up in their cars to get shots on a Saturday.
"Those 100 people are just as important as the 2,000 that come through Gregory Gym," says Stephanie Morgan, director of practice innovation at the School of Nursing, who leads the vaccination campaign. "Everyone likes to talk about big numbers, but when you are talking about the forgotten folks, the people who are left behind, they are the 30 people, the 50 people, the 100 people. The ones we don't often think about."
"It's been a lesson in equity," Johnson adds.
Inspiring a New Generation of Nurses
Public health nurses, unlike critical care nurses, concentrate their work on communities. Through outreach, they help to uncover the numerous factors and systemwide influences that affect overall health, focusing particularly on those who are at greatest risk of disease because of socioeconomic status or genetic factors. They advocate for systems-level changes that will improve the wellness of communities, with a focus on prevention rather than acute care. And they're particularly important in our current crisis.
Holly Ainsworth, a senior nursing student who took a public health course with Johnson last semester, says they studied a lot about the role of nurses in changing the role of health care.
"We learned how to use our voices to speak up if we saw something wrong in our community," says Ainsworth, who was nominated this year for the Texas Parents Outstanding Student Award for her work with suicide prevention at UT.
Ainsworth was responsible for getting the National Suicide Prevention Lifeline and the UT Counseling and Mental Health Center Crisis Line printed on the back of UT student ID cards. She is now working with state representatives to require crisis help lines on all student IDs for the sixth grade and up in Texas.
"Professor Johnson really inspired me to reach out and look at mental health resources at the school level, and I learned a lot from her experience," Ainsworth says. "She is always pushing us to make a difference."
For Johnson, the motivation to help administer vaccines has also been a very personal one. In September, she lost her mom to pancreatic cancer. She says this work has been integral to her healing.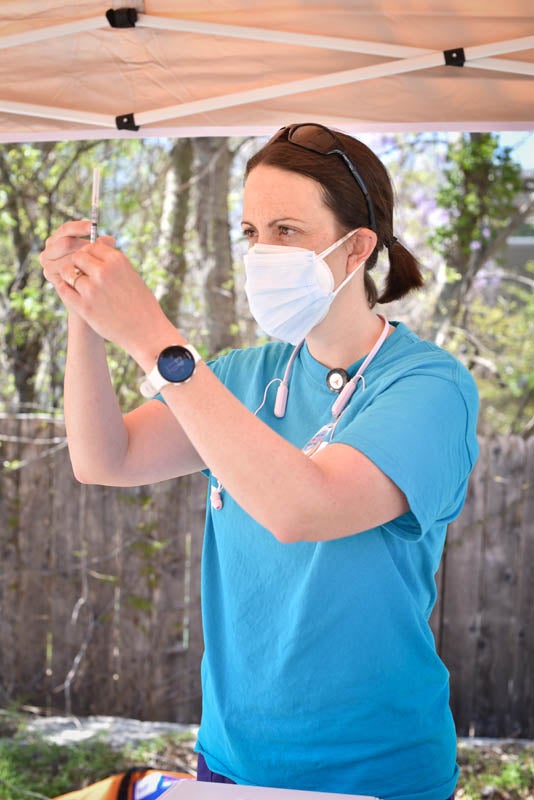 "Although it was the greatest honor of my life to care for my mom, it was also an unimaginable nightmare to lose my best friend to such a terrible disease in the middle of an already stressful and disruptive global public health crisis," she recalls. "I know what it feels like to lose someone who means the world to you at a point in history where our world has been turned upside down, and if I can help one person avoid that, then it's all worth it to me. Every day I show up to the shot clinic, it helps me in my own grieving process to know I am helping to save someone else's best friend. It is so fulfilling to see the relief and gratitude on people's faces and connect with other human beings around this shared experience of uncertainty, isolation, pain and — ultimately — resilience brought on by the pandemic."
Johnson says she plans to continue her work with the vaccine team until it is no longer needed.
"This is one of the most meaningful things I've done in my career."