AUSTIN, Texas – April 23, 2021 – Phoebe Lickwar, associate professor of landscape architecture in the School of Architecture at The University of Texas at Austin, has been awarded the 2021-2022 Rome Prize, one of the most highly regarded awards in the arts and humanities.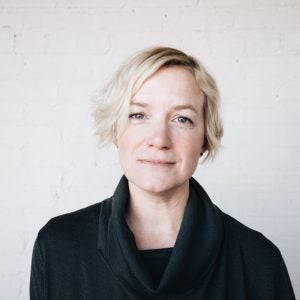 Awarded annually by the American Academy in Rome, the Rome Prize is given to 30 emerging artists and scholars in the early or middle stages of their careers. The highly competitive fellowships support advanced independent work and research in the arts and humanities and include a stipend and room and board for full- or half-term fellowships at the academy's 11-acre campus in Rome. Lickwar's full-term fellowship will begin in September.
"This is a transformative opportunity for Professor Lickwar and ultimately for our Landscape Architecture program," said Michelle Addington, dean of the School of Architecture. "The American Academy has a long and important history in serving as the crucible of collaboration among the world's leading scholars, thinkers, and practitioners. We are excited to see how this creative environment will enrich her work, and we look forward to how we can apply lessons learned from her experience to the school at large."
Lickwar's research and practice investigate the powerful connection between the vegetal world and human well-being, with a focus on the integration of agroecology in contemporary urban environments. She is a registered landscape architect with more than 15 years of experience in the design and construction of culturally significant gardens and civic landscapes, including the National World War I Memorial, the Newport Beach Civic Center Park, the Glenstone Museum, and the National September 11 Memorial in New York.
Her proposal "Promiscuous Cultures: Agroecology and the Orto Urbano" will examine remnant and lost practices of traditional agroecology in the Fascia Olivata Assisi-Spoleto of central Italy, and will speculate on how their recovery can inspire novel hybrid forms of urban agriculture in Rome. Through a series of hybrid drawings that analyze the forms and practices of coltura promisuca, or mixed cultures, Lickwar will tell the story of the region's transformation from a landscape of intensive mixed cultivation to one of extensive mechanized monocropping. She will then reinterpret this lost practice of layering and overlapping distinct vegetal forms for contemporary, urban adaption through a series of speculative proposals.
Lickwar is the sixth faculty member in the School of Architecture at The University of Texas at Austin to receive the award. Previous winners are Associate Professors Mirka Benes, Hope Hasbrouck, Vince Snyder and Nichole Wiedemann, and Professor of Practice Coleman Coker.