AUSTIN, Texas — Texans' assessments of President Joe Biden and support of legislative proposals on guns, abortion, voting and police reform reflect continuing partisan polarization in the state, according to a new University of Texas/Texas Tribune Poll.
As Joe Biden neared the 100-day mark of his administration, the poll found 44% approving of the job he has done as president while 46% disapprove. Texans are disappointed in how the president has handled immigration and border security (59% disapprove, 23% approve) — two issues voters have long considered to be the most important issues facing the state.
Biden scored higher marks (49% approve, 35% disapprove) on his handling of the coronavirus pandemic, which Texans listed as the No. 1 issue facing the country today, followed by political corruption (13%) and immigration (10%). Gov. Greg Abbott received a near identical assessment: 43% approved of the job he's doing, while 45% disapproved, though with significant differences in the judgments of partisans.
"While their positions appear similar on the surface, the results for Biden and Abbott are mirror images of each other that are driven by partisanship," said James Henson, director of UT Austin's Texas Politics Project and a co-director of the poll. "Eighty-six percent of Republicans disapprove of how the president, a Democrat, is doing his job, and 83% of Democrats disapprove of how the governor, a Republican, is doing his."
The online poll surveyed 1,200 self-declared registered voters in Texas April 16-22 and had an overall margin of error of +/- 2.83 percentage points.
Texans report being concerned that the country is headed down the wrong track (57%), compared with going in the right direction (32%). These views are swayed heavily by partisanship, especially when considering Texans' outlook for the economy.
While more than half (53%) of Texans believe the national economy is worse than it was a year ago, 70% of Republicans are driving this perception. Democrats, on the other hand, report feeling as though the national economy is the same (25%) or better (54%) than before, and 80% approve of Biden's handling of the economy (86% of Republicans disapprove).
"Texans of all stripes are registering fewer negative views of the national and Texas economies, as well as of their own economic situations," said Joshua Blank, a designer of the poll and research director of the Texas Politics Project. "But negative assessments aren't being replaced by positive ones, as Texans increasingly view the economic situation as unchanged compared to a year ago when the pandemic sent the economy into a tailspin."
Highlights from the poll include:
Guns
Overall, 59% of Texas voters oppose unlicensed, or "constitutional," carry of handguns in public spaces. The poll also found that the share of Republicans who support background checks on all gun purchases (64%) is larger than the share who support unlicensed carry (56%).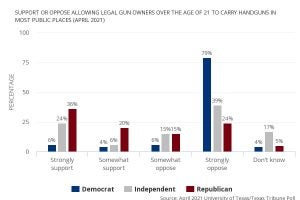 Abortion
While most Texans continue to oppose (12% somewhat, 42% strongly) completely banning abortion — even if the U.S. Supreme Court overturns Roe v. Wade — most Republicans and a significant share of Democrats remain supportive of restricting access. When considering the Texas legislative proposal to make all abortions illegal after six weeks of pregnancy, Texans are divided: 49% support the idea (34% strongly, 15% somewhat), 41% oppose it (31% strongly, 10% somewhat).
Voting
Texas Republicans support measures that increase security in elections, such as prohibiting vote-counting equipment from being connected to the internet or any other computer network (84% of Republicans support, compared with 47% of Democrats) and requiring counties with more than 100,000 residents to livestream and record all ballot-counting areas (74% of Republicans support compared with 39% of Democrats).
Texas Democrats, on the other hand, push to maintain or increase access to voting by opposing legislative proposals that prohibit drive-through voting (72% of Democrats oppose, compared with 25% of Republicans) and limit early-voting hours (75% of Democrats oppose, compared with 21% of Republicans).
As election reform proposals continue to gain attention, partisanship also plays a role in Texans' views on whether the state's election system discriminates against racial and ethnic minorities: 73% of Democrats say yes, while 88% of Republicans say no.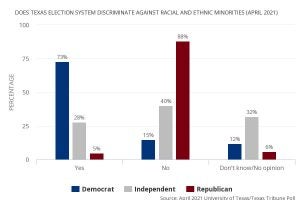 Police Reform
The UT/TT poll also finds broad support of police accountability measures being discussed in the Legislature. For example, 86% of Texans support requiring officers to intervene if another officer is violating a Texan's rights, 67% support banning the use of chokeholds by police, while 69% support allowing civilians to sue an officer who has violated their rights in that officer's use of force.
At the same time, 64% support requiring local elections to approve reductions in police budgets, with a minority of Texans supportive of reducing police budgets (17%), while a majority either wants those budgets left alone (30%) or increased (42%).
The University of Texas/Texas Tribune Poll is conducted by a team of researchers from the Department of Government and the College of Liberal Arts at UT Austin in conjunction with The Texas Tribune, the nonprofit news organization. Extensive graphics, crosstabs, data sets, and analyses are featured this week on the Texas Politics Project website.