"I have game nights with cards and board games. I'm really competitive," Jalesha Bass says when asked what she likes to do for fun, adding that games are a great way to engage with others. A self-proclaimed extrovert, she wears a T-shirt that says "Democracy is a verb" — and her involvement with many organizations at The University of Texas at Austin makes it clear that she values transforming ideas into action.
Growing up in Houston's Third Ward, Bass initially wasn't interested in attending college. She was focused on graduating from Jack Yates High School, which Heman Sweatt and George Floyd also attended. A counselor encouraged Bass, who was in the top 10% of her class, to attend college. Bass chose UT thanks to outreach from the UT Youth Engagement Center-Houston, and she has thrived by proactively seeking support from the Moody College Career Center, the Sanger Learning Center and other campus resources.
Bass, a first-generation college student and a Gateway scholar, received a Student Legacy Award from UT's Division of Diversity and Community Engagement (DDCE) in honor of Sweatt, who challenged segregation laws and became the first Black student to be admitted at UT's School of Law.
"To be honored in that way makes me really proud of myself and my community," Bass says of the Student Legacy Award.
An outstanding senior from the class of 2021, Bass will graduate this spring with a bachelor's degree in communication and leadership. After graduation, she will attend the master's of divinity program at Columbia University's Union Theological Seminary.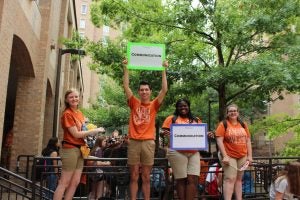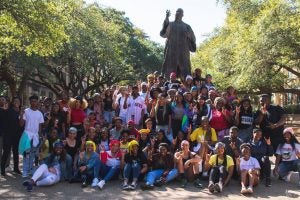 In high school, Bass got involved with communications, making morning announcements and producing podcasts, and with her social justice organizing work. The summer after her senior year of high school, she and several friends created the Institute of Engagement. Bass continued to grow the nonprofit during her time at UT. The group provides organizing opportunities for Houston youth through initiatives such as Shift Press, a publication in which young people talk about how they "influence, build and experience power."
"I want a publication where young people are the center of the conversation," she says. "I came up with the idea from my experiences and the things that I was learning in journalism classes." She has found full support from her department, even getting help with editing articles from School of Journalism and Media assistant professor of instruction Diana Dawson.
Through UT Austin, Bass has been able to not only flex her editorial voice but also travel. Alternative Breaks, run by the Center for Community Engagement, sent Bass to Jackson, Mississippi, and to New Orleans, giving her insight on thinking critically about social issues, such as systemic racism, and on actively serving her community. This year, she was the program's executive coordinator. She also received an XP3 Fellowship from the DDCE. The fellowship allows students to develop skills in management consulting, global leadership, design thinking, and economic and community engagement. Through XP3, she became an intern this spring with "The Buddy Pass" podcast, which features the stories of Black travelers abroad.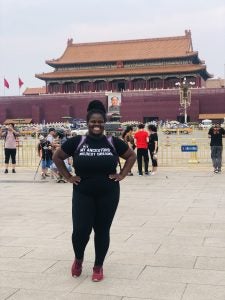 Encouraged by UT's Fearless Leadership Institute (FLI) to study abroad, Bass went to Beijing in the summer of 2019. When she arrived, she participated in a scavenger hunt, where program leaders told her to "get lost" — to immerse herself in the culture. Navigating the subway system and finding her way around the city with a population of more than 21 million without knowing Mandarin was a lesson in being self-sufficient. By observing how social programs are embedded in communities, Bass also learned about social entrepreneurship.
During the pandemic, Bass' classes were held remotely, making it challenging to stay motivated, she says. At times, without the need to travel all the way to campus as an incentive, she would wake up, turn on her computer and go right back to sleep. Though she was used to getting energy through interacting with others in person, she says, the pandemic has allowed her to learn more about herself, including how to be alone and identify what truly makes her happy — such as the games she loves.
While Bass acknowledges she has faced difficulties navigating college as a Black woman, she is thankful for the guidance she received from School of Journalism and Media lecturer Nuri Vallbona and from FLI, which supports Black and Latina women. Bass says that FLI made her feel connected to the community.
"They helped me grow as a person. They just sit down and talk with you. I love them. … That's the dream team," she says.
Just as others have helped Bass find her path, she is grateful for the chance to assist her fellow students as an orientation adviser with New Student Services, a Moody mentor and a First-Year Interest Group (FIG) mentor.
Her advice for students: "Take the opportunity to think outside of the box and experience new things. I learned so much about myself in college because I took risks, which is why I studied abroad in China and joined all these organizations. I had no idea what I was doing half the time, but I was able to grow as a person and as a professional."