In a typical year, UT senior Morgan Grosch would be biking around Austin's neighborhoods, training for the Texas 4000 annual summer trek of more than 4,000 miles to Alaska to raise money in the fight against cancer.
However, this year has been anything but typical. While the training still continues for some, the original route had to be redrawn due to closed Canadian borders, and Grosch is unable to make the ride because of new commitments.
UT's Texas 4000 student organization is like a second home for Grosch. When her mother was first diagnosed with cancer, she turned to the group for community and support.
"It was just a very big awakening freshman year — thinking, 'Wow, I'm on my own in the real world,' while also having these family issues," she says. "Here, I found people that I can really truly rely on, and they have gotten me through that experience."
Grosch is graduating this May as an outstanding senior from the class of 2021. She is double-majoring in Plan II and finance as part of the Canfield Business Honors Program at The University of Texas at Austin.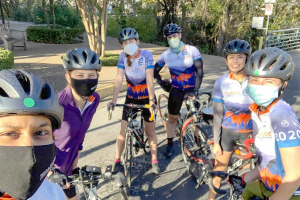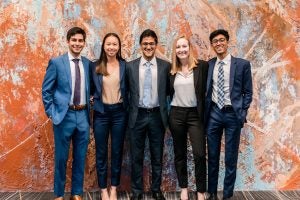 Grosch came to UT Austin through the support of the Elizabeth A. Sauer endowed presidential scholarship from the Texas Exes. "There was a point where my parents were putting four kids through college at the same time, which is obviously a lot," she says. "So these scholarships honestly enabled me to explore internships and organizations and things that take a lot of time outside of school that I wouldn't have been able to otherwise."
Hailing from Cedar Park and being the youngest of six children (and the third Longhorn), Grosch says she was most drawn to UT Austin for its specialized honors programs.
"I really liked the idea that for business honors you would be with the same students throughout college and make lasting relationships with classmates and professors," she says. "On top of that, I always had a really strong interest in liberal arts, and at UT it was easy to get to pursue both."
Grosch remembers embracing college life, immediately joining both social and academic organizations such as the Delta Gamma women's fraternity and the Honors Business Association. From her first experiences with Texas 4000, she has valued the importance of giving back.
"I ride for all of my family members, both immediate and extended, that have endured this horrible disease. I also ride in appreciation of everyone who helped support my family, from doctors to friends. … I ride for others who don't have the immense privilege that I have to be able to call my loved ones when I have a bad day." On her page for the Texas 4000, for which she has raised almost $5,000 toward cancer research, Grosch writes, "In honor of everything my mom has gone through and hearing about other people's experiences too, I am so appreciative of everything people have helped me with and I want to do my part as well."
Grosch served as an analyst for the Texas Undergraduate Investment Team, helping to teach students about financial modeling and the smart use of money. Today, she is passionate about using her degree to eventually study and tackle income and wealth inequality and sees a future career in public policy.
Grosch is hoping to use what she learned at UT to advocate for protecting consumers and individuals. "There are a lot of interesting emerging areas of financial regulation, which require people to have a finance background but to also really care for the way that our financial decisions as a country and as corporations impact people," she says.
In her third year at UT, Grosch was accepted to Harvard Law School through its junior deferral program, meaning she can take a minimum of two years after graduation to pursue her other interests before attending.
During that time, Grosch will be moving to New York to start an investment banking job. She hopes to garner real-world experience in finance before pivoting to law school to learn about policy and the process of change.
As for graduation celebration plans, Grosch just wants to spend her months left with her family. "Spending time with my siblings is something I'm really looking forward to. My brother is actually also graduating from UT, so it's a nice moment for my whole family."
Grosch advises future Longhorns to always keep an open mind. "I feel extremely fortunate," she says. "I had no idea what I was interested in back then. But I think there is something to be said for just coming to college with an open mind and really seeing what you're passionate about — whether it be which classes you're interested in or what organizations you want to become involved with — just let UT guide you there."