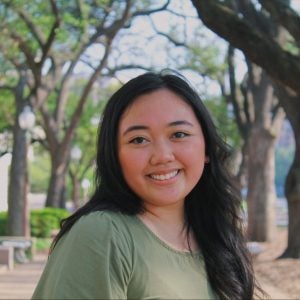 Growing up in Cedar Park, UT Austin human development and family sciences and biology senior Alcess Nonot, who is Filipina, never learned about Asian American history in school. But during her freshman year at UT, she took the course Introduction to Asian American History, which taught her more about her heritage and broadened her community. She became friends with other Asian American students and joined organizations including the Asian Desi Pacific Islander American Collective.
Justin Eng, a master's degree candidate in marketing analytics at the McCombs School of Business, did not think much about his identity during his youth in Spring, a majority white suburb of Houston. Arriving at UT expanded his sense of self and the world. He soon became involved with the Texas Union's Asian American Culture Committee and took the course Global Economies of Asia, which sparked his interest in Asian American studies.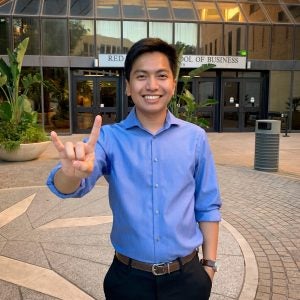 Campus organizations and resources including the Center for Asian American Studies, the Division of Diversity and Community Engagement, and the Multicultural Engagement Center have been vital to Asian American and Pacific Islander students, particularly during the COVID-19 pandemic and at a time of increasingly visible anti-Asian racism. They provide a valuable support system, including leadership opportunities, and allow Longhorns to reflect on their history and possibilities for the future.
Nonot, who is also Senate of College Councils president, and Eng are on the planning committee for this year's GraduAsian ceremony — one of many celebrations in addition to commencement ceremonies. After a nine-year hiatus, the ceremony — originally set for a revival in 2020 but put on hold due to the COVID-19 pandemic — will take place May 19 on Zoom. It will feature guest speaker Muna Hussaini, head of Environmental, Social and Governance at Indeed; Eng as student speaker; and performers including Indian classical fusion dance team Texas Zobha, contemporary Chinese martial arts group Texas Wushu, and musician and actuarial science and French senior Elyce Burce. GraduAsian is a time for students and their friends and families to take pride in all they have accomplished at UT.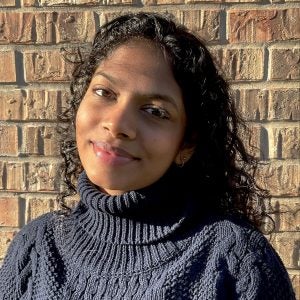 Neuroscience and health and society junior Pritika Paramasivam, co-director of community relations for the Asian Desi Pacific Islander American Collective, engages with groups at UT as well as in Austin and throughout the state. Paramasivam says that her organization addresses interdisciplinary issues by creating space to collaborate with and learn from other organizations. In March, ADPAC hosted an event with the Environmental Justice Collective to discuss how the February winter storms affected communities of color in Texas. ADPAC also hosted an event in October 2020 with Asian Family Support Services of Austin to discuss the Netflix show "Indian Matchmaking" in relation to gender roles and norms in the South Asian community.
This year, ADPAC's annual Breakthrough conference featured panels on COVID-19 and racism, and on LGBTQ Asian identity. Paramasivam says she is proud that the transition to online programming has preserved meaningful space, where members have also participated in workshops on self-care and using family photos to tell stories.
Eng is a vice president of the Texas Union's Campus Events and Entertainment, which oversees several committees including the Asian American Culture Committee. For its 2021 InspirAsian event celebrating the voices of Asians and Asian Americans in mainstream media, AACC invited Korean American singer and songwriter Eric Nam to be the guest speaker. Nam was born in Atlanta, where on March 16, eight people were killed, including six Asian women. Eng said that during the UT event, held April 23 via Zoom, Nam was very vocal about the Atlanta tragedy as well as the rise in anti-Asian violence across the nation.
Eng says that while about 80 percent of event attendees are Asian, AACC programming gains the interest of individuals of other backgrounds as well, allowing for greater understanding and appreciation among Longhorns.
He says that AACC has provided a safe space during his entire time at UT. During the past year, when Asian Americans and Pacific Islanders have found it difficult to process the news, he says he has appreciated that the Multicultural Engagement Center has issued statements of support and that students have had the chance to check in with each other virtually.
"Within these organizations, we set aside time at our weekly meetings to talk through anything we might be feeling about current events. I've had the chance to hear so many personal stories, which has made me feel more comfortable sharing my own stories too," he says. "Having grown up in a predominantly white area, there were times I struggled with identity, bullying and racism. Being able to finally talk about it has given me a lot of reflection and the ability to support my peers and friends."
Her freshman year, Nonot became involved with the Asian Desi Pacific Islander American Collective's Asian American Leadership Institute. Now, as Senate of College Councils president, she has used her leadership to address such challenges as how the university can more effectively support students of color. Soon after she was elected in spring 2020, her goals and plans changed. COVID-19 and student demands after the killing of George Floyd and other Black people by police became priorities. She and the Senate worked with other student organizations seeking changes related to diversity and inclusion on campus. Nonot also worked with the Senate on refining the cultural diversity flag, one of the core requirements for UT undergraduates, to more accurately include courses that directly examine diversity issues.
After the Atlanta shootings, she organized a meeting with Senate members to encourage dialogue on anti-Asian violence and sexism and on what it means to be Asian in the United States. Members also discussed the need to build unity among racial and ethnic groups.
Paramasivam says that at a large university like UT, finding community is crucial, especially for Asian American and Pacific Islander students and other students of color. She adds, "It is more important than ever to advocate for change and build solidarity."
Nonot says there are many ways to get involved with the Asian American and Pacific Islander community at UT. "It can be as simple as attending an event or following an organization on Instagram to see what they're working on next, or taking a class — I didn't know that Introduction to Asian American History could count as my history core," she says. "It can be as simple as just checking the course schedule and seeing what classes are cross-listed with Asian American studies. And that can be your foot in the door to this amazing community at UT."