AUSTIN, Texas — A digital collection of manuscripts and photographs related to the Welsh poet and writer Dylan Thomas held at the Harry Ransom Center at The University of Texas at Austin is now online thanks to an international collaboration just in time for International Dylan Thomas Day on May 14.
Jointly funded by the Ransom Center and Swansea University in Wales with the support of the Dylan Thomas Trust, accessibility to the author's archive will expand to include this freely available digital collection, opening the study of his literary works and creative process to a global audience.
"This initiative promises to deepen our understanding of Dylan Thomas' creative process and lead to new insights into his poetry and other writings," said Stephen Enniss, the Betty Brumbalow Director of the Harry Ransom Center at UT Austin. "We are grateful for this collaboration with Swansea University and grateful, too, to the Dylan Thomas Trust, which has made it possible for us to share the collection with his readers everywhere."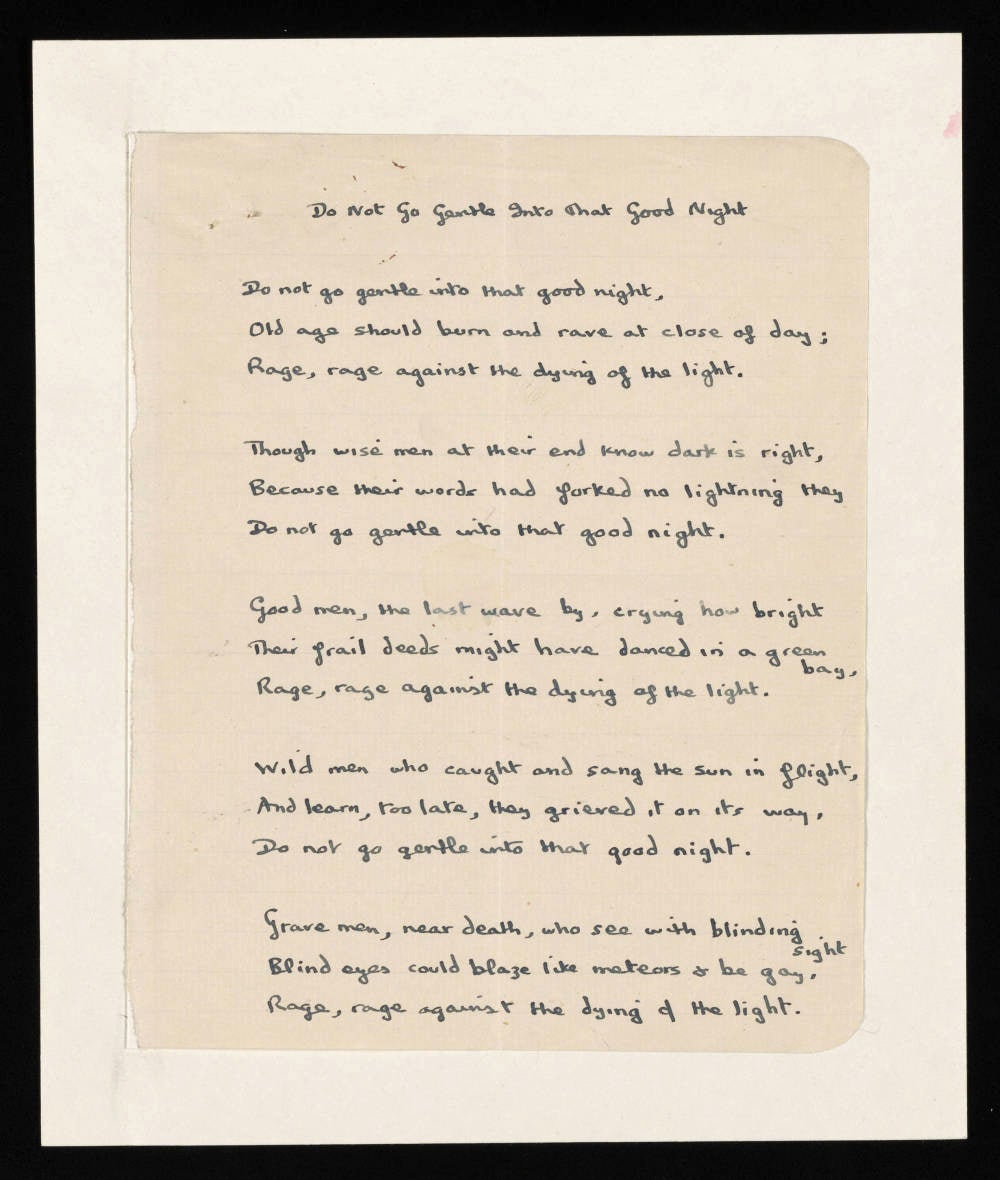 Collections related to Dylan Thomas are held by multiple institutions internationally, and the Ransom Center holds the world's largest collection, which includes manuscripts, letters, notebooks, drawings and photographs that trace the origins of his major works and the evolution of a young writer. The collection also features screenplays, radio broadcasts and radio plays. Most were acquired by the Center between 1960 and 2004.
More than 6,000 items are now digitized, representing only a portion of the author's physical archive. Everything in Thomas' hand, from letters and manuscripts to sketches and works of art, is available online.
Professor Paul Boyle, Vice-Chancellor of Swansea University, said: "We are delighted to be part of this initiative alongside The University of Texas, which embodies the extensive benefits of international collaboration between universities. We hope to inspire readers, new and experienced alike, as we seek to make the world's largest Dylan Thomas collection widely accessible to people around the globe. We extend our special thanks to the Dylan Thomas Trust for their continued support of this important project. "
Manuscripts for many of his best-known works are present in the digital collection, including "Under Milk Wood," "Poem on His Birthday," "In the White Giant's Thigh," "Do Not Go Gentle Into That Good Night" and "Elegy," the unfinished poem he was writing during the last year of his life.
"The Harry Ransom Center Dylan Thomas holdings are exceptional," said Jeff Towns, a leading expert on Dylan Thomas based in Thomas' hometown of Swansea. Towns was instrumental in securing Thomas' "Lost Fifth Notebook," also now digitized, for Swansea University.
"Scholars and enthusiasts of Dylan Thomas can now go online and view this remarkable archive," he said.
Thomas was born on Oct. 27, 1914, in Uplands, Swansea, and died on Nov. 9, 1953, in New York City. He wrote many great poems, including "Fern Hill," "The Hunchback in the Park" and, of course, "Do Not Go Gentle Into That Good Night." He also is well-known for writing the play for voices, "Under Milk Wood," and the collection of stories, "Portrait of the Artist as a Young Dog."