At The University of Texas at Austin, learning doesn't just happen in the classroom. UT has an abundance of experiential learning opportunities for undergraduate and graduate students. Our faculty leads students through real-life situations to help prepare them for thriving careers. Here are a few experiential learning opportunities to help students start exploring:
Entrepreneurship
Kendra Scott Women's Entrepreneurial Leadership Institute's Student Advisory Board
Board members at the Kendra Scott Women's Entrepreneurial Leadership Institute cultivate community through events, group socials, meetings and mentorship conversations to encourage all women on campus to freely explore entrepreneurship.
The LaunchPad
Part of the global Blackstone LaunchPad & Techstars Network, the LaunchPad is a program of the School of Undergraduate Studies that helps students from all majors navigate and explore entrepreneurship through mentorship, workshops, access to coworking spaces and more.
Inventors Program
The Inventors Program empowers STEM undergraduates to turn scientific discovery into societal impact. As part of a team, students tackle projects ranging from water-testing devices to monitoring waste production to developing sustainability communications initiatives across campus.
Health Leadership and Research
Health Leadership Apprentice (HLA) program
For students aspiring to become health care leaders, Dell Med's Health Leadership Apprentice program offers a chance to collaborate with faculty and staff on efforts tied to the school's work in health care transformation. Students work in teams of five members to propose and design a project based on Dell Med's Community-Driven Initiatives.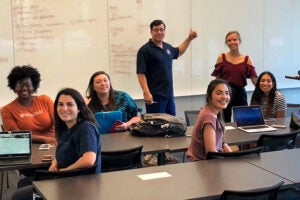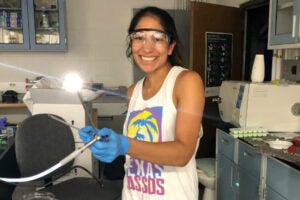 Clinical Innovation Design (CID) program
The Department of Biomedical Engineering and Dell Medical School have partnered to launch robust new hands-on training experiences in the CID program. Participants in the program practice design thinking and are involved in all aspects of medical device development and innovation, from needs assessment and analysis of current solutions to prototyping and business plan development.
The Freshman Research Initiative (FRI)
Open to student researchers from across the College of Natural Sciences, FRI is an opportunity to experience the excitement of scientific discovery by conducting real-world research alongside faculty scientists. Topics explored range from diagnostics to drug screening to behavioral neuroscience. Students use cutting-edge lab equipment, develop technological tools, present research posters at conferences and publish papers in peer-reviewed science journals.
 
Sustainability
Longhorn Impact Fellowship at Texas McCombs (LIFT)
LIFT pairs student consultants with sustainable corporations, social enterprises and nonprofits to solve an impact-focused problem. The program is open to UT juniors, seniors and graduate students.
The Texas Social Innovation Challenge (TSIC)
TSIC is a program and pitch competition meant to prepare the next generation of innovators to create sustainable, world-changing startups. Students in the program are provided with free social entrepreneurship curriculum, workshops and the opportunity to meet fellow world changers.
Resource Recovery/Zero Waste Program
Resource Recovery is a branch of UT Austin Facilities Services, which provides paid internships to undergraduates of all majors who are interested in helping with on-campus zero-waste efforts. Interns help create, implement, monitor and refine the Zero Waste Workplace program, zero-waste events and the Surplus Property REuse Store programs.
Office of Sustainability and the Campus Environmental Center
The university's Office of Sustainability and its sponsored student organization, Campus Environmental Center (CEC), provide paid internships to undergraduates of all majors who value sustainability. Student pairs lead an array of hands-on campus sustainability projects, including overseeing a student farm, managing a pop-up thrift store and restoring a native prairie.
Service
Projects With Underserved Communities (PUC)
Open to engineering and social work undergraduate students, PUC uses an innovative yearlong course sequence to hone students' leadership skills and cultural competency, while providing services to communities in developing countries. Projects have been successfully implemented in partnership with communities in Mexico, Peru, Ghana, Costa Rica, Nicaragua, Guatemala, Tanzania, Papua New Guinea, India and Thailand.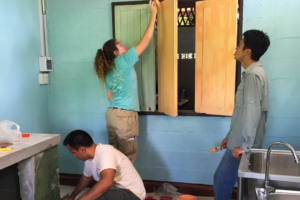 UT Law School Experiential Learning Clinics
Texas Law offers extensive clinical education opportunities, with 15 clinics covering a range of legal issues and numerous internships in nonprofit organizations, government agencies, domestic and international courts, and the Legislature. The low student-to-faculty ratios and small size of the clinics ensure that students work closely with experienced faculty and their classmates.
Reporting Texas
Reporting Texas is a digital media initiative from the School of Journalism and Media that supports young journalists by fostering an ethical and creative environment for graduate and undergraduate students to report the news, with an emphasis on reporting that focuses on untold stories.
Experiences Outside of Austin
UTNY
UTNY is a program that is open to all majors and provides registered UT Austin students the opportunity to live, work and learn in one of the most dynamic cosmopolitan cities in the world. Students intern in a field related to their interests, study with UTNY faculty and are provided opportunities to network with New York/tri-state alumni and industry leaders, as well as take part in numerous self-led activities that will enrich their understanding of New York City.
UTLA
The UTLA program provides students the opportunity to pursue their passions in the entertainment capital of the world. Through a combination of working internships with prominent companies, courses taught by working professionals, and guest lectures by industry experts, students get the chance to gain the skills and contacts that will make a career in film, television, music or new media possible.