For students interested in entrepreneurship, Jaideep Patil has some advice. "There are so many resources available within the university's entrepreneurship ecosystem. Take advantage of as many UT startup programs as possible where you can meet like-minded students," Patil says.
Patil (chemical engineering, 2021) and his Longhorn co-founders Avner Khan (M.S., computer science, 2021) and Collin Betori (business administration, 2015) have been working for almost two years on their startup Explorastay. Their only regret, not starting sooner.
Explorastay is a search engine for midterm rentals (one to 11 months) that compares inventory from 25-plus housing sites globally and aggregates them into one seamless interface.The team launched Explorastay after participating in Longhorn Startup, a course that gives UT students credit for working on their company over a semester. It encourages students who are exploring entrepreneurship to get plugged in at UT Austin sooner rather than later. "Start early if you can! [If you're looking for a co-founder], look for opportunities across campus to network with students outside of your major," Khan says.
The idea for Explorastay sparked for CEO Patil when he experienced firsthand the lack of middle-market rentals during his sophomore year at UT. Patil planned to study abroad that spring semester, so he only needed housing in Austin for the fall. While searching for a five-month lease, he was blown away by the level of difficulty, the time and the effort required to find a medium-term rental. Although the inventory exists, his search required him to jump from website to website daily — constantly on the lookout for informal sublets, month-to-month rentals and flexible lease terms. Without an aggregated platform, finding the right medium-term rental proved to be both expensive and time-consuming. He and his co-founders decided to take on this challenge themselves.
"The problem is that renters spend a lot of time website-jumping to find the perfect rental because there are so many different websites for apartments, home rentals, co-living, etc. Our search engine pulls inventory from all of these different sites to create a less time-consuming experience for the renter," Patil says.
Unlike most rental sites, Explorastay compares all types of rentals side by side, regardless of whether that rental is an extended-stay hotel, a multifamily apartment, a single-family room share or something else. Prospective renters can filter by accommodation type, budget, rental length and more. The platform is designed for students studying abroad, digital nomads and traveling professionals (such as consultants or nurses) who are relocating for several weeks or months but are not in a position to sign a full-year lease. The trio has been tackling this market gap since early 2020 right before the pandemic hit.
"With COVID, this middle-market space absolutely took off. When the pandemic hit, professionals were suddenly able to work from anywhere, many people migrated out of large cities to less populated areas, and there was a massive demand for traveling front-line workers such as travel nurses," Patil says.
Customer acquisition began in early 2020 with cold calling and other grassroots efforts. Patil partnered with Texas Global to attend study abroad information sessions, where he passed out flyers and pitched the platform to students who would need housing when they went abroad. As Explorastay began to grow off campus, the team battled with Google rankings and paid advertisements. "It became clear how expensive and time-consuming it would be to rely on Google rankings alone. Paid ads just weren't working," Patil explains. To accelerate customer acquisition, Explorastay pivoted to hosting widgets on well-known partner sites that are visited heavily by prospective renters. Its widgets include pop-ups, directly embedded maps, and affiliated links to leverage the traffic its integration partners generate. Now, Explorastay is the largest database for one-to-11-month rentals, with over 500,000 listings globally, and its integration partners include Vrbo, SpareRoom, KAYAK and Zumper to name a few.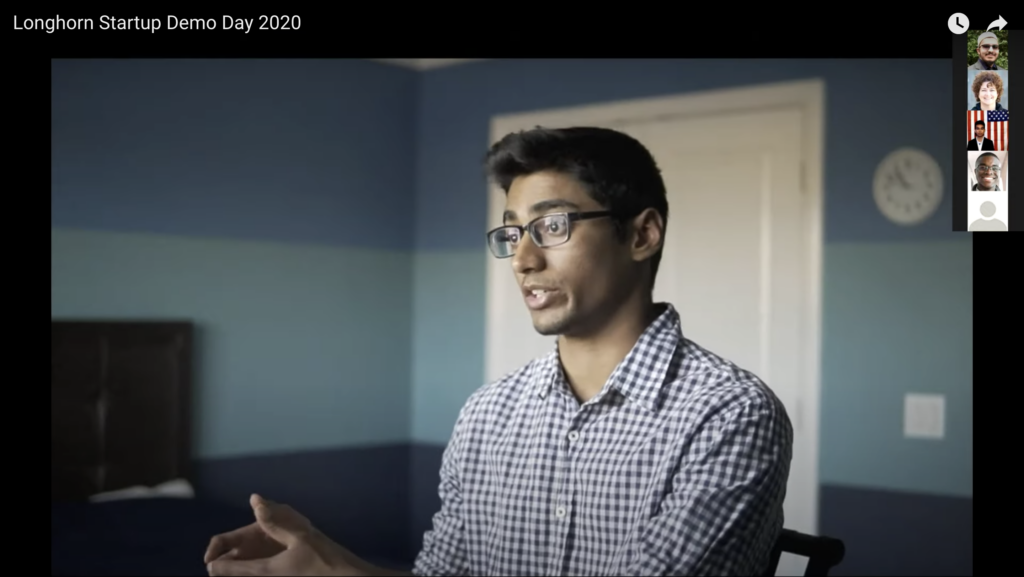 Recently, Explorastay was accepted into the 2021 Student Entrepreneur Acceleration & Launch (SEAL) program, a prestigious nine-week summer accelerator for emerging UT startups to explore a core company hypothesis and ultimately decide to accelerate, pivot or rightfully shut down the venture. "The Explorastay team timed its launch perfectly, as the medium-term rentals market exploded with a more remote and traveling workforce, let alone the recent surge in vacations," said Bart Bohn, director of SEAL.
In addition to SEAL, the team plans to build out sales and business development pipelines to grow integration partnerships globally, with a specific focus on Europe. To fund this growth phase, Explorastay launched its first official equity funding stage, or seed round, with the hopes of securing $750,000 from angel investors. Prior to the launch of this seed round in April 2021, the venture was primarily self-funded, other than a $25,000 convertible note from Capital Factory, which was the first-place prize for winning Longhorn Startup Lab in 2020. They are now a portfolio company for Capital Factory's Tech Startup Accelerator and on track to hit $25,000 in monthly recurring revenue within the third quarter of this year.
On August 5, 2021 Explorastay along 13 other UT Austin, UT Dallas and Texas A&M teams pitched their companies and made a public "Go / No-Go" announcement at SEAL Decision Day. The event was held at Capital Factory in downtown Austin. You can watch the recording here SEAL 2021 Decision Day.