AUSTIN, Texas — Eight artifacts, unearthed from the stone rubble of a 19th-century Texas farmstead, will soon be displayed in the Smithsonian National Museum of African American History and Culture, challenging conceptions of what life was like for former slaves in America.
Three marbles, a teacup and various farming supplies, including a livestock brand with the letter "R," will bring to life the untold accomplishments and everyday monotony of life on the Ransom Williams Farmstead, a Black-owned farm southwest of Austin. The objects are just a few of more than 25,000 artifacts excavated during the summer of 2009 in conjunction with construction of a new roadway by the Texas Department of Transportation. The selected specimens are on loan from the Texas Archeological Research Laboratory at The University of Texas at Austin.
They will be a part of the exhibit "Make Good the Promises: Reconstruction and Its Legacies," on view Sept. 24, 2021, through Aug. 21, 2022, to help tell the story of African American freedom colonies and life after the Civil War.
"These artifacts are a material testament to people who were racially subjugated and lived on the margins," said UT Austin anthropologist Maria Franklin, who led the community outreach efforts and collected oral histories related to the excavations. "Because we have so few records, the Ransom Williams Farmstead is incredibly valuable in answering so many questions we might have about what life was like for African Americans following emancipation."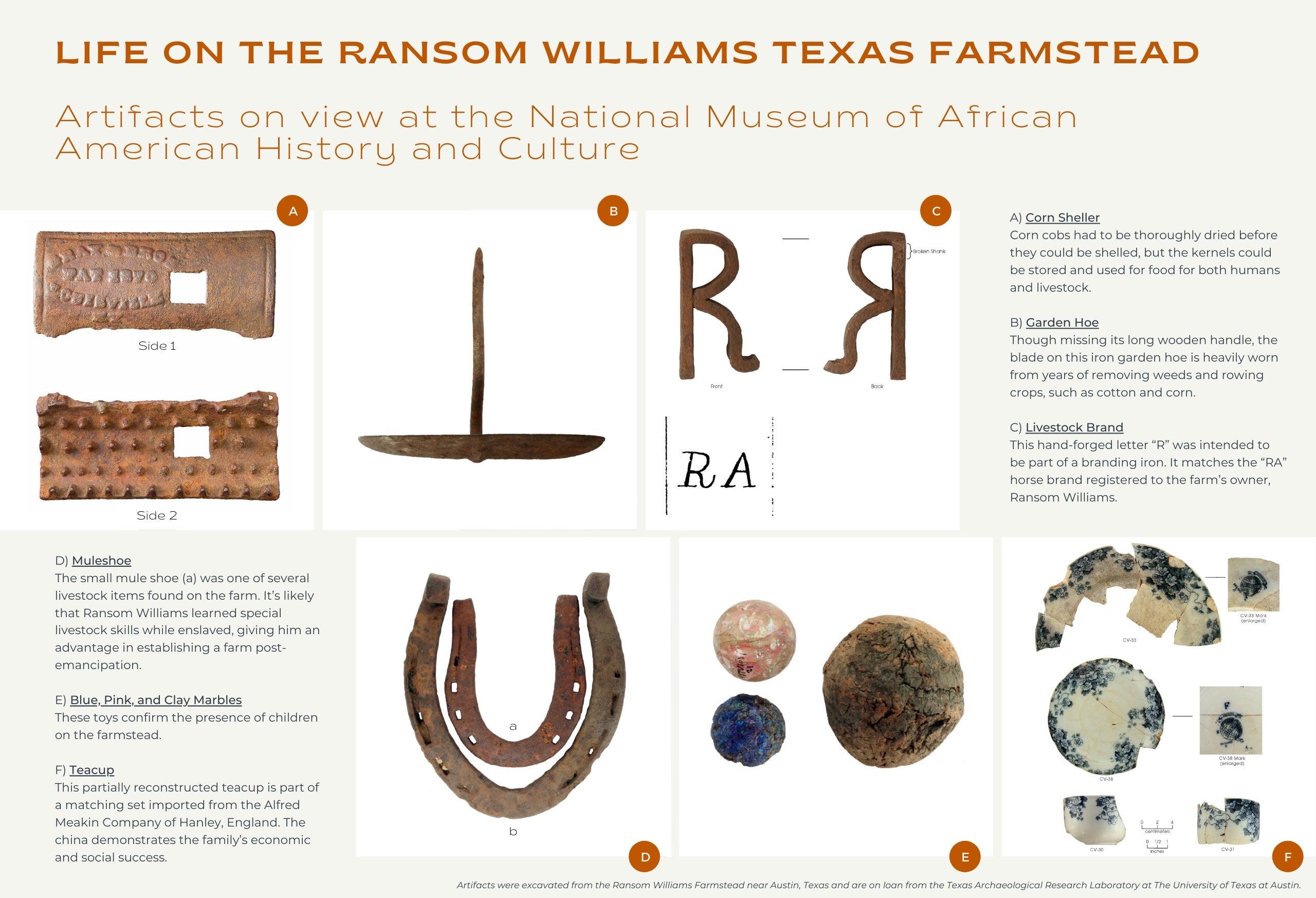 According to archival records such as land deeds, maps and tax records, Ransom and Sarah Williams, an African American couple, bought 45 acres along Bear Creek near Manchaca, Texas, six years after the Civil War ended and lived there until at least 1905. At the time, they were one of two Black families in the otherwise all-white enclave.
But the objects allow researchers to infer even more about the Williams family and their contributions to the social, cultural and political fabric.
"It's a material document that can help construct more realistic narratives about the past by helping us understanding more about the lives of ordinary people — as most people in history often were," Franklin said.
For example, farm-related tools such as the livestock brand, a muleshoe, a handheld corn sheller and a garden hoe suggest the family had established autonomy and was living off the land, probably producing cash crops such as corn and cotton.
"Freed slaves who had only skills of being a farmhand often became laborers after the war," said Doug Boyd, an archaeologist with Cox McLain Environmental Consulting Inc. who directed the Williams Farmstead excavation. "Because of the farm- and horse-related artifacts we found, we believed Ransom Williams had special knowledge of horses from when he was enslaved, and perhaps it gave him an advantage in buying his own farm."
Archival evidence supports the interpretation that the Williams family were successful farmers for more than three decades. And annual tax records show that Williams owned more horses than most of his white neighbors in the early 1870s, and he apparently sold most of them to help pay for his 45-acre farm.
Other artifacts such as the remnants of a teacup — imported from the U.K. and available through mail-order venues such as Sears, Roebuck & Company — demonstrate the Williams family's buying habits and economic access to luxury goods. It's also a representation of how formerly enslaved people, like many other Americans at the time, were integrated into the growing consumer market of the late 19th century.
"History has come a long way from focusing on a grand narrative of the wealthy and the elite, and archaeology plays a major role in documenting diverse experiences and voices," Franklin said. "Understanding the stories behind these artifacts dispels myths about who contributed. It diversifies the American narrative."
Can't make it to D.C.? Other artifacts from the Ransom and Sarah Williams Farmstead collection are available for public viewing on the fourth floor of the Dorothy Gebauer Building on the UT Austin campus, or explore the full collection at texasbeyondhistory.net/ransom.