One morning, Dr. Jennifer Hole was surprised when the parents of one of her 5-year-old patients unexpectedly brought doughnuts to her office, crying and begging her to continue to be their son's doctor. One week before, Hole requested to see their son at the children's hospital, but they interpreted that to mean she was dropping them as patients. The child's treatment required an operating room somewhere else, not from someone else. The family had recently immigrated to the United States from China and only spoke Chinese, a language Hole does not speak. So she used a call-in language line to try and clear things up. However, the hotline had a three-hour wait, which made treatment impossible that day. "When communication stops, the entire patient flow stops — there's a cascading effect," Hole says.
As a second-generation immigrant from Managua, Nicaragua, and a native Spanish speaker, Hole knows the challenges of language barriers and was devastated by the undue stress this caused her patient's family. Unfortunately, this was not the first time a language divide has been an issue in the clinical setting. Throughout Hole's 10 years as a practicing dentist, she has consistently struggled to find patient translation resources that are medically accurate. So she decided to do something about it.
Hole met Clay Holberg, MSTC '21, through the master's in technology commercialization program at UT. Their group assignment eventually evolved into what is now Root Medical Translation, a  speech-to-speech, peer-reviewed medical translation platform that enables better understanding between patients and providers, regardless of language. Using his branding and advertising background, Clay named the company Root as a reference to the root of a word. To use the platform, the provider simply scans a QR code, selects both translation languages and speaks into the application. The spoken phrases are instantly translated and spoken aloud in the second language, allowing both parties to accurately and effectively communicate.
"The United States doesn't have an official language, but if you don't speak English, you're in a different system when it comes to medical care," Holberg says.
Although there are many translation services currently on the market, many are inefficient, inaccurate and noncompliant. "Over the years my colleagues and I have tried Google Translate, subscription-based translation services, in-person language lines and more. I have yet to find a solution that is efficient, medically accurate and HIPAA-compliant," Hole says. Current offerings may also violate Title IX, a piece of legislation that entitles everyone to equitable access to health care regardless of gender, ethnicity, disability or language.
Root Medical Translation has been gaining momentum within the UT Austin startup ecosystem. It participated in Student Entrepreneur Acceleration & Launch (SEAL) this past summer, where the startup pitched onstage at Capital Factory during the culminating Decision Day. SEAL is UT Austin's selective summer accelerator offered by the LaunchPad at UT Austin. The program picks the most promising emerging startups across campus and helps them confront their next market-driven milestone.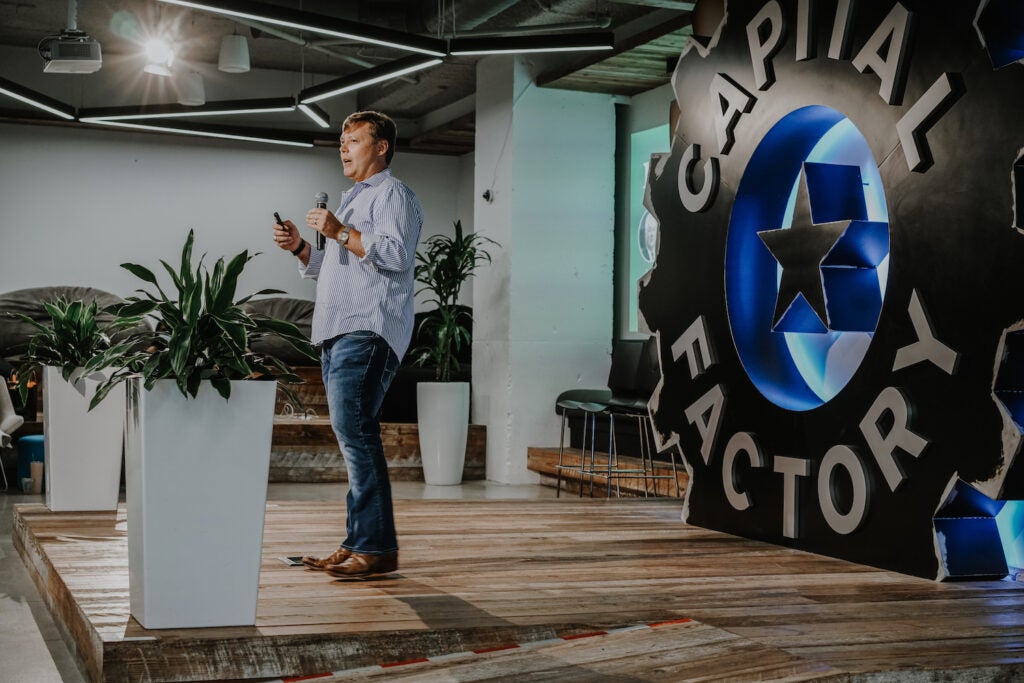 Root spent this past fall prototyping its solution after joining Texas Convergent, a product-centric incubator for students by students. Convergent pairs pods of engineering, design and business students with UT student startups to give them real-world experience in tackling the needs of early stage ventures. With the help of Convergent, the team was able to build a working framework that brings its vision to life. Upon completion of the program, the founders were invited back for a second term, and they plan to finish out the product in the spring and roll out completed software. The Root Medical team also made it to the final round of the Texas Venture Lab Investment Competition in the spring of 2021, where they took home the Texas Rising Star Award and the E. Craig Nemec Elevator Challenge Award, as well as the ScaleHealth Innovation Award for health care. "We really took the feedback we received from TVLIC to heart, especially from professionals in the medical industry," Hole says.
"Dr. Hole continuously ingrained into our team that doctors need this service to be reviewed by other doctors. It's a tall order to build that network, but it's what needs to happen to make our service truly unique from current market offerings," Holberg says.
Root is currently searching for bilingual providers from all medical fields who are interested in being part of the peer-reviewed network, as well as for translation stories from medical providers and patients who have experienced similar challenges. "Understanding begins when we learn from misunderstandings. I hope to see a movement amongst providers on an international scale to help solve the problem and build this peer-to-peer network," Hole says.
If you're a bilingual provider interested in getting involved, or have a translation story to share, email drjenhole@roottranslator.com to connect and learn more.