William "Tex" Moncrief, one of the first graduates of The University of Texas at Austin's petroleum engineering program (B.S. 1942) and a pioneer in the oil and gas industry, died Wednesday, Dec. 29, at the age of 101. Moncrief, who served on The University of Texas System Board of Regents, was known for his philanthropy across the state of Texas, including his longtime support of UT Austin.
"Tex Moncrief's impact on countless students across our university and the entire UT System is enormous and everlasting," said UT Austin President Jay Hartzell. "One of the giants in an industry that shaped our state, he stood out for his boldness and his example of giving back. The entire UT community mourns the loss of this Distinguished Alumnus, while also celebrating a life well lived."
Moncrief was born in 1920 to a family of legendary wildcatters. The Moncrief family was a part of many major historic oil and gas discoveries in East and West Texas, the Gulf Coast, Louisiana, New Mexico and Wyoming. Other significant discoveries included the Long Butte and Madden Deep units in the Wind River Basin, the Tepee Flats and Cave Gulch.
After his graduation from UT, Moncrief went to work for the aviation company Consolidated Vultee and then as an engineer for Stanolind Oil before joining the Navy when the U.S. entered World War II. In 1945, he returned to Fort Worth and joined his family's oil business, running Moncrief Oil for several decades.
Appointed by Texas Gov. Bill Clements, Moncrief served on the UT System Board of Regents from 1987 to 2003.
Moncrief also served as president of the William A. and Elizabeth B. Moncrief Foundation, contributing to educational, health, civic and cultural organizations in Texas, including to The University of Texas Southwestern Medical School, The University of Texas MD Anderson Cancer Center and Campbell Memorial Hospital, in addition to his many contributions to UT Austin. In 2001, he was named to the Texas Philanthropy Hall of Fame.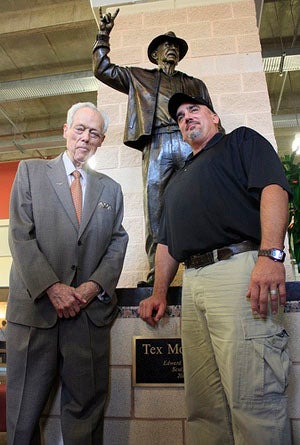 His gifts to UT Austin supported programs in architecture, athletics, the Briscoe Center for American History, engineering, financial aid, fine arts, law, business and natural sciences. He has helped to fund many faculty positions in the Oden Institute for Computational Engineering and Sciences, establishing the W.A. "Tex" Moncrief Jr. Endowment in Simulation-Based Engineering Sciences in 2009.
"In his philanthropy at UT, Moncrief made the same kind of bold investments that made him famous in business," said Executive Vice President and Provost Sharon L. Wood. "His timely support for computational engineering helped UT recruit global leaders working across traditional academic departments to address some of society's biggest challenges. His generosity transformed our university and world for the better."
In 1997, the university added Moncrief's name to the athletics center, becoming the W.A. "Tex" Moncrief Jr.-V.F. "Doc" Neuhaus Athletic Center, in honor of his contributions and support. A major renovation of the center was completed in 2021 with support from the family, creating one of the country's premier facilities for student-athletes. In 2010, a statue of Moncrief was unveiled in the Red McCombs Red Zone at Darrell K Royal-Texas Memorial Stadium.
"We're saddened by the passing of Tex Moncrief, a great man whose impact on our student-athletes, teams and entire athletics department will never be forgotten," said Vice President and Athletics Director Chris Del Conte. "Tex was such an incredible soul with a huge heart who loved his family, Fort Worth, and his Texas Longhorns. I am beyond thankful for the time we spent together, the wisdom he shared and his extraordinary support. He will be dearly missed, but his legacy of love and support will live on."
The Texas Exes named Moncrief a Distinguished UT Alumnus in 2008. Moncrief was also honored as a distinguished graduate of the Cockrell School of Engineering (1983) and the Hildebrand Department of Petroleum and Geosystems Engineering (2010).
Moncrief would have been 102 in March.
Greenwood Funeral Home in Fort Worth is handling arrangements for a memorial service.