AUSTIN, Texas – Incumbent Texas Gov. Greg Abbott and former U.S. Rep. Beto O'Rourke appear poised to receive their respective party's nominations in the March 1 Texas primary elections, according to a new University of Texas/Texas Politics Project Poll. Abbott leads O'Rourke 47% to 37% in the likely though still hypothetical matchup for the November general election.
In the race for the Republican gubernatorial nomination, Abbott enjoyed a lead over his closest challengers, with 60% of likely Republican primary voters preferring Abbott, 15% preferring former Republican state party chair Allen West, 14% saying they will be supporting former state Sen. Don Huffines, and three other candidates each receiving 5% support or less.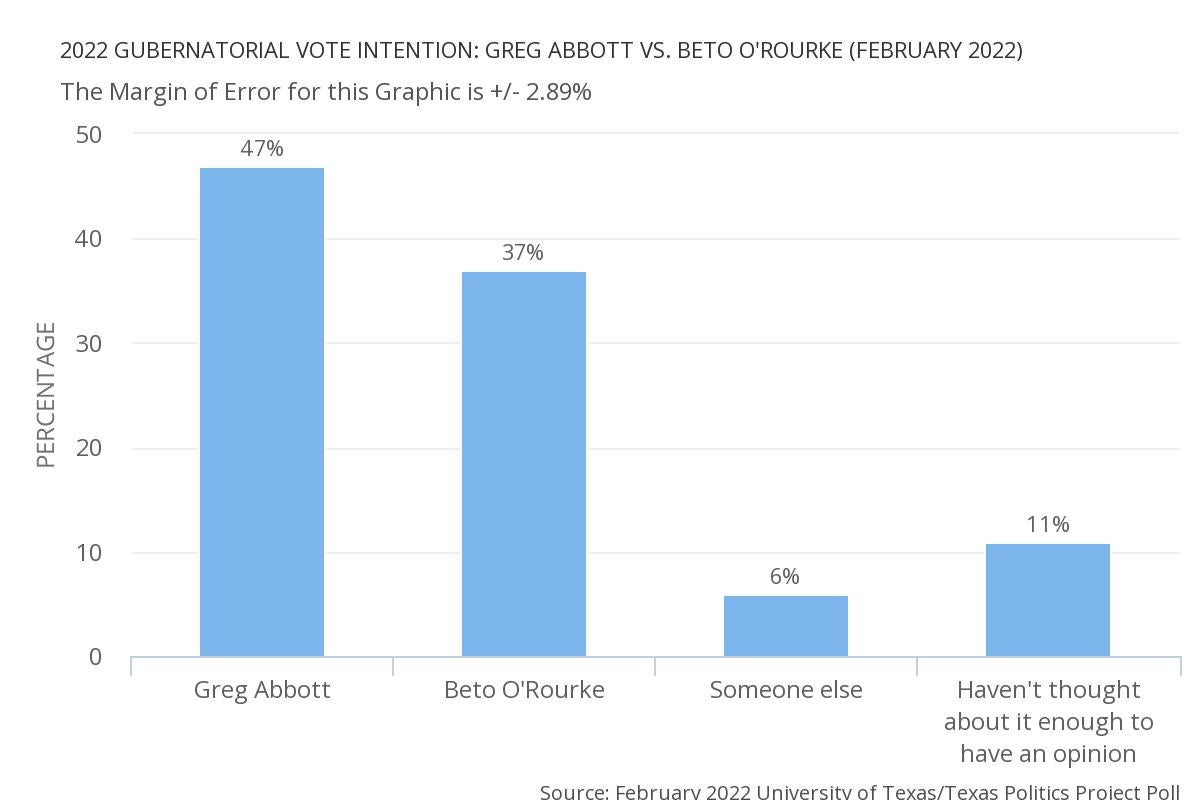 In the Democratic gubernatorial primary, O'Rourke enjoys a substantial lead over several lesser-known candidates as he was the choice of 93% of likely Democratic Party primary voters.
The poll sampled 1,200 self-declared registered voters in Texas between Jan. 28 and Feb. 7. The margin of error for the full sample is +/- 2.83 percentage points.
In other marquee primary matchups, Lt. Gov. Dan Patrick held a comfortable lead in his bid for the Republican nomination, with 82% of likely Republican primary voters expressing support for him. The Republican race for attorney general finds incumbent Ken Paxton with the support of 47% of likely GOP primary voters, placing him in danger of a run-off in the face of three strong challengers in double figures.
Turning to the economy, a large majority of Texans report feeling the effects of inflation. Eighty-eight percent said that based on their experience, prices for goods and services have "generally increased." Among that group, slightly more than half, 51%, reported that rising prices have had a "major impact" on their household financial situation.
"The breadth of Texans' experience of inflation and its impact on their households confirms the growing sense that inflation will likely loom large in the 2022 elections, which is yet another political headwind Texas Democrats could do without," said James Henson, director of the Texas Politics Project at UT Austin, who along with government professor Daron Shaw founded the series of polls started in 2008.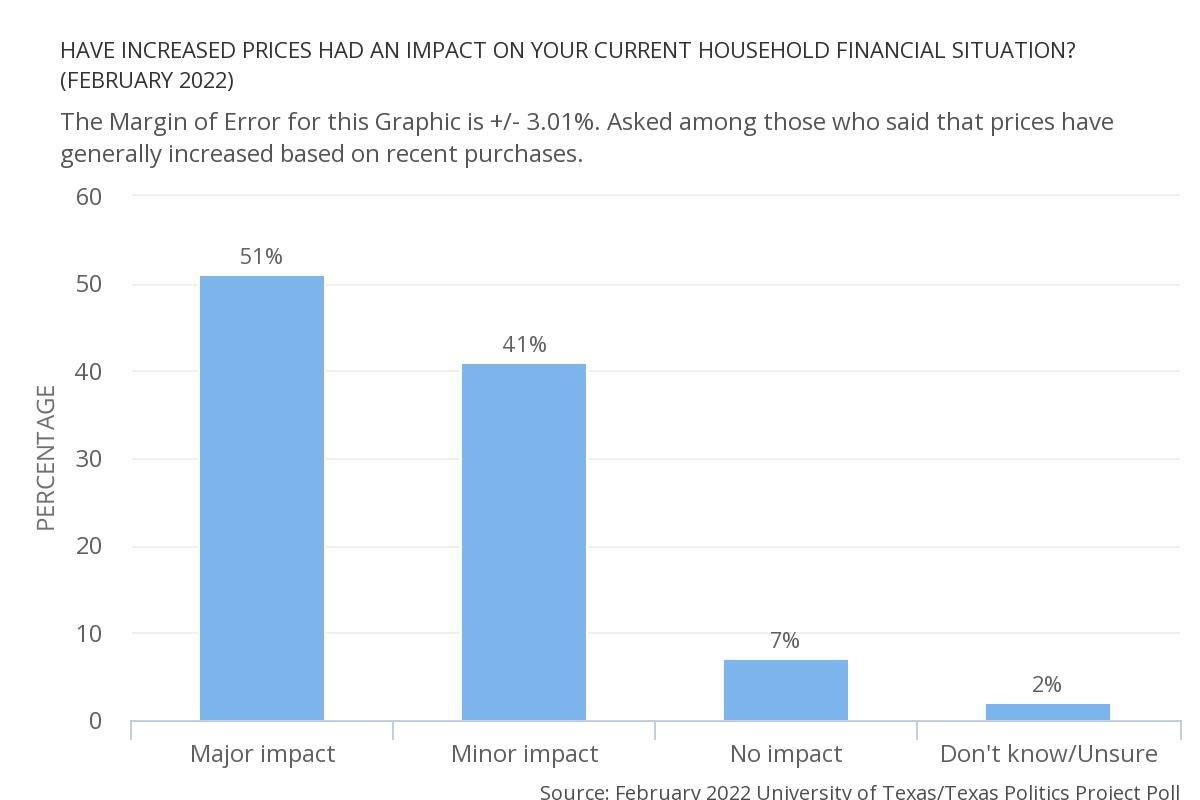 Asked to rate President Joe Biden's overall job performance, 44% of Texans approved and 42% disapproved. Among partisans, 76% of Democrats approved, while 9% disapproved. For Republican, only 6% approved, while 91% disapproved. Among independents, 17% approved while a majority, 63%, disapproved.
"Greg Abbott is the only elected official who elicited a higher level of approval than disapproval, and by only 2 points," said Joshua Blank, research director of the Texas Politics Project. "Everyone else whose standing we tested is underwater, even though the intensity of the negative feelings we saw in the late summer and fall has relented slightly."
The poll also explored Texans' views on several prominent issues in recent months. Some of the results:
Amid growing activism around the influence of parents on classroom teaching, 44% agreed with the statement, "Parents of children in Texas public schools have enough influence on what their children are taught." 41% disagreed.
Among the 84% who said they had heard about the efforts of elected officials and some parents to remove books from public school libraries, a large majority, 62%, opposed such efforts, 29% supported them, and 9% had no opinion.
With the U.S. Supreme Court expected to issue a landmark ruling on Roe v. Wade, which currently guarantees the right to abortion, 34% support automatically banning all abortions in Texas if Roe is overturned; but a majority, 53%, oppose such a ban. The Texas Legislature, in its most recent legislative session, passed a "trigger" bill implementing such an automatic ban in the event the high court overturns Roe.
51% of Texas voters agreed with the statement, "Protesters who entered the United States Capitol last January 6th were attempting to overturn the results of the 2020 election," while 34% disagreed and 14% didn't take a position. A majority of Republicans, 62%, disagreed, with 44% strongly disagreeing.
Asked about their expectations of future political violence, a majority, 54%, expect there to be more political violence, 10% expect less, and 20% expect the same amount to continue. 
Asked whether they thought Joe Biden legitimately won the 2020 presidential election, 53% of Texas voters said yes, 36% said no, and 11% were unsure. Texans' acceptance of the repeatedly validated election results also split sharply along partisan lines.
A majority of Texas voters, 55%, say that democracy in the U.S. is working poorly.
"The corrosion of Texans' trust in the democratic process evident in previous polls has been worsened by the rhetoric and violent actions of those who have, without evidence or legal validation, refused to accept the legitimacy of the 2020 elections," Henson said.
To see the full poll, please visit this link.