AUSTIN, Texas — The Dolph Briscoe Center for American History at the University of Texas at Austin has acquired the papers of Richard N. Goodwin, speechwriter and policymaker for Presidents John F. Kennedy and Lyndon B. Johnson, and Doris Kearns Goodwin, acclaimed presidential historian and Pulitzer Prize-winning author. In addition, Ms. Goodwin will join the Briscoe Center's Advisory Council.
Mr. Goodwin's papers stretch more than six decades, from roughly 1950-2014, and provide an intimate look into his distinguished professional career. Mr. Goodwin's archive, an extraordinary time capsule of the 1960s, includes memos and notes on his contributions to shaping national and international policy during the Kennedy and Johnson administrations, including the War on Poverty and the Civil Rights movement. Among the treasures are drafts of several of the most historically significant speeches of the 20th century, including JFK's inaugural speech and LBJ's "Great Society" and "We Shall Overcome" speeches. The draft of LBJ's landmark Howard University speech calling for affirmative action is accompanied by a telegram from Martin Luther King Jr. that reads: "Never before has a president articulated the depths and dimensions of the problems of racial injustice more eloquently and profoundly."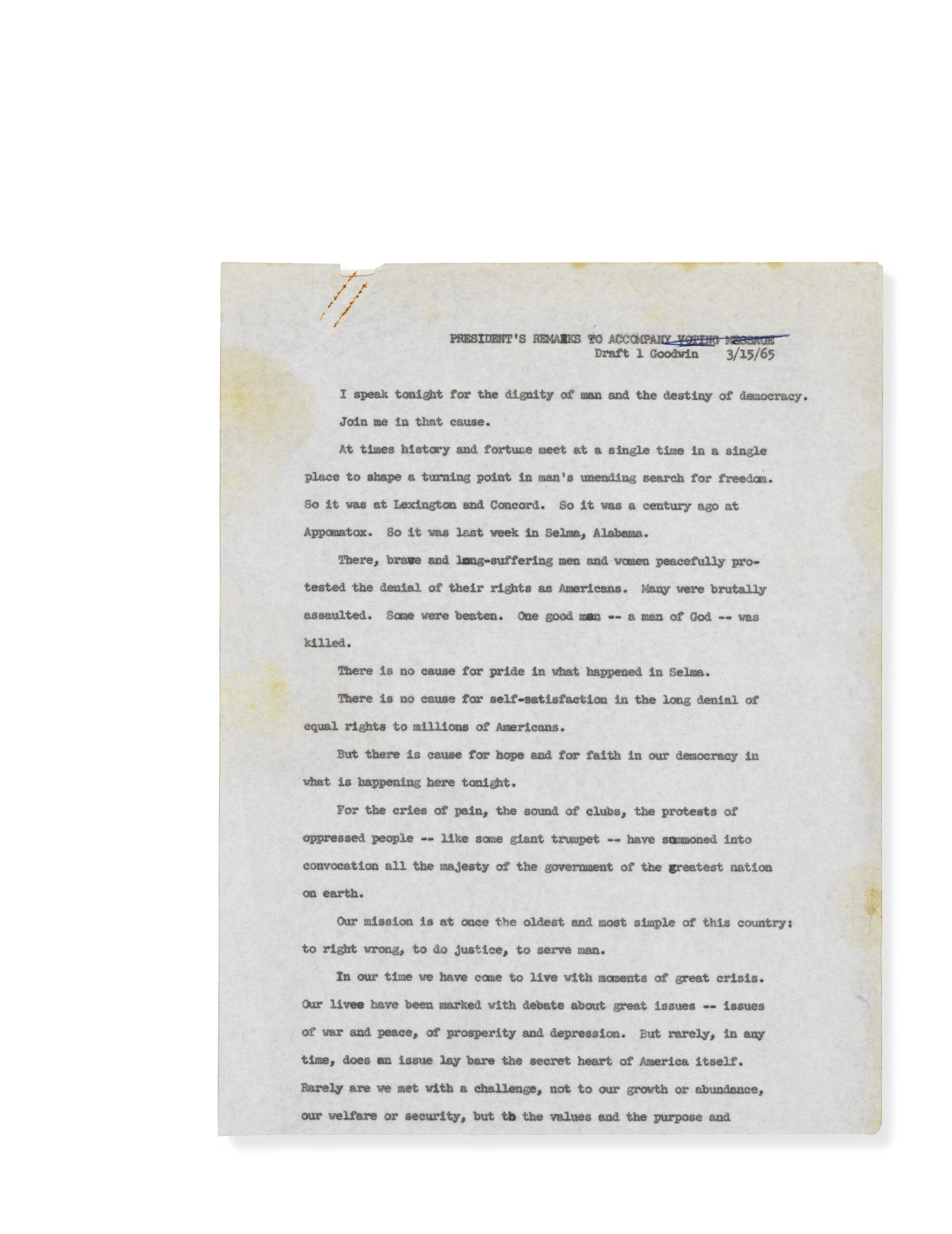 "I have loved history my whole life, so I am delighted that my papers and those of my late husband will reside together as part of the outstanding collection at the Briscoe Center," said Ms. Goodwin. "I'm impressed by the depth and breadth of the Briscoe Center's holdings, and also by its innovative mission as a center that actively conducts its own research into its collections, as well as facilitating the research of others. My hope is that our papers will offer unique insight and rich potential for students, historians and other researchers who will find the material not only informative but also inspiring."
The archive of Ms. Goodwin, author of seven critically acclaimed and bestselling books and who New York Magazine heralds as "America's Historian-in-Chief," spans six decades from the 1960s to near present. The papers provide a road map of her writing process from her initial foray into a subject, and include original research materials, interviews, early outlines, primary sources and manuscripts.
"This acquisition is a landmark event in the relatively short history of the Briscoe Center," said Don Carleton, the Briscoe Center's executive director. "These two archives cover an amazingly wide range of significant events in American political, presidential, and cultural history extending from the late 1950s until the very recent past. Adding to my excitement about these collections is the fact that Doris has agreed to be a member of our Advisory Council and will serve as an advisor to and ambassador for the Briscoe Center on an ongoing basis. I eagerly look forward to working with her to continue to build and promote the Briscoe as one of this nation's leading history centers."
Ms. Goodwin is best known as a preeminent public intellectual, presidential historian and biographer frequently seen on television putting today's news into historical context. Her books include the 1995 Pulitzer Prize-winning No Ordinary Time: Franklin and Eleanor Roosevelt: The Home Front During World War II; Team of Rivals: The Political Genius of Abraham Lincoln, which won the Lincoln Prize and served as the basis for Steven Spielberg's 2012 award-winning film, Lincoln; and her most recent, Leadership: In Turbulent Times, which explores the early development, growth, and exercise of leadership. Her papers chart the course of her growth as a historian and writer and include professional correspondence, documents, photographs, visual recordings, news clippings and other memorabilia.
As a member of the Briscoe Center advisory council, Ms. Goodwin will support the mission of the center and the university through appearances on the UT Austin campus, including lectures, seminars and consultations with students. "I am excited to be returning to Texas, to visit these boxes that not only open a door to our country's history but hold memories of the long life I spent with my husband and of our cherished careers, and to share these memories and my love of history with the UT students and faculty."
The Briscoe Center has a sampling of materials from the Goodwin Papers on exhibit in its New Acquisitions Gallery, located in the Research and Collections division of the center (Sid Richardson Hall, Unit 2) on the UT Austin campus.
About Richard N. Goodwin and the Goodwin Papers
About Doris Kearns Goodwin and the Goodwin Papers
The Richard Goodwin and Doris Kearns Goodwin papers are closed at this time for processing. The center will announce when the collections are open to researchers.
High-resolution media images are available upon request.