AUSTIN, Texas — With semiconductor devices and systems now affecting all aspects of daily life, demand for such technologies has soared in recent years. But with 75% of microchip production based in East Asia, America's over-reliance on foreign manufacturers leaves our supply chains vulnerable and threatens our long-term economic competitiveness and national security.
In the face of the critical global shortage in microchips and semiconductor systems, The University of Texas at Austin is proposing to lead the Texas Institute for Electronics (TIE), a public-private partnership between the State of Texas, preeminent semiconductor systems and defense electronics companies, national labs and 13 academic institutions across the state to restore leading-edge semiconductor manufacturing back to American soil, secure the supply chain, ensure national security and educate the next generation of industry innovators in Texas.
U.S. Sen. John Cornyn and U.S. Rep. Michael McCaul joined UT Austin President Jay Hartzell, UT System Chancellor James B. Milliken and leaders from Applied Materials, Samsung, Advanced Micro Devices, Micron Technology, Sandia National Laboratories, NXP Semiconductors and administrators and faculty members from UT Austin at the Texas Advanced Computing Center for an event to announce the TIE proposal and highlight the ways in which this unique collaboration would position Texas as a leader in semiconductor R&D and manufacturing.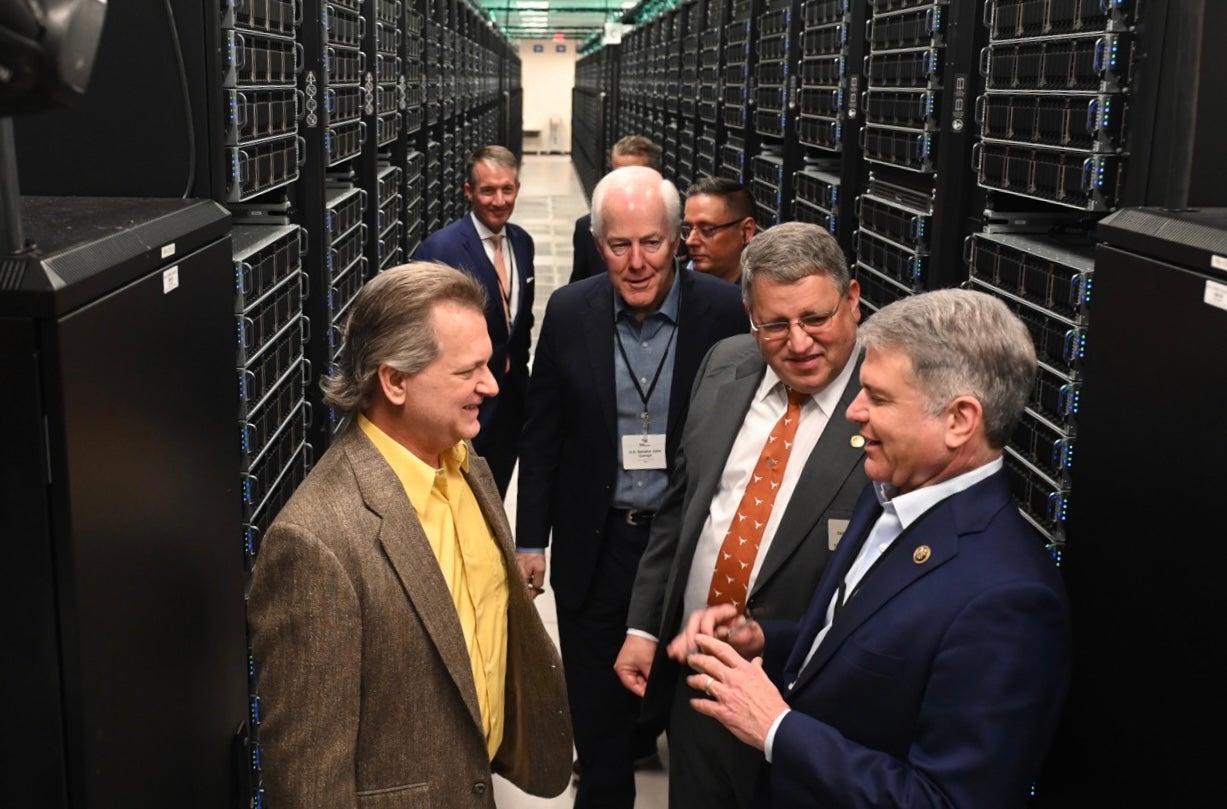 "Investments in our nation's semiconductor production ecosystem will spur innovation, protect our country's security, create high-paying jobs, and promote the long-term economic viability of the U.S. semiconductor industry. That all starts with research and talent from America's leading research universities, including UT Austin," Hartzell said. "Building on a long history and strong position, Texas has all the elements necessary to create a best-in-class public-private electronics ecosystem. The Texas Institute for Electronics would help address America's commercial and defense needs, while cementing Texas as a national leader in the semiconductor industry."
TIE would include a network of fabrication plants (fabs) for research and development across the academic institutions focused on visionary technologies: a secure fab with the necessary clearance to support technology development and supply chain needs of the defense electronics sector; and an innovation fab to support current industry needs, maintain U.S. technological and economic advantages, and ensure supply chain security.
The CHIPS for America Act, legislation co-sponsored by Cornyn and signed into law in 2021, is intended to help revive domestic semiconductor production by investing in microelectronics and increasing federal incentives to stimulate advanced chip manufacturing in America. About $52 billion in critical CHIPS Act funding is now pending before Congress as part of major innovation and competitiveness legislation that is being reconciled by the House and Senate. If passed, this funding is expected to enable the construction of microchip fabrication facilities and support regional public-private partnerships such as the Texas Institute for Electronics.
"With worldwide supply chain disruptions, it is imperative that we bolster our domestic semiconductor production capabilities, which rely on critical research and development," Cornyn said. "Texas is well positioned to grow in this arena as the CHIPs for America Act will equip the upcoming generation of scientists, engineers and innovators with cutting-edge facilities and programs to increase our manufacturing capacity, support economic growth, secure supply chains and ensure long-term national security."
"There's no better place to boost U.S. leadership in chip production than in the state of Texas," said U.S. Rep. Michael McCaul. "With universities like The University of Texas at Austin leading the way, investments in semiconductor R&D and manufacturing will help to secure this critical supply chain, create high-paying American jobs and grow the Texas economy."
The TIE initiative would leverage and expand the existing infrastructure and research capabilities of UT Austin, which houses the Cockrell School of Engineering (ranked No. 6 nationally by U.S. News & World Report) and several other internationally recognized UT centers and labs that contribute to semiconductor advances, including the Microelectronics Research Center, Texas Advanced Computing Center, Army Futures Command, Applied Research Laboratories and the NASCENT Nanomanufacturing Systems Center. This effort would also build on centers of excellence at the other 12 Texas-based academic institutions.
"We are grateful to Sen. Cornyn and Rep. McCaul for their vision and leadership on the CHIPS for America Act," said S.V. Sreenivasan, a professor in the Cockrell School of Engineering who is leading the TIE initiative. "This investment is essential for our country to preserve and enhance leadership in semiconductor technology."