To the future patients of Brian Chavez — you'll be in good hands. The biology honors major in the Health Science Scholars program desires to treat patients the same way he remembers doctors treating his grandparents — with kindness and respect. Growing up just down the road from his grandparents, Chavez was heavily involved in their health care journey.
"My grandparents were such a huge part of my life," the Rio Grande Valley native says. "As they got older, I started seeing the health impacts that cancer and heart failure had on them. Where I grew up, there are a lot of geographic barriers that prevent people from getting the right access to medicine. Seeing that during my high school years really shaped what I wanted to do with my life."
Chavez, one of our outstanding graduates from the class of 2022, always dreamed of attending UT. After deciding on a career path, he worked tirelessly to make this dream a reality. At his high school, he was valedictorian and student body president, founded the future health careers club, was a two-time spelling and vocabulary state champion, and was captain of the football team. His incredible academic performance earned him a Forty Acres Scholarship, granting him a full ride.
Moving to Austin from the small town of Port Isabel, Chavez experienced quite the culture shock. But he quickly found organizations that aligned with his interests. He became involved in Student Government, health careers and service organizations, Bible study, the Forty Acres Scholarship Committee, and the Latinx Honors Student Association as a founding member. By staying true to himself and participating in areas he was passionate about, Chavez made UT his home.
"The community here is so supportive," he says. "Every single person I've met is passionate and motivated to change the world and improve their surroundings."
Motivated to tackle greater challenges, Chavez became the health and wellness policy director for Student Government. When the pandemic began, he had to reassess his plans to improve health on campus, which led him to create Powering Past the Pandemic. This initiative allowed students and staff to reconnect after a long period of lockdown. Motivational speakers and student leaders shared their experiences with COVID-19 as well as their personal coping skills. Seeing Longhorns come together to support one another through this initiative was one of his proudest achievements, he says.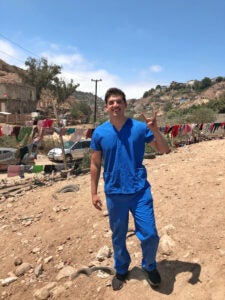 Chavez has gained considerable clinical and research experience throughout his time at UT. He participated in Global Medical Training and the Refugee Health Alliance, traveling to the Dominican Republic and Mexico to volunteer at free clinics. Chavez also participated in the Freshman Research Initiative, which gives first-year students the chance to initiate and engage in real-world research experience, and he has been an undergraduate researcher at the Dell Children's Medical Center since 2019.
Throughout these experiences, Brian has practiced treating his patients with the utmost of care. "I know how stressful it can be when dealing with difficult medical issues," he says. "When I treat people now, I want them to feel heard. I want to be a positive light through the hard times."
This summer, Chavez will be taking the next step in his career by attending McGovern Medical School in Houston and focusing on emergency medicine. After he attains his doctorate, Chavez intends to concentrate his practice in the Rio Grande Valley. He also hopes to push for legislation that promotes greater medical access for the medically underserved, rural areas of Texas.
He encourages incoming Longhorns to stay true to themselves to succeed on the Forty Acres and beyond. "Everyone has a different background and is shaped by their environment. That's what makes you special. Use your uniqueness to construct your dreams and goals."