Let's get right to the point: Kiara Kabbara can and probably will do anything she sets her mind to. So don't bet against her becoming the first Black U.S. senator from Texas and then U.S. secretary of education. With a wide-open smile and an easy laugh, she radiates the kind of charisma that comes in handy for politicians.
At her core, Kabbara, one of our outstanding graduates from the class of 2022, cares most about two interrelated ideas: representation and equity.
As for representation, she says seeing other Black women in leadership positions is paramount, and she is doing her part: She is UT's first Black female Student Government president in 31 years.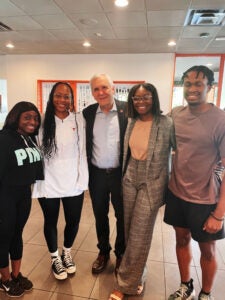 Kabbara attended a Dallas high school that was 98% Black, then came to UT, which is 5% Black. That change was jarring. (About 12% of Texas high school seniors are Black.) She countered this demographic loneliness by taking on leadership positions in groups that support Black students. Her crowning achievement on that front was reestablishing UT's chapter of the NAACP, no mean feat for a full-time student. She had to learn how to open a bank account and, not having a car, rode the bus to Round Rock to open it. She learned to raise funds, establish an executive board, fill those positions and lead an executive team of 25 people.
With representation comes equity, and equity in education is her passion. "I went to a high school that was very underserved," she says, citing a low level of teaching, textbooks from the 1990s and a lack of technology now considered basic to learning, such as laptops. Kabbara wasn't having it. "I kid you not — every Tuesday night when the Dallas school board had a meeting, I was there saying we need change, we need to do this or that."
When it came time for college, Kabbara, a basketball player, considered walking on at Kansas. But after praying, consulting with her parents and assembling a full ride's worth of scholarships, Texas became the obvious choice. She was recruited into the University Leadership Network, which includes scholarships and other student support. When she won the Student Government presidency, she received a Texas Exes scholarship designated for that officeholder. She also studied in Costa Rica on a Texas Global scholarship.
She began as a pre-med major, but it was too late; working on the school board campaign had already given her the politics bug. She switched to government and also is graduating with a business management certificate.
Inspired by LeBron James' show "The Shop: Uninterrupted," in which he uses a barbershop setting to talk to celebrity guests about being Black in America, she created an event called The Lounge. It's a Black student business fair, hosted by her nonprofit organization, B.A.L.L.O.U.T., Building a Lasting Legacy While Overcoming Unique Trials. The Lounge had to be held in the Texas Union ballroom to accommodate the 500 students it drew. Kabbara also created the Student Business Initiative, which gives student entrepreneurs a platform to sell their products at the University Co-op.
Her favorite UT memory is bringing basketball back to Gregory Gym for the first time since 1977. After the hiring of coach Chris Beard, she thought, "He doesn't know UT — let's change some things up!" The "throwback game" in which the Longhorns men's team played Sam Houston State in Gregory instead of the Erwin Center, was electric, with every seat filled, she says. "It was a surreal moment. I really hope they continue it."
Her greatest challenge was simply realizing that faculty were "talk-to-able." It took becoming student body president to realize this, "because I was forced to be in rooms with President (Jay) Hartzell, the provost and other administration, so I finally gained the confidence to say, 'Oh, OK, they're just people!' It took until my senior year to feel I really belonged here."
After graduation, she plans to pursue a joint law degree and MBA. Then she wants to return to Dallas, run for the Texas House of Representatives and work her way up from there. "In the political world there are so many committees I can sit on setting policy for small business and nonprofits. I feel like at the end of the day, all of my passions are going to come together."
She encourages incoming Longhorns not to be afraid of leadership. "Even though I've done a lot on campus, I really held back from being the person and the leader I knew I could be. I thought these upperclassmen — they've got it! They don't need me. Join the org. Do the leadership. Go full out."
What will she miss most about her undergraduate years is "the freedom of seeing friends all the time," she says with a smile. "Staying up late. Playing pingpong in Jester."