AUSTIN, Texas — The University of Texas at Austin is the No. 1 school for veterans in Texas, according to U.S. News & World Report, a reflection of the university's continued commitment to serving student veterans and military families. Through inventive academic programming and support initiatives, the university has continued to strive to holistically meet the unique needs of service members, veterans and their families.
During the past year, new programs to support professional and continuing education, transitioning to civilian life, and strengthening family resiliency were added to the university's full roster of specialized services for military-affiliated communities.
For example, with 500 military veterans and nearly 1,300 students who are spouses or children of current or former military members, the Veteran and Military Affiliated Services in the Office of the Dean of Students provides a variety of services including academic support, career services, health care and wellness resources.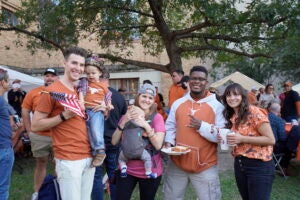 The university also offers a suite of career-focused education and training opportunities for service members who are seeking to build on their transferable skills and prepare for employment in stable careers. As part of the Extended Education Ventures portfolio, The University of Texas at Austin Oscar Mike (UTOM) is an all-encompassing program, combining educational and career services with emotional and social support programs.
"Military personnel, their spouses and young adult children are uniquely qualified to become ideal employees for major Central Texas employers, such as Tesla, Indeed, Google, Apple or Dell," said Liliya Spinazzola, senior director of extended campus custom training. "Highly trained, qualified and committed new employees from the program will also benefit industry with a steady stream of applicants."
The university is also developing another avenue for mental health support of military families. Researchers at UT Austin's Institute for Military and Veteran Family Wellness recently received Congressionally Directed Medical Research Program funding to pilot an active-duty spousal resiliency program. The funding will support the adaptation and testing of a curriculum-based peer support group at Fort Hood, halfway between Austin and Waco, called the Military Spouse Resiliency Group. The program will train military spouses as peer leaders who facilitate supportive discussions and will help address specific life issues.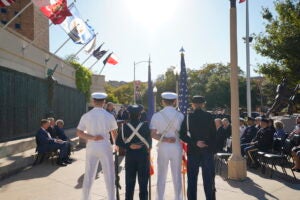 The U.S News & World Report 2022-2023 Best Colleges for Veterans rankings are published to provide data on top-ranked schools that make pursuing a college education more affordable for veterans and active-duty service members. UT Austin was also ranked No. 1 in 2021.
To learn more about the veteran community and UT Austin's collaboration with the U.S. military, visit utexas.edu/military.