AUSTIN, Texas — Adm. Christopher W. Grady, vice chairman of the Joint Chiefs of Staff, visited The University of Texas at Austin for a detailed review and collaboration of the research, policy and innovations related to national security led by university researchers. Leaders and researchers at the forefront of digital age technology and workforce development shared capabilities and ongoing defense-related projects during the daylong visit.
Grady leads one of the Pentagon's most important acquisition organizations — the U.S. Joint Requirement Oversight Council (JROC), which reviews and arbitrates Department of Defense acquisition priorities in keeping with the national military strategy. The JROC members include all the vice chiefs of each military service.
"It is fitting to visit during the Veterans Day weekend, where we celebrate the patriotism, service and sacrifice of all who have served," Grady said. "It is clear the people of UT are identifying and solving challenges that support national security. The work today on designing, developing and producing critical technologies will ensure our armed forces have every advantage they need."
The Joint Chiefs of Staff delegation received an overview of the university's research in robotics, computational engineering and advanced computing, as well as programs to increase vocational expertise in security, policy and strategy in today's rapidly evolving environment.
"UT Austin remains committed to responding to the pressing demand for research and innovation around national security," said Executive Vice President and Provost Sharon L. Wood. "We have a long and productive history working with the Department of Defense. This opportunity to engage and work with Adm. Grady is critical to ensuring that UT Austin continues to have a significant impact on strengthening U.S. national security for decades to come."
Texas Robotics highlighted robotics and autonomous systems including long-term autonomy and human-machine interfaces. Work demonstrated included social and autonomous navigation, surgical, rehabilitation and telemedicine, manufacturing, space, nuclear, and other robotics systems. Since 2019, Texas Robotics has engaged in cooperative research including technology transition with the Army Futures Command as a partner in the Army's military modernization efforts.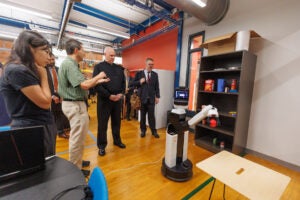 Researchers with the Texas Advanced Computing Center and the Oden Institute for Computational Engineering and Sciences shared high-performance computing technologies, computational science, engineering and mathematics methodologies, and their significant role in supporting and enabling Department of Defense capabilities in design, manufacturing and operations. There was a specific focus on digital twin research and how it will affect supply chain management, system sustainment and complex energy systems. The Oden Institute was recently awarded a new project establishing a center on Multifaceted Mathematics for Predictive Digital Twins by the Department of Energy.
The McCombs School of Business and Extended Education Ventures shared professional education services and resources for active-duty military members, veterans and civilians. Discussions highlighted new innovative programs such as the Oscar Mike virtual Credentialing Assistance and Military Family Transition Support program. Additionally, Texas Immersive demonstrated how immersive user experiences can improve education and training.
The Clements Center for National Security introduced leading faculty members and fellows who are engaged in the teaching and research of history, strategy and statecraft. The nonpartisan center has created a vast network of scholars and practitioners who serve around the world in vitally important national security positions. Grady and researchers discussed current issues surrounding national security policy.
The admiral also visited the Applied Research Laboratories (ARL:UT), which is the nexus for UT Austin's national security work. As both Department of Defense University-Affiliated Research Center and the largest research unit within the university, ARL:UT emphasizes the prototyping of hardware and software to solve immediate, emerging and future national security challenges rapidly and cost-effectively. It has a 77-year history of providing world-class research and expertise for the Department of Defense and was a progenitor to the Austin high-tech scene, with several key Austin companies having been founded by former staff members, including Tracor and National Instruments.
The Defense Research Advancement Office in the Office of the Vice President for Research, Scholarship and Creative Endeavors coordinated the visit and facilitates research relationships between the university and defense ecosystem.
Grady is the 12th vice chairman of the Joint Chiefs of Staff and the second-highest-ranking officer in the U.S. military.