By: Beth Waldman
Third-year student Daniel Jaramillo is enthusiastic when describing the support he's received from UT for Me: "What's surprised me the most is how devoted this program is to helping students succeed. Through its informational events, welcoming socials, access to program coordinators and other resources, the program truly provides a welcoming environment that brings people of so many different backgrounds together and helps them achieve their goals."
Jaramillo's observations about the impact of UT for Me – Powered by Dell Scholars are exactly in line with what The University of Texas at Austin and the Michael & Susan Dell Foundation set out to provide when they announced the launch of UT for Me on January 31, 2020.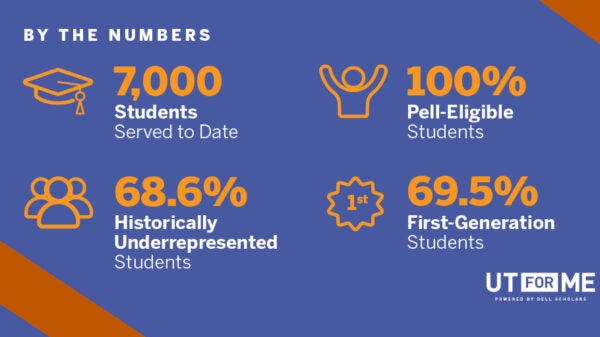 Built on the model of the national Dell Scholars program, UT for Me is working toward increasing the six-year graduation rate for Pell-eligible students from 73% to 90%. To that end, UT for Me equips its students with both tangible resources — like a brand-new laptop and annual textbook credits to the University Co-op — and a robust, individualized support system facilitated by a team of student program coordinators, financial aid officers and peer ambassadors.
Jaramillo, who now serves as a peer ambassador, adds, "This program has done unbelievable things for me, and I feel the need to give back. As an ambassador, I plan on hosting the best events possible for students and bringing new ideas to the UT for Me team that will help in the years to come."
In its three years — the first two of which were either virtual or hybrid — UT for Me has hosted more than 60 events, designed to build community and connect students to resources across campus. Those activities bring students together and encourage them to build valuable social networks.
"I am really proud of talking to new people and keeping in touch with most of them," says Semi Ojerinde, one of UT for Me's lead peer ambassadors. "I feel that in a big school like UT, it can be hard to make friends and talk to others, but I went out of my way to do so. It was actually one of my goals for college to meet new people and be more sociable, so I am glad that I took the chance!"
Looking ahead to its fourth year, UT for Me is expected to serve one in four first-time undergraduate students at the university. Not only that, but UT for Me will graduate its first cohort of students in spring 2024. Twenty-five UT for Me students have already graduated early; the program celebrated its first graduate in December 2021.
"We know that all of our students have the potential to change the world, and we're honored to be a part of their Longhorn journey," says KJ Harris, director of UT for Me. "I'm so proud of the impact our program has made in its first three years, and I'm so excited for what the future has in store."