By: Sirah Diallo
Growing up, MBA student Thomas Shields, who expects to get his degree in May 2024 from the McCombs School of Business, was always passionate about sports. He spent his Michigan childhood playing everything from soccer to lacrosse and collecting and trading countless baseball, hockey and basketball cards. To say he came from a competitive sports family is an understatement. Winter vacation included mandatory morning tennis clinics with his parents, cousins and grandparents. 
Shields' first introduction to pickleball came about in 2018. As members of his family got older, their family wanted to keep up with their routine matches but with fewer of the physical demands required by tennis. Pickleball — a blend of ping pong, tennis and badminton — was the solution. 
Shields recognized that this emerging sport wasn't just bringing his family together but had the capacity to build community on a national level. And with that, The Dink — the most popular national media outlet for pickleball — was born. (A dink is a finesse shot, hit with an upward trajectory, that lands just over the net in the opponent's no-volley zone.) After studying finance in college, working in investment banking for three years, and spearheading sales and operations for a New York City startup, it was time for Shields to apply his experience to his own endeavors. 
In 2021, he took The Dink on the road in a sprinter van, with the startup's logo plastered on its side, across the country. He drove across America playing pickleball professionally (though he adds it was a short-lived career), meeting and interviewing top pros, filming and writing about the experience, and building community along the way. What started out as a fun side hustle – a niche pickleball newsletter born out of his love for writing and content creation – quickly turned into a full-fledged media outlet that now includes two podcasts, physical products, a newsletter, media partnerships, a blog and a steady stream of advertisers. 
As The Dink continued to grow, Shields moved to Austin to pursue his MBA at The University of Texas at Austin. Eventually he found himself as one of nine entrepreneurs chosen to participate in the prestigious Student Entrepreneur Acceleration & Launch (SEAL) summer accelerator in 2022. Led by the LaunchPad, this nine-week capstone-like program helps undergraduate, graduate and faculty teams explore core hypotheses to build thriving businesses. SEAL companies have collectively raised more than $200 million in investments, and notable alumni companies include Favor, Flo Recruit and Apptronik.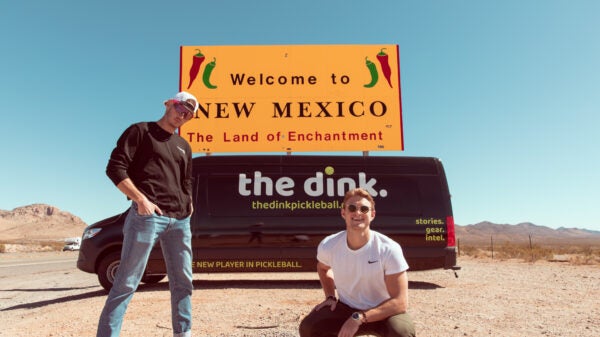 Shields' goal entering SEAL was to see if his success with pickleball could scale to other emerging sports. For him, SEAL provided a structured environment to allocate time to explore this new vision and actively evaluate decisions. 
"SEAL forced me to sit down at least once a week and think, is this something that we can go do?" Shields says.
SEAL forced me to sit down at least once a week and think, is this something that we can go do?"
It also didn't hurt to be surrounded by other student entrepreneurs boldly pursuing their ventures. Connecting with and witnessing their passion gave Shields an additional boost to keep going. Participating in the summer accelerator affirmed for him that he had the right recipe for success, and that, yes, there is value in serving passionate niche fans of new sports that have yet to reach the coverage of traditional ones. From that validation, Upswing Sports was born.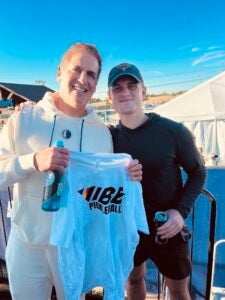 Upswing Sports is a media platform that serves the emerging sports market including pickleball, Formula One, cycling, esports, disc golf, and much more. As of today, the company's profit margins are over 50%, and the startup just hired its fifth full-time employee. From chatting with celebrities like Mark Cuban about the future of the sport to giving Jamie Foxx feedback on his pickleball techniques, Shields continues to strengthen The Dink as a national hub for avid pickleball fans while expanding the company's broader portfolio of emerging sports media. 
In addition to running the company (and getting his MBA, of course), Shields is a frequent commentator for professional matches, recently hosted Major League Pickleballs' live draft show from the iconic Arthur Ashe Stadium in New York, and even took some time to teach Kevin Durant the basics of the burgeoning sport.    
While Shields has received numerous offers to acquire the company, he's turned down every last one. Currently, Shields and his team are raising capital to fuel the expansion of Upswing Sports. To learn more about Upswing Sports and support Shields on his journey, visit the Upswing Sports website and connect with Shields via email.