AUSTIN, Texas — Landmarks integrates great works of art into everyday life at The University of Texas at Austin. An essential part of the Longhorn experience, Landmarks beautifies the campus and fosters a lifelong appreciation of the arts. Its award-winning public art collection began in 2008 with a long-term loan of 28 works from the Metropolitan Museum of Art and has grown to nearly 50 works by some of the most celebrated artists of our time.
"Landmarks is regarded as one of the top university public art programs in the country, inspiring thousands of students, faculty, staff and visitors each day," said founding director and curator Andrée Bober. "For many students, Landmarks is their first opportunity to have routine engagement with great works of art. As part of the campus environment, the collection introduces them to new ideas and perspectives, encouraging dialogue and critical thought."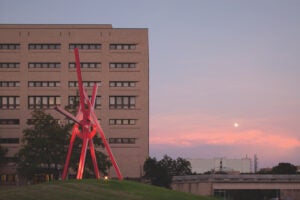 Faculty members ranging from art historians to engineers regularly teach from the collection, using it to illustrate principles of science, architecture, mathematics, design and more. Landmarks also serves students through internships that provide real-world experiences and prepare them for careers in the arts.
This year marks Landmarks' 15th anniversary on the UT Austin campus. In celebration, Landmarks launched Paws for Public Art, a new program pairing art and animals to promote mental health. The program brought miniature goats, hedgehogs, bunnies, chicks and piglets to campus, with petting zoos stationed at four iconic works from Landmarks' collection: Clock Knot, Monochrome for Austin, Circle with Towers, and Sentinel IV. The program highlighted the ways that engaging with art and animals lowers cortisol levels and reduces stress, which will be especially helpful to students preparing for midterm exams.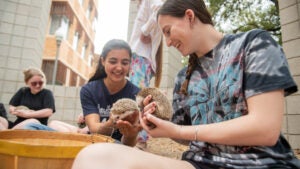 Landmarks provides something for everyone, regardless of background or familiarity with art.
Current offerings include artist lectures and workshops, music performances and playlists, public tours, wellness events, a mobile app and more. Songs in the Skyspace is a monthly music series hosted inside James Turrell's Skyspace, The Color Inside. Representing diverse voices and instruments, the program offers a unique way to engage with Turrell's elegant light sequence. Listening with Landmarks features music playlists by notable Austin musicians, created in response to works from the collection. Landmarks also partners with different units across campus to develop multidisciplinary events that highlight an array of talent at UT. One example, Sound in Sculpture, showcases student composers at an annual event that premieres compositions inspired by select Landmarks works.
What started in 2008 has grown into a unique campus gem and a point of pride for the university. Learn more about all Landmarks has to offer at landmarks.utexas.edu.