University of Texas at Austin faculty, staff and students are doing more than ever to address the emerging societal complexities arising in the area of cybersecurity — from interdisciplinary courses to hands-on training and services provided by UT's Information Security Office.
Cam Beasley has been at the heart of this work for nearly three decades, serving in his current role as Chief Information Security Officer for the Information Security Office since 2005 and as an adjunct lecturer of cybersecurity in the Department of Computer Science. Beasley is actively pursuing advancements in how we approach our cybersecurity enterprise on campus — and in how we prepare our students for an ever-increasing digital landscape.
"Each year, the university experiences millions of attacks against our critical information systems with ransomware attacks increasing by over 185% in 2021," Beasley said. "The consequences of a large-scale ransomware attack against the university would be highly disruptive and could result in a great deal of loss of information and trust."
Increased cybersecurity is perhaps more necessary than ever, at both the university and state levels. The UT Information Security Office has been working to evolve cybersecurity capabilities across the state for many years and is now doing so with the help of UT Austin's next generation of cybersecurity professionals. This sponsored student team is known as #HASH.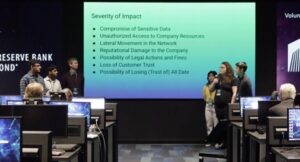 The National Collegiate Cyber Defense Competition (NCCDC) is an annual event that showcases the cybersecurity talents — focused on defensive capabilities — of students across the country. This year, that includes some of UT's #HASH team. Mentored and advised by the UT Information Security Office, after winning a regional competition in March, will move on to the national stage April 28-30. Notably, #HASH team also made it to another national competition — the Collegiate Penetration Testing Competition, which is focused on offensive capabilities — in 2023, a first for any UT Austin team in the same year.
Rebecca Huang, a computer science sophomore, is a member of the #HASH team. Like Beasley, Huang recognizes the need for increased cyber defense practices and views competitions like the NCCDC as an invaluable way of expanding her education beyond the classroom.
"Competitions like the NCCDC offer a more realistic representation of what it's like to work in cybersecurity," Huang said. "But what I argue to be the most valuable part of these competitions is the opportunity to develop my soft skills, such as communication and collaboration. During NCCDC, for instance, we had to work with a CEO and interact with clients, which is a rare and incredibly important experience. These are experiences that you simply can't get from a textbook or a lecture."
In preparation for competition, Huang and her teammates also receive mentoring and a hands-on physical lab space with the UT Information Security Office to learn, train and refine their skills, helping to create a truly innovative and interdisciplinary learning experience in the field of cybersecurity.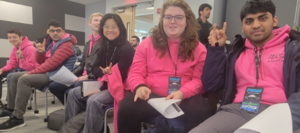 Soham Roy is another #HASH team member participating in the NCCDC, now in its 18th year. Roy, a senior double majoring in computer science and mathematics, also works for Beasley as a student employee in the Information Security Office. Roy hopes that experience, along with taking part in cyber defense competitions, will better prepare him for life after UT.
"Doing work for the university has given me another perspective on how defenders manage large systems," Roy said. "Because of the scale of UT Austin, there are some unique challenges that I have had the privilege of working on. And for the competitions, outside of the technical knowledge I have gained, they have been an invaluable opportunity to network with industry leaders. Top companies understand the value of a competition like NCCDC and participants are sought after."
Students like Roy and Huang have been able to take advantage of the unique opportunity of working with Beasley and participating in the NCCDC, and it's clear more students are interested.
"I believe newer students would find value in a more dedicated cybersecurity program," Roy said. "It can be difficult to get started in the field, and many new students may miss out on a career path because they are not aware of it or don't know how to get started."
Huang agrees that a more robust program would be beneficial to students.
"Although I have gained knowledge through self-study, having access to more resources and structured feedback will greatly improve my growth in the field," Huang said.