AUSTIN, Texas — Four University of Texas at Austin alumni, one of whom is also a current faculty member, have been recognized by President Jay Hartzell for their dedication and support of the University. Quan Cosby, Janet Mountain, S.V. Sreenivasan and Rex Tillerson have received the University's Presidential Citation Award.
To celebrate the honorees, UT Austin will grant Presidential Citation Scholarships to select students in each of the honoree's names to extend their significant contributions to the University in arts, academics, athletics and health care even further by supporting these scholarship recipients.
"This year's slate of honorees has accomplished incredible things, in board rooms and laboratories, through philanthropic organizations and on playing fields. Beyond setting standards of excellence that are inspirational for us all, they have all given back to the University in truly exceptional ways," Hartzell said. "They have found new ways for alumni to re-connect with the University, created partnerships that will set up thousands of students for greater success, built institutions that will lead our state and country in important ways, and provided guidance and leadership for the University both by example and by giving back to our students. We are thrilled to amplify their impact by creating student scholarships in each of their names."
Created in 1979, the Presidential Citation honors the extraordinary contributions of people who personify the University's commitment to the task of transforming lives, and it is the highest honor bestowed by The University of Texas at Austin.
About the 2023 Presidential Citation honorees:
Quan Cosby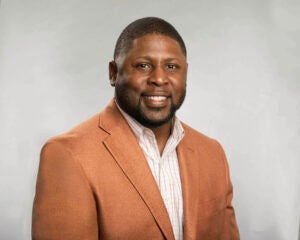 Quan Cosby grew up in Mart, Texas, east of Waco, and graduated with a Bachelor of Social Work from UT Austin in 2009. At UT, Cosby played football as a wide receiver and return specialist, ranking No. 2, 3 and 4 on UT's all-time lists for passing, yards and touchdowns. He was a two-time all-Big 12 honoree, played on the 2005 National Championship team, and ended his UT career with a Fiesta Bowl win in 2009. Cosby then spent four seasons in the NFL and seven years as a TV and radio announcer for Longhorn football and baseball. He has been president of the Student Athlete Advisory Committee, which advises the university on matters such as name, image and likeness policy and conference realignment. Today, Cosby serves UT as a liaison for external affairs in the Office of Governmental Affairs and Initiatives and is a partner with the Marsh & McLennan Agency.
Janet Mountain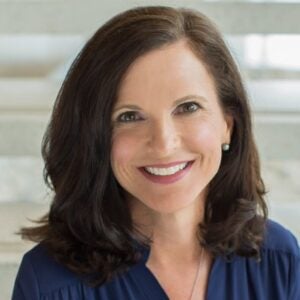 Janet Mountain earned a Bachelor of Business Administration from UT Austin before beginning a 30-year career in technology and philanthropy. She is the executive director of the Michael & Susan Dell Foundation, leading its $2 billion commitment to expand high-quality public education, increase the access and quality of community health care, and improve the economic stability of families experiencing poverty across the U.S., India and South Africa. Before moving to the Dell Foundation, she had a distinguished career leading various business units as vice president and general manager for Dell Technologies.
Mountain serves on the UT Austin Development Board and the Harvard Business School Board of Dean's Advisors, and she was recognized as a 2006 Young Global Leader at the World Economic Forum.
S.V. Sreenivasan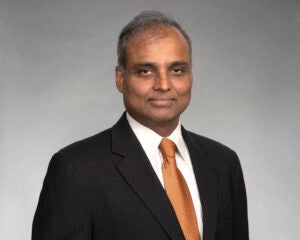 S.V. Sreenivasan is a specialist in advanced design and manufacturing and holds the David Allen Cockrell Chair in Engineering, Cockrell Family Regents Endowed Chair No. 7 in Engineering. He is a nanotechnologist who creates nanofabrication techniques for the emerging electronics, displays and health care sectors. He holds more than 100 U.S. patents in the area of scalable nanotechnologies and is the director of the NASCENT Center, a National Science Foundation-funded Nanosystems Engineering Research Center.
Sreenivasan co-founded a nanopatterning spin-out from UT Austin, Molecular Imprints Inc., and currently serves as the chief technologist of Canon Nanotechnologies Inc. Sreenivasan has received numerous international awards including the Technology Pioneer Award by the World Economic Forum (2005) and the American Society of Mechanical Engineers Machine Design Award (2017). He was named a fellow of the National Academy of Inventors in 2016, a fellow of ASME in 2020, and was elected as a member of the National Academy of Engineering in 2021.
Rex Tillerson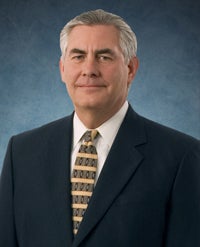 Rex W. Tillerson served as the 69th U.S. secretary of state after concluding a career of more than 41 years in the petroleum industry, retiring as chairman and CEO of Exxon Mobil Corp. at the end of 2016. He was named a Distinguished Alumnus of UT in 2007.
Tillerson is a former member of the American Petroleum Institute and the National Petroleum Council, having served as chairman of both. He was elected to the National Academy of Engineering in 2013 and formerly served as a trustee of the Center for Strategic and International Studies. He was also a member of the Business Roundtable, serving on the Executive Committee, and a member of the Business Council. He served as an honorary trustee of the Business Council for International Understanding and a member of the Emergency Committee for American Trade. He is a former director of the United Negro College Fund and currently serves as a member of the board of directors for the National Medal of Honor Museum.
A complete list of Presidential Citation recipients and additional information about the award is available on the president's website.