AUSTIN, Texas — The Blanton Museum of Art at The University of Texas at Austin has undergone a major revitalization of its grounds. Now open to the public, the Blanton hosted a community celebration of the new grounds on May 13 with guest speakers, live music, and special programs.
"This is what we have been waiting for: the opening of a new gathering place for Austin that offers a different way to experience the Blanton," said Simone Wicha, director of the museum. "I cannot wait for visitors to stroll along the pathways, pass under the stunning shade canopy, explore the powerful, immersive new artworks, and enjoy performances on the Moody Patio's outdoor stages."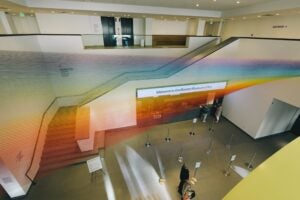 Construction on the Blanton's grounds began in 2021. The design by architecture firm Snøhetta aimed to extend the artistic spirit inside the galleries throughout the grounds, while providing a welcoming gateway between the University campus and the city of Austin. One of the most distinct architectural features is a canopy of 12 three story-tall "petals" that shade the new Moody Patio and cast a dappled effect on the grounds on a sunny day. On rainy days, they catch rainwater that's collected and filtered to new native plantings that accent the pathways around the grounds. Yellow, arched vaults on the two main museum buildings frame a new check-in entrance for visitors and a unique lookout vista onto the new outdoor space.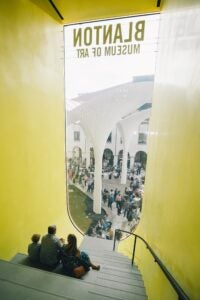 "Snøhetta's design expands the museum's world-class art collection beyond the museum's galleries and creates a highly visible public place of—and for—the arts and Austin," said Craig Dykers, founding partner of Snøhetta and alumnus of the UT School of Architecture.
Included in the redesign are four large-scale artworks created with the new architectural spaces in mind: two new murals, an expansive installation in the new visitor check-in, and an outdoor gallery for sound art. The mural Verde que te quiero verde (Green How I Desire You Green) spans the loggia of the museum's gallery building and is the first public mural commission by the late Cuban American artist Carmen Herrera. To the east of the Blanton's iconic Austin by Ellsworth Kelly is the Butler Sound Gallery, one of the few spaces in the world dedicated solely to sound art.
The grand opening of the grounds included remarks by Wicha, UT Provost Sharon Wood, and Austin Mayor Kirk Watson, and music by Gina Chavez and The Peterson Brothers.