AUSTIN, Texas — A technological leap sits on the horizon, with exciting capabilities like quantum computing, soft robotics and more coming down the pike. To bring these ideas to reality will require engineering new classes of materials that make up their building blocks.
The Center for Dynamics and Control of Materials at The University of Texas at Austin has been on the leading edge of materials development for the past six years. With a fresh infusion of funding from the National Science Foundation (NSF), the center will turn its attention to new research thrusts that will bring to life materials with enhanced properties and capabilities.
"As we discover more about these building blocks – how they interact with each other or how they respond to the addition of energy – we can enable next-generation technologies like quantum computing and communications," said Ed Yu, professor in the Cockrell School of Engineering's Chandra Family Department of Electrical and Computer Engineering and director of the center.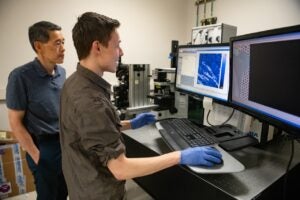 The two major research thrusts will focus on soft, highly adaptive materials and hyper-thin moiré materials. Faculty members from the Cockrell School and the College of Natural Sciences will team up to lead each research area.
The center is part of the NSF's Materials Research Science and Engineering Centers (MRSEC) program. It will receive $18 million over six years as part of a larger initiative that will see NSF provide $162 million to support nine new and existing MRSECs across the country. There are now 20 NSF MRSECs in the U.S.
About two dozen faculty members and a similar number of graduate students and postdoctoral researchers will work on the two new MRSEC research thrusts.
The first, led by Adrianne Rosales of the Cockrell School's McKetta Department of Chemical Engineering and Eric Anslyn of College of Natural Sciences' Department of Chemistry, will focus on new soft and adaptive materials. These materials are primarily made of tiny nanocrystals or biomaterials that are connected via organic molecules or polymers.
What stands out about these types of materials is they can morph into different structures depending on how they are connected and what energy sources are used to stimulate them. One example would be window coatings that can be switched to either block light from getting into a building or allow light in depending on heating and cooling needs.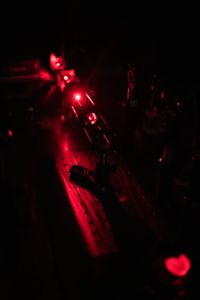 "These materials go beyond traditional stimuli-responsiveness, taking on different transient structures and properties based on how we assemble and fuel them," Rosales said. "That opens up a whole new class of switchable technology."
The second thrust focuses on the emerging field of moiré materials. These are materials created by stacking atomically thin layers on top of one another and slightly rotating or twisting them into a desired alignment.
Even the slightest tweak can greatly alter the properties of the materials. This research area is led by Emanuel Tutuc of the Cockrell School's Chandra Family Department of Electrical and Computer Engineering and Xiaoqin (Elaine) Li of the College of Natural Sciences' Department of Physics.
These types of materials, graphene being one of the more famous examples, can be integrated with traditional semiconductors and tuned to create capabilities such as superconductivity and magnetic properties for quantum information processing.
"It's unprecedented to be able to get many different functions and capabilities out of a small set of materials with just minor tweaks in their rotation," Li said.