This summer, the Home to Texas program at The University of Texas at Austin connected more first-year students than ever with paid internship and research opportunities in their hometowns. Now in its fifth year, Home to Texas quadrupled the number of participating partner communities where students interned — up from 11 in 2022 to 44 in 2023.
"Home to Texas makes experiential learning, such as internships and undergraduate research, more accessible to students early in their careers," said Richard Reddick, UT's senior vice provost and dean of the Undergraduate College. "By expanding the Home to Texas program, we provide Longhorns with more opportunities, help them forge new pathways to success and foster relationships within their hometowns. It's incredible to see the impact our students and community leaders across Texas can have together."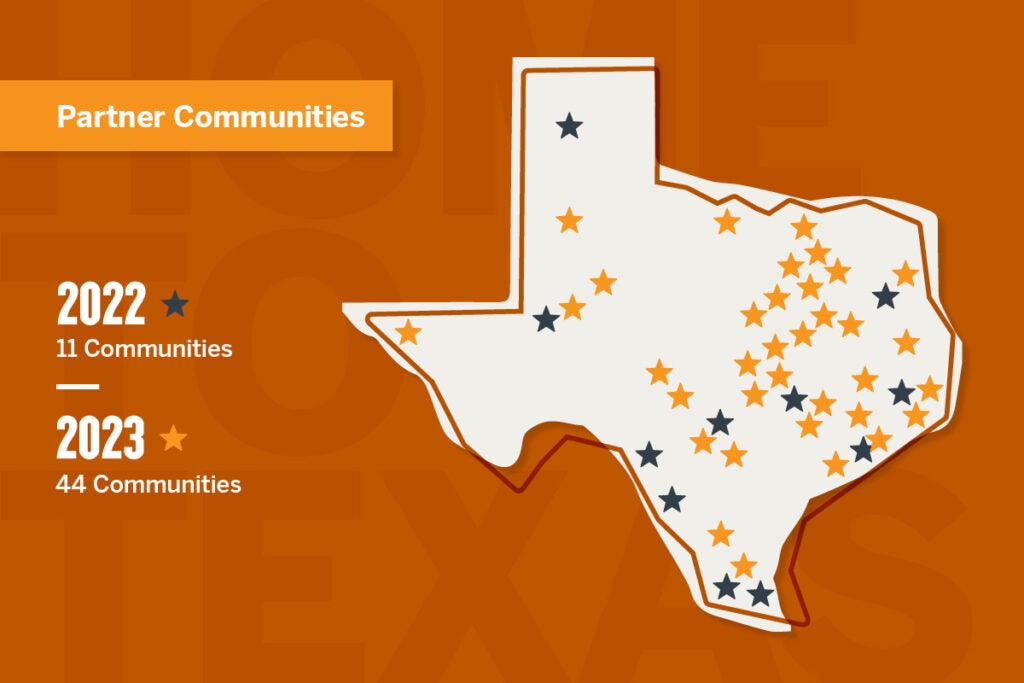 In 2023, Home to Texas expanded to more small towns, as well as rural, urban and suburban areas, offering more students the chance to find internships in and around the places they grew up. Sixty-seven students participated in internships with 59 employers across the state. The 44 participating communities include Eagle Pass, Odessa, Smithville, Wichita Falls and Kerrville, as well as San Antonio, Houston and Dallas.
One of the new communities and employers to join Home to Texas this year was Arts for Rural Texas in Fayetteville, located between Austin and Houston.
"Having a qualified intern with fresh ideas and great skills contributed greatly to our being able to move forward with ideas and activities," said Karen Vernon, executive director of Arts for Rural Texas. "The Home to Texas program offers participants good hands-on experiences and nurtures the value of small communities."
The organization's intern, Reverie Sisco Kearns, an advertising major in the Moody College of Communication, applied to Home to Texas because she wanted to connect more deeply to the area where she grew up.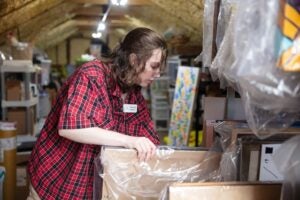 "I was interested in Home to Texas because I wanted to appreciate and relate with my community," she said. "The program entrenched me in South Central Texas culture, and I am leaving with improved professional skills, an increased sense of self-confidence and a love for the down-to-earth, communal nature of small towns."
Reverie connected with members of Fayetteville and surrounding communities by supporting art summer camps, gallery shows and a storefront featuring local artists.
This year's Home to Texas expansion was made possible thanks to a grant from Arnold Ventures and a research collaboration led by Tauheeda Yasin, a postdoctoral scholar in the College of Liberal Arts' Population Research Center, and professors Becky Pettit and Brent Iverson. The research collaboration is focused on judicial decision-making across Texas and supported through data collected by Home to Texas student participants. All 67 Home to Texas students conducted interviews with local judges as part of the overall research project, and nine of the students held full-time research internships organized by UT's Initiative for Law, Societies and Justice.
To culminate the summer internships, Home to Texas holds celebrations in the participating communities to bring together the students and the businesses and organizations in that area.
The Home to Texas program is managed by Texas Career Engagement and was created by the IC2 Institute. For questions or to learn how to get involved, contact program manager Dustin Harris at hometotexas@austin.utexas.edu.