AUSTIN, Texas — University of Texas System Board of Regents Chairman Kevin Eltife and University of Texas at Austin President Jay Hartzell announced today the launch of the West Campus Ambassadors pilot program, a specialized safety, cleaning and hospitality team dedicated to the revitalization of Austin's West Campus neighborhood.
The West Campus Ambassadors program is the latest safety investment in the West Campus neighborhood since the Board of Regents allocated $8 million for improvements in 2020. Since that time, UT has installed high activity location observation (HALO) cameras, opened a UT Police Department satellite office, and significantly increased the presence of UTPD foot and bicycle patrols, resulting in an appreciably more visible law enforcement presence. The most recent patrol increases occurred during the spring.
"The safety of our students, faculty and staff is the Board of Regents' top priority, and we fully support the West Campus Ambassadors program," said Chairman Eltife on behalf of the Board of Regents. "Reviving and restoring the West Campus neighborhood is essential. It will produce much-needed change, and we want to play an active role in the program's success. We are excited about the future and thank President Hartzell and his team for their leadership and partnership."
"Thank you to the Chairman and the Board of Regents for their bold and unwavering leadership and for investing in the safety and revitalization efforts in West Campus," said Hartzell. "A thriving neighborhood bolsters the vitality of UT Austin, and we are committed to creating an environment that is safe and welcoming and that befits a world-class research University. We are thrilled to announce the West Campus Ambassadors program today. This is one way for UT to do our part to improve the area, enriching the living and learning experiences of the University's students, faculty, staff and visitors. We also want to thank the many business and community leaders who have already expressed public support for this effort."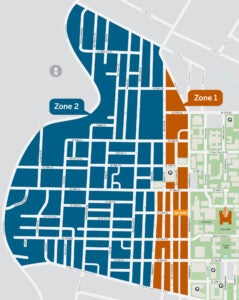 The West Campus Ambassadors program will include two teams of Ambassadors: Safety Ambassadors and Cleaning Ambassadors who will operate on foot, bicycle and by truck.
Between 3:30 p.m. and 3 a.m., the Safety Ambassadors will be an on-site presence on foot and bicycle, and by truck, sharing safety resources and tips, escorting residents to their destinations in the late evening, monitoring the region for unwanted activity, discouraging panhandling, working with local law enforcement to address other problematic situations, and serving as another set of eyes in the area.
From 7 a.m. to 3:30 p.m., the Cleaning Ambassadors will provide daily cleaning services, including litter and trash collection, weed abatement, graffiti and sticker removal, pressure washing, and cleaning of street fixtures (benches, trash cans, etc.). In addition, the Cleaning Ambassadors will provide hospitality functions such as greeting visitors, providing directions and homeless outreach and de-escalation.
The West Campus neighborhood will be divided into two zones with Nueces Street serving as the dividing line. In Zone 1, the Safety and Cleaning Ambassadors will operate daily. In Zone 2, the Safety Ambassadors will operate daily, and the Cleaning Ambassadors will operate as needed.
Coordinating a Safety or Cleaning Ambassador can be done by calling or texting the West Campus Ambassadors hotline at 512-429-3278. The Ambassadors are in addition to UT's SURE Walk, which offers walks or rides from an on-campus location to the West Campus neighborhood and walks or rides from one on-campus location to another; and UT Night Rides, which provides Lyft rides from the Main Campus, the J.J. Pickle Research Campus or Dell Pediatric Research Institute to an individual's home.
The pilot program will be managed by Block by Block, a national leader in urban renewal and business district restoration. Block by Block has been at work in Austin for over seven years, providing similar services to the Downtown Austin Alliance and the South Congress Improvement Association.
"UT Austin is a great place, and we are excited to hit the ground running in West Campus," said James Earehart, operations manager of Block by Block. "We want to thank the UT leadership for their support of and trust in our Ambassadors. Our experience in other cities — and right here in Austin — combined with our training program will enable our team to provide the necessary services and expertise to the revitalization of West Campus."
The West Campus Ambassadors are supported by over two dozen businesses and community groups in the area — and the list is growing. For a full list of supporters, please click here.
For more photos, click here.