"I have always loved the beginning of the school year, which is probably why I have a career in education," Katherina Payne volunteers with enthusiasm. "I also love a good book club — I was part of one during my 20s while living in New York City and I got to know people from different fields, who came from different backgrounds, and whom I may never have met otherwise."
Payne, an associate professor in The University of Texas at Austin's Department of Curriculum and Instruction, is preparing to discuss TJ Klune's fantasy novel "The House on the Cerulean Sea" with incoming first-year and transfer students for the second year running. She's part of a larger University initiative to connect new Longhorns with their peers and professors and give them a taste of collegiate conversations: the Reading Round-Up.
Every year, the Undergraduate College invites faculty members to choose a novel or work of nonfiction that invites meaningful dialogue for a small group of first-year students. Now in its 21st year, the Reading Round-Up begins with the list of books at the beginning of the summer and concludes with a discussion session before the first day of fall semester classes. It is voluntary book club, and students are encouraged to sign up to read whichever of the 60 available books is most interesting to them — not necessarily one related to their major.
In addition to the professors who have participated in Reading Round-Up for many years, there are several who are participating for the first time, including UT President Jay Hartzell, who is leading a session on the book "The Geography of Genius: Lessons from the World's Most Creative Places."
This level of inquiry will be at the heart of a student's ongoing experience at the University no matter what their field of study is.
Faculty members who have participated for several years see the program's value beyond being a fun and engaging way to kick off the fall semester.
"It's an invitation to explore new ideas, engage in stimulating conversations and build meaningful relationships," says psychology professor Juan Dominguez, who has led discussions on neurologist Oliver Sacks' "The Man Who Mistook His Wife for a Hat" for the past seven years.
"UT is a big place," says Mary Steinhardt, who teaches kinesiology and health education and has led book meetings almost since the Round-Up's inception. "So we talk about how to 'small it down' so you feel engaged and set up for a wonderful experience."
Reading Round-Up events are not open to the public, but incoming first-year and transfer students still have time to sign up for sessions, including those hosted by Payne, Dominguez, Steinhardt and biomedical engineering professor Kenneth Diller.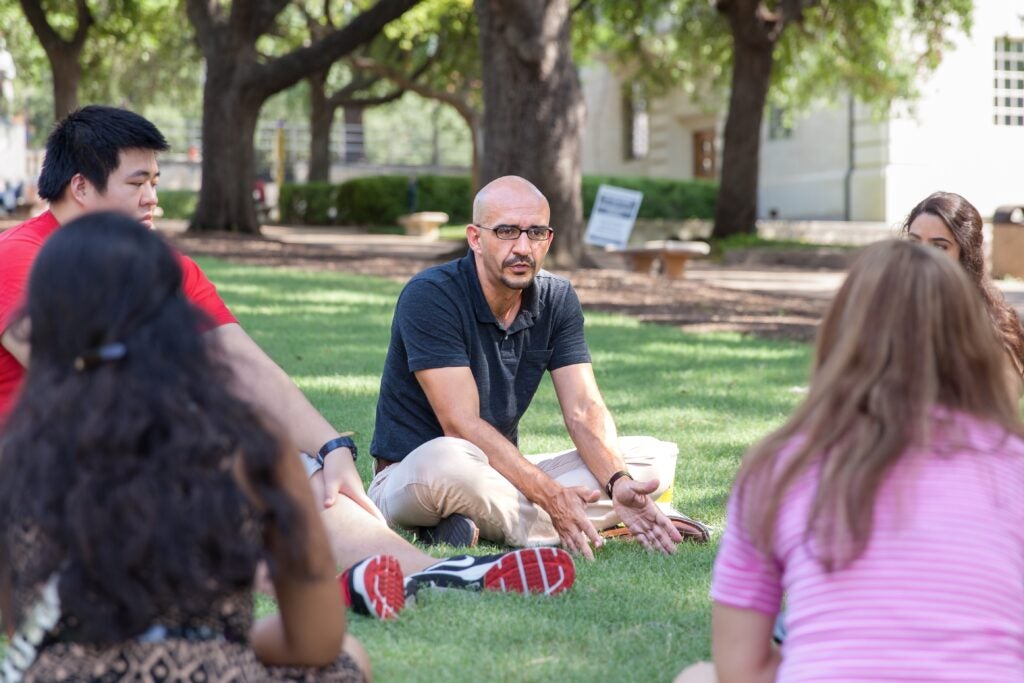 Why This Book?
Katherina Payne, Curriculum and Instruction
"The House on the Cerulean Sea" by TJ Klune
"It's about belonging, finding your place and your people, and being curious about other people rather than being afraid of them or, perhaps just as importantly, even when you are afraid of them. I love hearing about which character students most identify with, since books give us space to reflect on our lives as well as our dreams for the future."
Juan Dominguez, Psychology
"The Man Who Mistook His Wife for a Hat" by Oliver Sacks
"I believe that understanding the neural mechanisms underlying behavior can fundamentally shift how we view and approach behavioral disorders and our day-to-day activities. One of the key elements I look forward to discussing with students is how these unique cases challenge the conventional understanding of behavior and showcase the depth and complexity of the human brain."
Mary Steinhardt, Kinesiology and Health Education
"The Hero Code" by Admiral William H. McRaven
"I was blown away by Admiral William McRaven's 2014 UT commencement address. 'You want to change the world? Start by making your bed.' Remember that one? McRaven shares stories of real-life heroes who made a difference in someone's life and helps us realize that changing the world can happen anywhere and anyone can do it."
Kenneth Diller, Biomedical Engineering
"The Language of God" by Francis S. Collins
"Dr. Collins is one of the most respected medical scientists in the world, and he challenges readers to go beyond a superficial understanding of the interface between science and faith to develop their own understanding of this difficult topic. It always gives rise to spirited and sometimes passionate discussions among the students."
All the professors emphasize the singular opportunity that Reading Round-Up presents to incoming students.
"This level of inquiry will be at the heart of a student's ongoing experience at the University no matter what their field of study is," Diller says.
Payne understands that the prospect of going to a book discussion with strangers might be intimidating but considers this an unmissable event.
"I can be pretty shy sometimes, but when I let my curiosity about people, places and ideas lead me, I am nearly always pleasantly surprised," Payne says. "It's the start of a new school year, a new adventure at UT and Reading Round-Up is a great place to meet people."