AUSTIN, Texas — The University of Texas at Austin is leading a federally funded research project with the City of Austin to better understand the impact of extreme climate shifts on Texas communities and their infrastructure. U.S. Rep. Lloyd Doggett, who obtained initial approval for the project in a House appropriations bill, made the announcement today at UT.
Researchers from the Jackson School of Geosciences, LBJ School of Public Affairs, School of Architecture and Cockrell School of Engineering aim to mitigate the effects of extreme heat, including wildfire risk, poor air quality and environmental stressors. UT is also poised to bridge a significant gap in national weather data that is instrumental for well-informed decisions at the community and neighborhood levels.
"Extreme weather and other climate stressors like drought and severe heat pose risks to Central Texas communities and the vibrant way of life we enjoy. This project would use some of our University's great strengths in machine learning and computation to give local governments and communities tools to make decisions to better respond to and mitigate extreme weather events," said UT President Jay Hartzell. "I am grateful to Congressman Doggett for securing funding for this project in the relevant House appropriations bill, enabling our faculty and students to bring their talents to bear on these important challenges."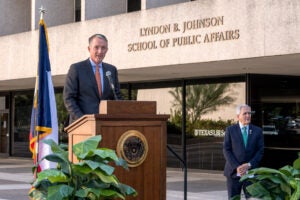 Doggett has obtained initial approval of $1.4 million for the project. Researchers will be able to equip city leaders and community-based organizations with the information required to collaborate on extreme weather governance and make investments in places with the most need. Researchers will develop vital data, tools and maps to capture the impact of extreme weather on Austin neighborhoods and complement the data with valuable community input and the lived experiences of Austin residents, seeking a holistic approach to addressing the environmental challenges at hand. Graduate and undergraduate students will have the opportunity to participate in community and stakeholder discussions and develop city-climate research tools.
"Containing this escalating climate crisis requires major national and international action, but we cannot wait to undertake local initiatives to help our neighbors cope with the dangers," Doggett said. "Today, I'm pleased to announce I expect an additional $1.4 million for UT and the city to build local-scale fire, heat, wind, ice, rain and other extreme data portals that can better inform families and neighborhoods about how to deal with the impact of the climate crisis. Identifying major variations from neighborhood to neighborhood, block to block, will help our local governments in deploying resources for combating wildfires and extreme weather events and in turning down the heat as much as possible."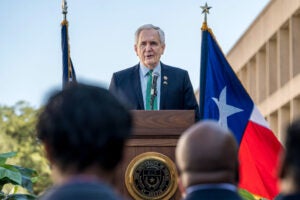 Extreme heat can be dangerous to health, lead to increased risks for other dangers such as wildfires, and result in power outages due to heavy demand for air conditioning. The average temperature during June through August at Camp Mabry was 89.4 degrees, one of the hottest on record; the city hit 40 consecutive triple-digit days in late July; and June heat-related illnesses doubled from June last year. Much of Central Texas experienced extreme drought.
"I want to emphasize the partnership between The University of Texas at Austin and the City of Austin," said Austin Mayor Kirk Watson. "This is a key partnership and on an issue like this, it is the kind of thing that we need to have. A lot of the good in Austin, Texas, starts right here on the Forty Acres. And a lot of good right here on the Forty Acres is a result of the City of Austin."
The collaboration builds on UT's commitment to produce cutting-edge research that affects neighborhoods and communities throughout the city and strengthens the state's and UT's generations-long leadership on environmental matters. Researchers involved include Dev Niyogi and Zong-Liang Yang of the Jackson School; Patrick Bixler of the LBJ School; Junfeng Jiao of the School of Architecture; and Paola Passalacqua, associate professor in the Cockrell School of Engineering, along with Heidi Schmalbach, the director of Planet Texas 2050, and other partners across UT and community organizations. Funding is expected to be finalized at the end of the year.