AUSTIN, Texas — Paul Woodruff, renowned classicist and philosopher and inaugural dean of undergraduate studies at The University of Texas at Austin, died this past weekend at the age of 80. He was the author, editor or translator of more than 20 books, an innovator in undergraduate education, and an award-winning teacher. He leaves behind his wife of 49 years, Lucia Woodruff, their daughters Rachel and Katherine, and six grandchildren.
Woodruff retired from the University as a professor of philosophy in 2022 and continued guest lecturing and working with graduate students on a translation project, culminating in a total of 50 years of teaching. He was writing until the end of his life, with his latest book, "Living Toward Virtue," published by Oxford University Press in December of 2022. His final book, "Surviving Technology," is expected to release later this year. On Sept. 7, he wrote an op-ed for The Washington Post about the necessity of seeing friends in person rather than on Zoom, especially as his death loomed close.
"They are right to come in person," he wrote. "In actual presence, they can hold my hand, stroke my brow. At the end of my life, if they were trying to see me through the internet, they would fail. That dying thing will not be me. I am who I am through my actions, and dying is not an action. It is a happening. At the end, I will have no comfort in being observed. At the end, I cannot be seen. I want to be touched."
Woodruff was revered as a teacher, winning numerous teaching awards throughout his career, including the Harry Ransom Teaching Award, selection as a member of the UT System Academy of Distinguished Teachers, the Chad Oliver Teaching Award in Plan II, and the President's Associates Award for Teaching. His other honors include the Civitatis Award, which is bestowed by the president of UT for outstanding faculty citizenship, and the Pro Bene Meritis Award, which is the highest conferred by the College of Liberal Arts.
"For so many of us, Paul embodied what we think of and aspire to be as a professor and academic leader. Over the course of his half century at UT, Paul had a profound influence on his students, his faculty colleagues, the administration, and the course of the University's undergraduate education," President Jay Hartzell said. "His philosophy for how students learn and his leadership as UT's inaugural dean of undergraduate studies helped lay the groundwork for much of the success we are experiencing today and the impact our students have on society. When Paul was called to serve, he served, whether it was in war, in the classroom, as chair of the Department of Philosophy, as director of the Plan II Honors Program, or as dean. He will be deeply missed."
Woodruff was born in New Jersey, raised in Pennsylvania, and attended Princeton University for college. After going to Oxford University as a Marshall scholar, earning a degree in literature and humanities, he volunteered to serve in the U.S. Army in Vietnam, attaining the rank of captain. He was discharged in 1971, soon after returning to Princeton for a Ph.D. in philosophy, where he studied under the eminent scholar of ancient philosophy, Gregory Vlastos. His dissertation was a study of the Socratic dialectic in Plato's "The Euthyphro" and "Hippias Major."
He joined the faculty at UT as an assistant professor of philosophy in 1973. Over the course of the next five decades, he served in many roles within the department, including assistant chair, graduate adviser and chair. From 1991 to 2006, he served as director of the Plan II Honors Program, and in 2006 he was tapped to serve as the inaugural dean of undergraduate studies, stepping down from that role in 2012.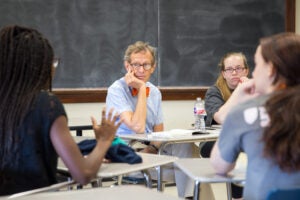 "His mentorship made me a better teacher and scholar, and I will cherish the lessons and legacy Paul has left for us all," said Richard Reddick, senior vice provost for curriculum and enrollment and dean of undergraduate studies. "He provided a blueprint for improving the undergraduate experience that many in academia continue to follow."
Woodruff published a number of definitive translations from ancient Greek, including works by Plato, Sophocles, Thucydides, Aeschylus and Euripides. His original works of philosophy included "First Democracy: The Challenge of an Ancient Idea" (2005); "Reverence: Renewing a Forgotten Virtue" (2001); "The Ajax Dilemma: Justice, Fairness and Rewards" (2011); and "Living Toward Virtue: Practical Ethics in the Spirit of Socrates" (2022). In addition to his dozens of peer-reviewed articles, book chapters, encyclopedia entries, and lectures and conference presentations, Woodruff also wrote a treatise on higher education, plays, opera librettos, and four collections of poems.
"Paul was the most serious of scholars, but he was also a creative and humane spirit," said Ann Huff Stevens, dean of the College of Liberal Arts. "This was evident to anyone who interacted with him, particularly his students. He saw teaching, scholarship, administration, drama, poetry, music and philosophy not as distinct realms, but as fundamentally entwined aspects of the good life."
On May 2, 2022, Woodruff delivered the last of his "Famous Last Lecture on the Meaning of Life (FLLML)" lectures, versions of which he'd been giving in the last class session of his year-long Plan II philosophy course since 1974. The lecture, which was filmed by a former student of his, includes reference to Socrates, Sappho, Tennyson, Milton, Keats, his experience in Vietnam, Mary Oliver, and weekly lunches with a late friend. It ends with an expression of gratitude to his students:
"Friendships can give meaning to lives," he said, "and all the other things that give meaning, when we share them with friends, give extra meaning because of the friends. Knowing you these last nine months has been very meaningful for me, and I'm grateful for that. So, I want to end by thanking you for the connections that we have had since late August. Thank you all very much."