AUSTIN, Texas — Thousands of scripts, photographs, letters and diaries that form the archive of Oscar winner Irwin Winkler, producer of such films as "Goodfellas," "Rocky," "The Right Stuff," "The Irishman," "Creed" and "Raging Bull," have been donated to the Harry Ransom Center at The University of Texas at Austin.
Winkler, known for his collaborations with Martin Scorsese ("Raging Bull," "Goodfellas," "The Irishman," "New York, New York," "The Wolf of Wall Street," "Silence"), and for his long association with actor Robert De Niro ("The Gang That Couldn't Shoot Straight," "Raging Bull," "Goodfellas," "True Confessions," "Night and the City," "New York, New York," "Guilty by Suspicion" and "The Irishman"), has produced or directed nearly 60 motion pictures and the "Rocky" and "Creed" franchise series, and his films have garnered 61 Oscar nominations and 12 Academy Awards.
"The Irwin Winkler papers are a window into life on the set of some of the most memorable and iconic films of recent decades," said Ransom Center Director Stephen Enniss. "As long as Irwin Winkler's films are enjoyed by audiences, his archive will be a resource for understanding the magic of filmmaking."
The Winkler archive spans from 1966 to 2022 and includes more than 300 scripts; 3,500 photographs; correspondence with friends, family members and collaborators; diaries he kept from 1981 to 2019; and draft pages from his 2019 memoir, "A Life in Movies: Stories from 50 Years in Hollywood."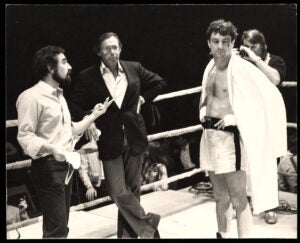 "Now more than ever, the preservation of film and its story-making process is crucial to guard the flame of Hollywood's history for generations present and future," Winkler said. "The Harry Ransom Center is an exceptional curator of collections, and I am thrilled to open my personal archive to them for the education of filmmakers to come."
His first job was in the mailroom of the William Morris Agency. He later collaborated with Robert Chartoff to form Chartoff-Winkler Productions. Their first collaboration was the classic film noir "Point Blank" in 1967. It was followed by the critical hit "They Shoot Horses, Don't They?" in 1969, which was one of three of Winkler's films that debuted at the 1970 Cannes Film Festival: "Leo The Last," which won the Best Director Award; the counterculture cult film "The Strawberry Statement," which received the Jury Award; and "They Shoot Horses, Don't They?" which earned the closing night honors and went on to receive nine Oscar nominations, including a win for Best Supporting Actor Gig Young.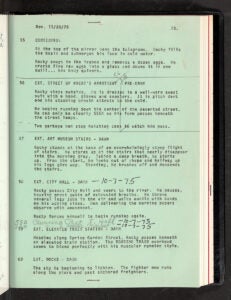 Winkler's first Academy Award nomination and subsequent win for Best Picture was 1976's "Rocky," the first film in a franchise that has spanned over 40 years and continues to this day with the spin-off "Creed." Winkler then earned Best Picture nominations for "Raging Bull" (1980), "The Right Stuff" (1983), "Goodfellas" (1990), "The Wolf of Wall Street" (2013) and "The Irishman" (2019).
He made his directorial and writing debut with the Hollywood blacklist-era drama "Guilty by Suspicion," starring Robert De Niro and Annette Bening in 1991, which was honored at the Cannes Film Festival in 1991. His next directing effort starred Robert De Niro and Jessica Lange in "Night and the City," which premiered at the New York Film Festival 1992. In 2004 his production of "De-lovely," starring Kevin Kline, was the closing night gala at the Cannes Film Festival. His most recent production was "Creed III," released in March to great critical and audience acclaim, and he is currently in post-production on "Alto Knights," starring De Niro, which will be in theaters in 2024.
For his contributions to popular culture, Winkler has been the recipient of numerous American and international honors, including the Commandeur des Arts et Lettres, the French government's highest decoration for contribution to the arts. Winkler was honored in 2017 by the Producers Guild of America with the prestigious David O. Selznick Achievement Award, which recognized his lifetime body of work.
"The films Irwin Winkler has made, both as a producer and as a director, are marked by a compassion, sensitivity and respect for his characters and their relationships," said Steve Wilson, the Ransom Center's Robert De Niro Curator of Film. "His collaborations with Robert De Niro in particular are now regarded as classics and are complemented and deepened by the materials in De Niro's archive at the Center. Mr. Winkler's work will be studied by students and scholars for generations to come. I'm grateful to him for entrusting us with his life's work."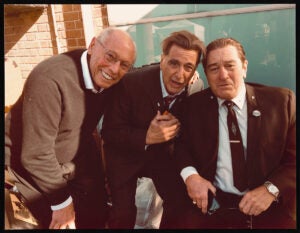 The Center's film collection tells the stories of significant Hollywood producers, directors, writers and actors from the silent era and the Golden Age of Hollywood through the rise of independent filmmakers and into the age of blockbusters and the new millennium.
The Center's extensive film collection also includes works by Stella Adler, Paul Schrader, Tom Stoppard, Arthur Miller, Tennessee Williams, and Robert De Niro, who began donating his archive in 2006.
"Irwin Winkler's gift of his collection to the Harry Ransom Center is really meaningful to the Center, film students, scholars and to me personally," De Niro said. "Irwin is a respected and dear friend who I have worked with and known for decades. A true film statesman. Welcome to the Ransom family."