AUSTIN, Texas — The longstanding partnership between The University of Texas at Austin and Dell Technologies has reached another milestone with the opening of the Alienware Longhorn Esports Arena in the historic Texas Union Underground. The new arena builds on the success of the Alienware Longhorn Esports Lounge, which opened in August 2022.
Offering 3,400-square-feet of interactive esports space for students, the arena is outfitted wall-to-wall with high-performance gaming equipment supplied by Alienware to power 43 gaming stations throughout the varsity room, production center, console gaming space and viewing area.
"This state-of-the-art arena, added to the Alienware lounge that opened last year, further establishes UT as a leader in esports and will help position current and future Longhorns as competitors and innovators in an industry that is forecast to nearly quadruple in market size by the end of this decade," said President Jay Hartzell. "I am grateful for our longtime partnership with Dell Technologies and their continued investment in creating unparalleled opportunities for our students."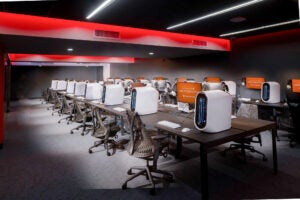 The arena symbolizes a joint commitment to developing transformative opportunities for students to be successful. Esports academic programs train players to compete, but also educate and train a future workforce to support the professional and amateur competitive esports scenes. The combined force of the arena and lounge will unlock greater opportunities for students to network in the esports industry and field, build life and career skills, and enjoy student life on campus.
"Esports continues to grow across the Forty Acres, and we're proud to bring Alienware's technology and innovation to the campus that started it all for Dell Technologies nearly 40 years ago," said Matt McGowan, Alienware product lead. "The arena marks phase two of our esports partnership with the University and furthers our shared commitment to continue developing opportunities for students to be successful both on and off campus."
Alienware collaborated and invested in the design and technology of the new space just as it did with the Alienware Longhorn Esports Lounge. With them combined, students will now have more than 50 stations to use for gaming.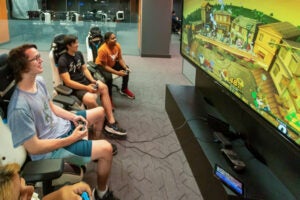 "This new arena is groundbreaking for Longhorn Gaming. It creates an exciting and positive environment for students while giving us the chance to take esports to the next level through competitions, tournaments and live studio production," said Jack Alberts, president of Longhorn Gaming, a student organization known as the hub of casual gaming and competitive esports on campus. "The arena also allows us to gain hands-on experience to propel future careers in esports and video production."
With the support of University Unions and the Division of Student Affairs, the arena offers opportunities to participate in every facet of esports and gaming while strengthening academic partnerships. UT also offers a rich curriculum focused on computer science, emergent media and design for students interested in gaming industry careers through the UT Game Development and Design Program.