AUSTIN, Texas — The first auditorium at The University of Texas at Austin has reopened after an extensive two-year renovation. Situated on the western edge of campus near the Tower and Texas Union, the 90-year-old Hogg Memorial Auditorium is a premier live music and performing arts venue with a rich history of hosting many types of events for students, faculty members and staffers. The renovation brings the stately structure into the 21st century with updated indoor and outdoor features, making it a destination for live music, performances and events.
Since its opening in 1933, the auditorium has seen thousands of performances including concert pianists, plays, string quartets and full symphony orchestras, and pop acts from the Kingston Trio in the 1950s to John Legend in 2012. It also has been the scene of countless lectures, talks and debates. The first event held after the renovation was the visit of U.S. Secretary of State Antony Blinken on Oct. 4. The first performance will be a concert for students and invited guests by blues-rock musician and Austin native Gary Clark Jr. on Oct. 27.
"UT students have been entertained, challenged, inspired and educated by events at Hogg Memorial Auditorium for nearly a century, and I am thrilled it's not only back but better than ever," said President Jay Hartzell. "Taking a historic gem like Hogg and bringing it up to modern standards for performing arts, safety and accessibility while also preserving its architectural charm wasn't easy, and I thank the Division of Student Affairs, University Unions, our previous student leaders and everyone who made it happen. This renovation brings a key part of campus life back to where it belongs, while we continue to invest in the vibrancy of our campus and its contributions to Austin's arts and music culture."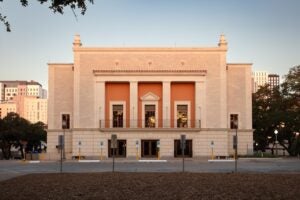 For its first four decades, Hogg Memorial Auditorium was a leading performing arts venue in Austin. It was named for Gov. James Hogg, the first governor of Texas who was born in the state, and his son, Will C. Hogg, an early member of the University of Texas System Board of Regents.
University Unions, a department in the Division of Student Affairs, manages the facility and led the $27.7 million renovation that began in 2021. The project included removing the orchestra pit; reconfiguring the lobby; replacing 1,007 seats; and upgrading the electrical, heating, ventilation, air conditioning and plumbing, accessibility features, and landscaping and masonry.
"It's not just beautiful, it's inspiring," said Darden Smith, the University's singer-songwriter in residence and a UT alumnus. "That's what music venues like that do for us. They inspire us. The fact that UT has the awareness now to make this beautiful institution viable — I think it speaks to the long-range vision that they have for bringing music back and making live music an active part of campus. I just think it's fantastic."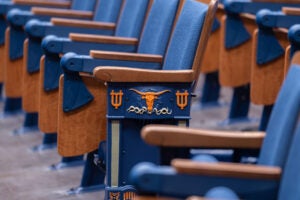 In 2011, a group of student leaders helped initiate the renovation project and worked with the Division of Student Affairs' leadership to secure funding and develop a plan.
"These students saw the value in having an intentionally designed student performing arts space in the heart of campus. They paid it forward so that Hogg could be a beacon of belonging and a space to experience and learn for all students for many more years to come," said Soncia Reagins-Lilly, vice president for student affairs and dean of students.
University Unions will be hosting a series of events open to the campus community to mark the auditorium's reopening and 90th anniversary. The neighboring Texas Union is also celebrating 90 years. French architect Paul Cret designed both facilities, as well as the Tower and many other University buildings.