Texas Global invites the community at The University of Texas at Austin to join the festivities of International Education Week (IEW), coming up November 13-17, to celebrate the benefits of global education and the pleasures of participation in a vibrant international campus community.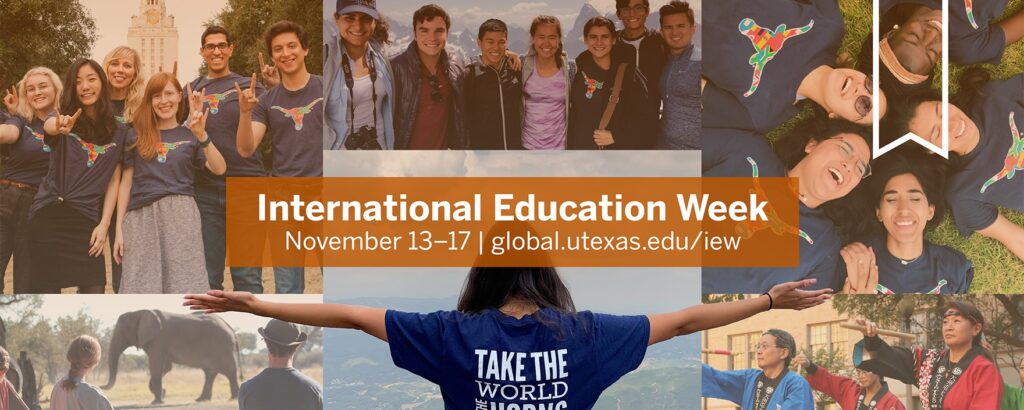 A joint initiative of the U.S. Department of State and the U.S. Department of Education, IEW shines light on a range of international university experiences, offering opportunities for students and scholars to learn about international programs as well as fellowship, internship and scholarship opportunities; enjoy cultural activities emanating from an array of backgrounds; and examine the multitude of ways Longhorns can engage with the world today.
All week, colleges, schools and organizations across campus will host dozens of related virtual and in-person events. These activities are open to Longhorns and the larger community, offering something for everyone to enjoy, including career panels, topical lectures, cultural performances, book presentations, language practices, social activities for international students, education abroad information sessions, art exhibitions and more.
The UT Austin community can participate in IEW via social media, using the hashtags #UTIEW and #IEW2023 on Texas Global's many channels and beyond. Longhorns are also invited to sample the stunning travel photography of students who have studied abroad, by voting in the 2023 Education Abroad Photo contest via the Texas Global Facebook page.
Details about the more than 50 activities during International Education Week are collected in the IEW Events calendar. Several featured events, representing a breadth of regions, formats and interests, are highlighted below.
International Education Week 2023 Featured Events
U.S.-Brazil Relations in the 21st Century: Possibilities and Challenges 
Wednesday, November 15, 4-5 p.m.
Virtual via LLILAS Benson Linktree
Faculty members Rosental Alves (Knight School of Journalism in the Americas), Wendy Hunter and Kurt Weyland (Department of Government) discuss a current and future Brazil with seasoned Latin American political analyst Brian Winter, a former correspondent for Reuters and current editor-in-chief of Americas Quarterly.
Go Global, Be Happy: Finding Opportunities, Success and Happiness Across the World 
Wednesday, November 15, 5:15-6:15 p.m.
McCombs School of Business, Cohort Classroom
What practical questions do you need to answer before moving abroad? What mindset is key as you think about internationalizing your life? Join Michael Froehls, McCombs faculty member and former McKinsey consultant, for a candid discussion of what it takes to enjoy a fulfilling life outside your home country.
International Open Mic Night
Wednesday, November 15, 6-8 p.m.
Cactus Café at the Texas Union
Sponsored by International Student and Scholar Services and University Housing and Dining, this evening of musical and poetic performances at the historic Cactus Café features talented students and scholars bringing cultural expressions from their homelands around the world to celebrate UT's global community. Sign up to perform at International Open Mic Night!
Global Career Insights: A Conversation with International Longhorn Alumni
Wednesday, November 15, 7-8 p.m.
Register early to attend via Zoom
Join UT Austin alumni from around the world to learn how they leverage their UT degrees in their careers, hear their experiences as international Longhorns, and the career advice they have for students.
Many Ways to Tell a Story: Temple Māhātmyas in South India
Thursday, November 16, 3-5 p.m.
Will C. Hogg Building, Meyerson Conference Room
"Hindu Temple Legends in South India" is a project that explores the documentation of Indian temple architecture and iconography with their related rituals and oral traditions, producing digital editions of the Sanskrit and Tamil texts. Sponsored by the South Asia Institute, Department of Asian Studies and Department of Religious Studies.
Film Screening: FOODTOPIA: después de todo territorio 
Thursday, November 16, 5-7 p.m.
Visual Arts Center, Art Building
Join Las Nietas de Nonó, the Visual Arts Center's Spring 2024 artists in residence, for a screening of "FOODTOPIA: después de todo territorio." Contemplating the over-industrialization of food, the film documents the artists walking through debris-filled streams, harvesting wild fruits, hunting invasive iguanas, and cooking gathered food near their home in Puerto Rico.
Japanese Mahjong Game Night
Friday, November 17, 8-10 p.m.
Online @ Mahjong Soul
Japanese Mahjong is a competitive board game. It shares the same core gameplay with the original Chinese rules while adding interesting twists to allow for skill expression and player interactivity. This is Longhorn Riichi's weekly online Japanese Mahjong session.