On Veterans Day, we honor America's veterans for their patriotism, love of country and willingness to serve and sacrifice for the common good.
These five veterans, who were once students at UT Austin, represent Longhorn values and prove that what starts here changes the world.
1. Major General Jeannie Leavitt
In 1994, UT engineering alumna Major General Jeannie Leavitt became the Air Force's first mission-qualified female fighter pilot.
Since then, she's continued paving new paths: In 1998 she became the first female fighter pilot to graduate from the USAF Fighter Weapons School at Nellis Air Force Base. In 2001, she became the first woman assigned to the Fighter Weapons School as an F-15E instructor pilot.
And in 2012, she became the first woman to command an Air Force combat fighter wing, leading one of the largest fighter wings in the Air Force as the commander of the 4th Fighter Wing at Seymour Johnson Air Force Base in Goldsboro, North Carolina. From 2014 to April 2016, she served as principal military assistant to the Secretary of Defense. She is currently responsible for 34 squadrons at 13 installations constituting the Air Force's most diverse flying wing.
"Once we started flying, people began to see we were there because of our abilities and not our gender," Leavitt told the Associated Press in 2012. "I don't see it as a 'first sort of thing.' I see it as an incredible opportunity, an incredible honor, to lead a unit with its history and heritage."
Before Leavitt broke barriers in the military, she started on the Forty Acres. After her first trip in an airplane, Leavitt, (formerly Jeannie Flynn) was "consumed with a passion to know how it worked [and] what kept the plane in the air."
She then came to UT Austin, where she graduated in 1990 after earning a bachelor of science in aerospace engineering. She is a distinguished graduate of UT's ROTC program and was named an Outstanding Young Texas Ex in 1997.
"She didn't ask for anything from anybody," former Air Force Chief of Staff General Merril A. McPeak says of Leavitt. "Everyone in the squadron had very high respect for her."
---
On the Forty Acres, students who want to serve our country while earning a college degree can join the Reserve Officers' Training Corps, or ROTC. UT Austin students can serve in the Texas Army ROTC, the Detachment 825 Air Force ROTC and the Naval ROTC, which also prepares students for the U.S. Marine Corps.
---
2. Admiral William H. McRaven
One of the world's greatest leaders served in Naval ROTC at UT Austin: retired Admiral William McRaven, who oversaw the raid that claimed Osama Bin Laden's life.
McRaven (B.J. '77) is now chancellor of the UT System, and he gave a can't-miss (and worth re-watching) commencement speech with 10 Life Lessons to the class of 2014.
During his time as a student on the Forty Acres, McRaven studied journalism and Middle Eastern studies in addition to running track and being a member of ROTC.
McRaven's 37-year military career took him overseas and onto the front lines. He is a veteran of Operations Desert Shield, Desert Storm, Iraqi Freedom and Enduring Freedom as well as other missions, and he commanded at every level in special operations during his military service.
In 2012 the Texas Exes honored McRaven with a Distinguished Alumnus Award, which is given each year to alumni who embody the spirit of UT Austin.
---
When considering a $20 million allocation to improve veterans' mental health services in Texas, legislators turned to research conducted by UT Austin students. See how these students and their research helped politicians approve the plan to help veterans recover from the psychological wounds of war. 
---
3. Nate Boyer
One of the best-known Longhorn football players in recent memory, Nate Boyer, came to the Forty Acres after first serving the military.
After seeing the Sept. 11, 2001 terrorist attacks Boyer enlisted in the Army in 2004. Not content to serve in the infantry, he went for the Special Forces, ultimately becoming the youngest soldier ever to have been brought into the Delta Force, which focuses on counterterrorism and special missions.
During his service in Iraq at the war's height, Boyer earned a Bronze Star. Upon returning to the U.S. Boyer enrolled at UT Austin because he "wanted to be a part of a great university." Though he never played football, Boyer outperformed almost all the other — and far younger — would-be Longhorns who attempted to walk onto the football team in 2010.
After seeing limited field time as a member of the special teams coverage unit, Boyer taught himself how to long snap. From 2012-2014, Boyer played in 38 games as the snapper on point-after and field goal kicks and punts.
Following his Texas Football career, Boyer briefly played in the NFL for the Seattle Seahawks. Boyer then started working for the non-profit group Waterboys — continuing his world-changing work by helping to build desperately needed water wells in Tanzania.
4. Leon Holland
Leon Holland, the first black person to receive an ROTC commission from UT Austin, helped change the university before launching a distinguished military career.
As a member of The Precursors, a group of some of the first black students to attend UT Austin, Holland endured an era racial unrest on campus. Though his time on the Forty Acres was marred with prejudice, Holland earned a bachelor's of science in natural science and a teaching certificate from UT Austin.
After graduating in 1961, he briefly taught high school before enlisting in the Army. Holland eventually rose through the ranks, becoming a colonel before he retired in 1991.
While a student on the Forty Acres, Holland wasn't able to play in the band because it wasn't yet integrated. But the armed forces band was, and he got to play his clarinet and march on the field.
"The draft was the law of the land, and I thought if I had to serve, it should be as a commissioned officer," Holland told The Alcalde. "The ROTC was very open and supportive. We were brothers — race didn't matter as much there."
5. Raquel C. Bono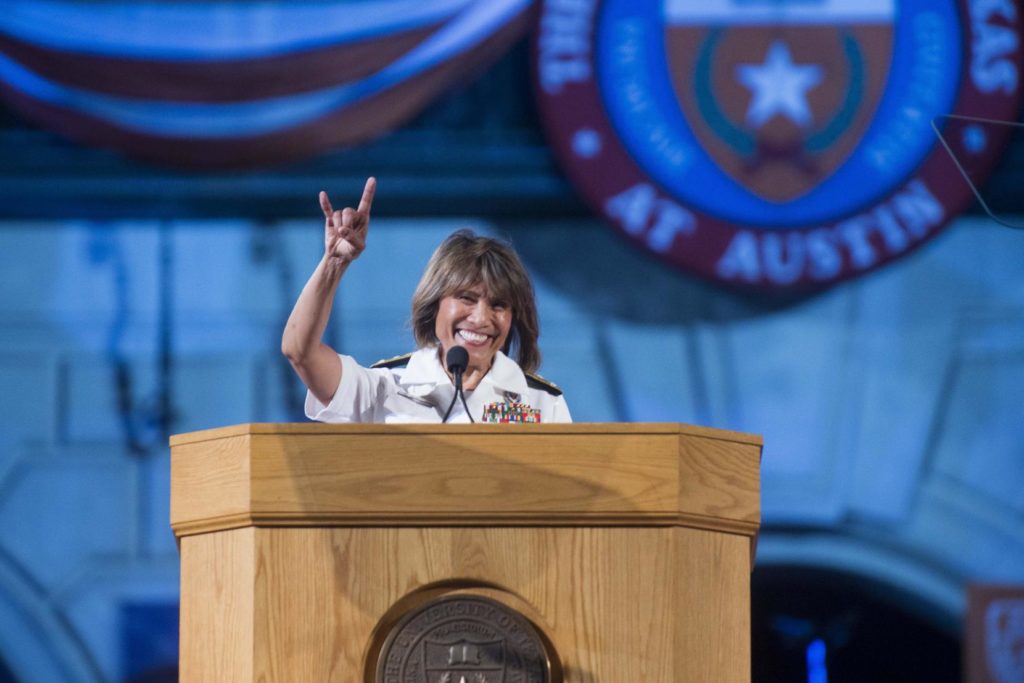 As a physician and military leader, Vice Admiral Raquel Bono has been dedicated to taking care of the health of service members and their families. Prior to retiring, she served as director of the Defense Health Agency, an organization responsible for ensuring the medical readiness of the U.S. Army, Navy, Air Force and Marine Corps. The DHA oversees all aspects of military health, including military hospitals and health care research and technology programs, along with the military health plan serving more than 9 million service members, retirees and their families.
Bono was named a 2017 Distinguished Alumna by the Texas Exes alumni association for her contributions to military medicine. A trailblazer and role model for women in the military, she became the first three-star medical corps female flag officer. In addition, she and her brother became the first Filipino Americans to concurrently serve as flag officers in the military.
She previously as the 11th chief of the Navy Medical Corps and as the National Capital Region medical director for the agency, where she oversaw medical operations at the Walter Reed National Military Medical Center in Bethesda, Maryland, providing comprehensive medical services to more than 500,000 individuals.
Bono earned a bachelor's degree in psychology from UT Austin in 1979. Commissioned in 1979, she attended medical school at Texas Tech University. She also has an Executive MBA from the Carson College of Business at Washington State University. She delivered the University's 135th Commencement speech.
---
If you or someone you know is a veteran and considering enrolling at The University of Texas at Austin, find more information about becoming a student through both the Office of Admissions and Student Veteran Services.