AUSTIN, Texas — The University of Texas at Austin is mourning the death of former vice president for student affairs and legendary mathematics professor emeritus Jim Vick, who was known as a champion of student life and for his relationship-building across campus. He was 81.
Vick is beloved by generations of students, faculty members and staffers for his legacy of listening to and partnering with students to enhance campus life through major facilities projects, program developments and campus life activities.
In 1970, Vick joined the University as a mathematics professor in the College of Natural Sciences. From 1978 to 1989, he served as associate dean for the college's Office of Academic and Student Affairs — the first administrator in the college fully dedicated to student support services. From 1989 to 2005, he served as vice president for student affairs and was known for putting students first and mentoring staff members. Even while holding down these major administrative posts, Vick continued to teach undergraduates: Plan II math classes, calculus classes and freshman seminars.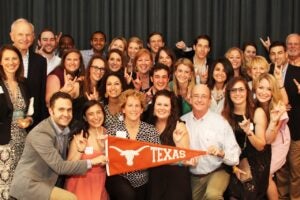 "Jim Vick was a central figure in UT's history whose impact reaches far beyond the classroom," said President Jay Hartzell. "Through his roles as vice president for student affairs and as an esteemed math professor, Jim helped pioneer support for students as we know it today. The programs he developed helped build a strong community and support system, enhance academic skills, acclimate students to college life by making meaningful connections, and empower them to achieve their goals. Jim's support for Longhorns embodied 'what starts here,' and his legacy will live on for generations through all the students he empowered to change the world."
During his 16-year tenure as vice president, he collaborated with students, faculty members and staffers to bring many monumental and intentionally designed student programs, spaces and resources to life. His accomplishments include the construction of the Recreational Sports Center and Student Services Building; renovation of Gregory Gymnasium; creation of honors residence halls and construction of the San Jacinto Residence Hall; installation of the Martin Luther King Jr. statue; establishment of the Freshman Interest Group and Reading Roundup programs; and many student programs such as Forty Acres Fest and Texas Revue.
"Even though I was a student, he treated me as a peer," said Howard Nirken, a former Student Government president who graduated in 1993. "The lessons I learned then make me the person I am today. He created an environment where UT students who had a desire to do great things for the University could be successful because he took the time to listen to their agenda and guide them through complex processes. His patience was unmatched."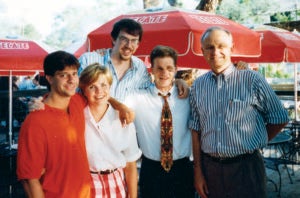 Vick formally retired from the University in 2012 but continued teaching as a professor emeritus in the College of Natural Sciences until 2018.
"I am proud of the work we have done to make the lives of our students more successful and fulfilling," said Vick after he stepped down from his role as vice president in 2005. "It has been my good fortune to have colleagues with great talent and devotion, and to work for presidents who have the vision and values essential to leading a great university. We are particularly proud of the improvements we have made in services to students."
In 2008, Vick received the prestigious Arno Nowotny Medal — the University's highest honor for a Division of Student Affairs staff member who went above and beyond the call of duty to serve students. In 2013, the School of Undergraduate Studies' Center for Strategic Advising was renamed and dedicated in his honor as the James W. Vick Center for Strategic Advising and Career Counseling. The center, now known as the Vick Advising Excellence Center, serves students who are exploring majors and careers, and it provides academic advisers with training, tools and resources.
Vick was a founding member of UT's Academy of Distinguished Teachers. He was part of the inaugural class of inductees to the UT System Academy of Distinguished Teachers and a recipient of The University of Texas System Board of Regents Award for undergraduate teaching. In 2017, Recreational Sports inducted him into its Hall of Honor.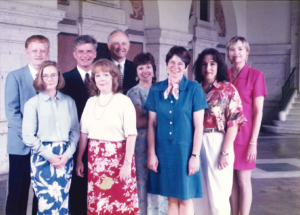 "The University lost a great friend and strong leader who made a deep imprint on student life and support at UT and in the United States. One of seven vice presidents for student affairs at UT, he mentored many staff in the division and changed the lives of countless students," said Vice President for Student Affairs and Dean of Students Soncia Reagins-Lilly. "He was a person of vision and action. JV, as we affectionately called him, laid the foundation for the work we do today — remembering the students at the core and the ways they learn, build community and define their success."
Vick grew up in Baton Rouge, Louisiana, and attended Louisiana State University, where he received a bachelor's degree in mathematics in 1964. After earning master's and doctoral degrees in mathematics at the University of Virginia, he taught for two years at Princeton University before joining UT.
He is survived by his wife Niki, his daughter Stuart Vick Smith and son Todd Vick, and five grandchildren. Vick's family created the Dr. James W. Vick Endowment for Student Leaders to honor his life's work of supporting students and his passion for teaching. This endowment joins three others that honor his legacy.