Arjun Menta always has a million ideas running through his mind, but one of his biggest strengths is actually putting his plans into action. He's a patent-pending innovator, star student-entrepreneur and now an outstanding senior from the class of 2021, double-majoring in biochemistry and business honors at The University of Texas at Austin.
Menta's passion projects run far and wide. A few of his major self-starter enterprises include FruitByte, an innovative farming analytics and automation platform, and Vaxcube, a power-efficient, patent-pending thermoelectric system for portable cooling technology to aid global vaccine and medical goods access.
Vaxcube in particular was recognized as a health finalist in the National Geographic Chasing Genius challenge in 2017 and has received funding from the Genesis Austin startup foundation as well as through other global health grants. Menta is testing this technology for feasibility in distributing much-needed vaccines and medical goods during the COVID-19 pandemic.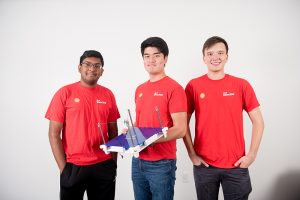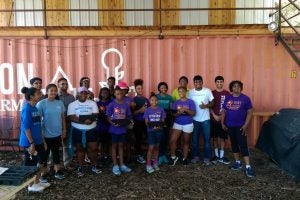 "As you can see, I've been pretty busy during college," Menta says laughing. Because of the pandemic, innovating looks quite different to him now, but it still plays a large role in his day-to-day. Instead of finding Menta around campus discussing prototypes and postulating theories or in UT's Cockrell School of Engineering Inventionworks facilities using 3D printers, you can often catch him in his family's garage back home in Plano. He continues working and testing his prototypes just as before but with less state-of-the-art equipment and through videoconferenced conversations with professors and mentors.
"Being innovative and entrepreneurial requires resiliency," he says. "There's going to be different challenges in different environments, and I think you need to understand that, take a step back and not let your emotions cloud your judgment," he says chuckling. "That was a very 'Star Wars' thing to say — you have to really make sure that you can decompose the problem, identify what steps you need to take and, then go execute on it. That's the way you focus on and solve these issues."
Menta explained that his interest in biomedical innovation was sparked by seeing close friends and family members deal with serious health issues.
"These experiences showed me how vulnerable health is and how working and innovating can solve problems and really make an impact on people's lives," he says. "There are many paths to helping others, and I fell in love with engineering and biochemistry, and that's the sort of space I have been playing around with since — and that's the way I would like to contribute value to our society."
Menta has been contributing with his innovations since his first year on campus. He co-founded the e-NABLE chapter at UT Austin, a student organization that uses 3D printing resources at UT to make individualized prosthetics for amputees in the local community. The organization aims to reduce the financial and logistic burden that amputation places on families.
"We get to interface with the amputees, look at the cases, really understand the problem and try and build a solution that can solve that," Menta says of the experience. "Ultimately, it taught me a lot of great things for how to lead diverse teams, how to help others, how to not just focus on the science, but also the patient, and all of those things I have carried forward with me throughout the rest of my pursuits."
Volunteering at UT University Health Services and Next Thinkers, a nonprofit he co-founded that sources computers for underprivileged communities, helped Menta further broaden his perspectives, but what aided him to kick-start some later projects was his decision to enroll in the McCombs School's Canfield Business Honors Program (CBHP).
"I wanted to learn something new and push myself out of my comfort zone," he says. "Looking back, some of my best friends are people I met through CBHP. I think not only the faculty but the knowledge that I gained has been so useful and helped me a lot throughout my career."
Menta credits a lot of his innovation exposure in Austin to Freshman Founders and the Longhorn Startup Lab Accelerator Program. He is also grateful for his many departmental and college scholarships, which have funded his education since his sophomore year, including the Algarotti-Pfaffenberger Endowed Scholarship in Business, the Patricia L. Johnston Biological Sciences Student Research Scholarship and the unrestricted endowed presidential scholarship.
"Ultimately these resources gave me the time and flexibility to pursue innovative research and projects," he says.
In retrospect, Menta says he will miss seeing and interacting with his friends on and around campus as well as enjoying the overall collaborative nature of the campus and the Austin community.
"The culture here really cultivates collaboration," he says of UT and Austin. "Everybody wants to help each other. Reaching out to others in the Austin community, I almost always get a response, which definitely sets a high standard for being innovative, pushing people to be their best and supporting every single person in their own unique way."