WHAT: The University of Texas at Austin, with officials from the City of Austin, will honor science and health champions who have helped to develop COVID-19 vaccines and get Texans vaccinated.
WHEN: Wednesday, Nov. 17, 4-6 p.m. There will be a an outdoor celebration featuring stage performances, remarks, balloons, live music from Nané, liquid nitrogen ice cream, a vaccine pop-up, interactive displays and more. Photo opportunity of vaccine inventor getting his booster shot at 4:10 p.m. Stage program begins at 4:30 p.m.
WHERE: UT Austin's Main Mall (south steps of the UT Tower)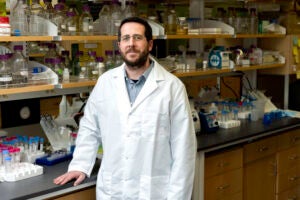 ​UT Austin scientists have been at the forefront of the race for coronavirus vaccines since soon after the first reports of a mysterious virus circulating in Wuhan, China. Dr. Jason McLellan, a professor of molecular biosciences and researchers in his lab Nianshuang Wang and Daniel Wrapp, worked through a weekend in early January 2020 with scientists from the National Institutes of Health's Vaccine Research Center to develop a key component in COVID-19 vaccines, the spike protein which trains the body to produce antibodies that fight off the virus. All of the COVID-19 vaccines now in use in the United States use spike protein vaccine antigens based on work that McLellan and Wang had done together back in 2016 to stabilize the spike protein through the addition of two rigid amino acids called prolines—essentially molecular staples—swapped into the genetic code to help produce a stronger protective immune response.
"What powers our current vaccines is an innovation that resulted from a lot of hard work over many years by these UT scientists and their collaborators," said David Vanden Bout, interim dean of the College of Natural Sciences. "It's difficult to imagine where we would be now were it not for their efforts."
The event Wednesday, rescheduled from October when it was initially planned but delayed due to weather, coincides with International Education Week and recognizes the global impact of the COVID-19 vaccines. As of this month, just over half of the world's population has received at least one dose of vaccine against the coronavirus, though significant gaps remain between poor and wealthy countries. Several COVID-19 vaccines in clinical trials now around the globe promise more affordable vaccine access in low and middle-income countries and are using another stabilized spike protein from UT called HexaPro. That team was led by McLellan and postdoctoral researcher Ching-Lin Hsieh; Ilya Finkelstein, an associate professor in the Department of Molecular Biosciences; and Jennifer Maynard, a professor in the Cockrell School of Engineering's McKetta Department of Chemical Engineering.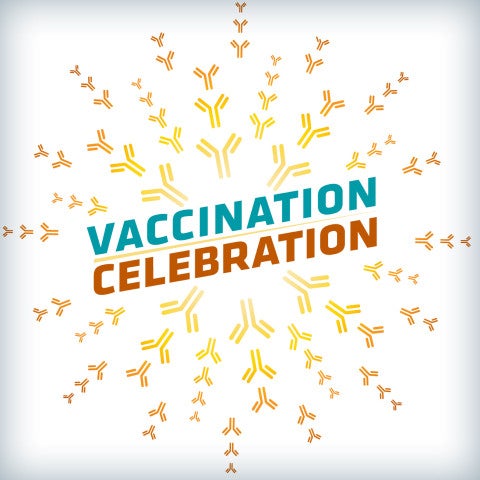 Wednesday's event honors these scientists as well as researchers, health professionals and volunteers who have contributed to vaccines' success locally by helping to vaccinate people both on campus and in the broader community. To date, the UT Vaccination Hub has administered more than 147,000 doses of COVID-19 vaccines. As one of the first entities in Texas to receive the vaccine back in December 2020, the UT Vaccination Hub played a significant role in vaccinating members of the Austin health care community early on, and it later helped to vaccinate eligible Austin residents and members of the campus community. The effort has involved multiple partners across campus including UT Health Austin, Dell Medical School, the School of Nursing, the Steve Hicks School of Social Work, the College of Pharmacy, University Health Services and Financial and Administrative Services.
Since early in the pandemic, the City of Austin and Austin Public Health have worked closely with both leaders in the Dell Medical School and members of the UT COVID-19 Modeling Consortium, led by professor of integrative biology and statistics and data sciences Lauren Ancel Meyers, to respond to the virus. The city used a staged alert system, designed in part by UT scientists and health experts, to guide local policies, resulting in fewer hospital surges and shorter lockdowns than would otherwise have been expected, according to research published in Nature Communications this summer. The Austin metropolitan area has sustained the lowest per capita COVID-19 death rate among all large Texas cities, with a death rate below half of that of the state as a whole. It also has the highest vaccination rate among Texas's large cities, according to the Texas Tribune.
"If the state had the same COVID death rate as Austin-Travis County, more than 25,000 Texans would not have died of this virus," Austin Mayor Steve Adler said in his August State of the City address, acknowledging contributions made by Meyers, the Dell Medical School, Walkes and others.
The university had a Tower lighting in October on the originally scheduled date for the Vaccination Celebration, which also recognized the contributions of McLellan's collaborator Dr. Barney Graham, former deputy director of the Vaccine Research Center at the National Institutes of Health and a special guest that day of the Department of Molecular Biosciences. The October event, organized also with students in the college Natural Sciences Council, was postponed due to inclement weather.
As the one-year anniversary of the first authorization of COVID-19 vaccines approaches, the contributions of McLellan and his collaborators have been highlighted repeatedly, including in new books from best-selling authors. Austin author Lawrence Wright authored The Plague Year, which was published in June, while Wall Street Journal reporter Gregory Zuckerman's A Shot to Save the World and Brendan Borrell's The First Shots were published this fall. Borrell's book has been optioned by HBO for a series from director Adam McKay. Additionally, the State Bar of Texas's section on intellectual property law recently gave McLellan its annual award for Texas Inventor of the Year, in recognition of how his work has "significantly impacted the Texas economy."