Awarding-winning UT Austin graduate Arjun Menta is a recipient of the 2023 Paul & Daisy Soros Fellowship for New Americans, a merit-based program that supports graduate study for immigrants or children of immigrants.
Founded in 1997 by Hungarian immigrants Paul and Daisy Soros, the fellowship program honors the contributions of continuing generations of immigrants in the United States. More than 2,000 candidates applied for 30 fellowships. As a Soros Fellow, recipients receive $90,000 toward their graduate studies.
Born and raised in Dallas, to an immigrant family from India, Menta graduated from UT Austin with degrees in biochemistry and business honors in May 2021. He was a standout in his class during his time at UT, earning early recognition from the University for his innovations, leadership and volunteer work.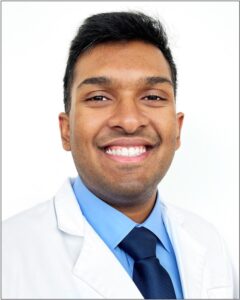 A prolific researcher and inventor, Menta holds multiple patents and publications, with his works appearing in many journals that include IEEE, Surgical Clinics, Chemistry of Materials, Molecular Cancer Therapeutics, Frontiers in Oncology and Trends in Cancer.
Menta often credits his parents, who worked as engineers and fostered an atmosphere of resilience, curiosity and service, for inspiring the mindset he continues to carry beyond childhood.
"I wish that everyone knew that children of immigrants are not 'one-size-fits-all' and are instead individuals with unique experiences, backgrounds and perspectives," he said. "They are brave and resilient people who have made sacrifices and overcome difficult challenges to provide for themselves, their families and their future."
When asked about the fellowship and what it means to be a "New American," he added: "Ultimately, it means embracing complexity, being proud of one's diverse identity and uniquely contributing value and strength to our society."
Menta is pursuing an MD at Johns Hopkins University School of Medicine where, in addition to his clinical training, he leads multiple research and commercialization efforts with preeminent neurosurgical physician-innovators such as Nicholas Theodore (through his work in the HEPIUS Innovation Lab), Fernando Gonzalez and Jordan Amadio, in an effort to improve the current medical paradigm.
Ultimately, Menta aspires to be a physician-innovator, bridging the gaps between practical medicine, research and innovation — serving as a conduit between developing solutions at the bench and translating them to the bedside.
"I love being a medical innovator because it allows me to pursue service through innovation and research," he said. "Gathering insight from the patients I help in medicine, I can transform my personal convictions into far-reaching solutions — allowing me to serve more people than I could ever treat in a lifetime."
If you're interested in learning more about fellowship opportunities for UT students, please reach out to the Office of Distinguished and Postgraduate Scholarships at odps@austin.utexas.edu.